Masters 2012 Leaderboard: Justin Rose and Others Making a Move
April 7, 2012

Streeter Lecka/Getty Images
Augusta National Golf Club is one of the sternest tests in golf, and Justin Rose is tearing up the course on Saturday at the Masters.
In a normal week, the leaderboard is like a jigsaw puzzle that is ever changing. Day 3 at Augusta in early April can present even greater movement than normal. 
Pins are ridiculously difficult to access, let alone to try and drop it nice and tight. Ball striking is at a premium and more often than not, most players tend to fall further and further behind the 20 or so men who are having a good week in that department.
Here are three golfers currently making a strong move towards the top of the 2012 Masters leaderboard.
Justin Rose: -3 Through 12 Holes, -3 for the Tournament
Rose masterfully managed the course through the first five holes, making respectable pars on all of them. 
Then he went on a three-hole tear, ripping off birdies at six, seven and eight. 
Rose then followed it up by making par on his next four holes, putting him in great shape for a strong finish and a late tee time on Sunday, the final round.
As of this moment, Rose finds himself only two shots behind Jason Dufner and Lee Westwood.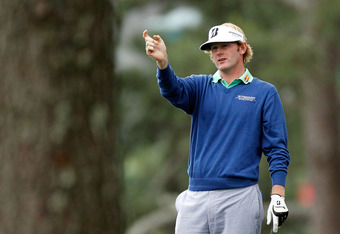 Streeter Lecka/Getty Images
Brandt Snedeker: -5 Through 17 Holes, -2 for the Tournament
Snedeker entered the third round eight strokes behind the leaders at plus-three. 
He has had the best round of the day so far, moving him into contention at only three shots behind the leaders.
Snedeker didn't bogey a single hole today while making five birdies.
Now is the time to get hot, and if he can manage another brilliant round tomorrow, we could see Snedeker walk away from the Masters with the green jacket.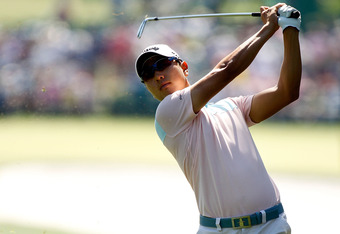 Streeter Lecka/Getty Images
Sang-Moon Bae: -3 Through 16 Holes, -1 for the Tournament
After an atrocious first round and an up-and-down second round, Bae is having a stellar day in Round 3.
If not for a couple of ill-timed bogeys in the middle of the round, he might be challenging the top of the board.
In all, Bae scored an eagle, three birdies and two bogeys so far in his round.
He still has two holes left to play to move even closer to the leaders, and one more excellent round on Sunday could find him challenging to break into the top five.
Stay tuned to Bleacher Report for more coverage of the 2012 Masters, and thank you for reading.