Masters 2012: Breaking Down Golf's Greatest Augusta Winners
April 4, 2012

Streeter Lecka/Getty Images
No tournament has a more storied history than the Masters. Legends of the past seven decades have stepped onto the course at Augusta National Golf Club with hopes of winning the prestigious event, but three stars have dominated the green jacket count.
Let's take a look at the greatest Augusta winners of all time, one of whom will be chasing down another green jacket this weekend. It's a list that young stars like Rory McIlroy hope to join someday.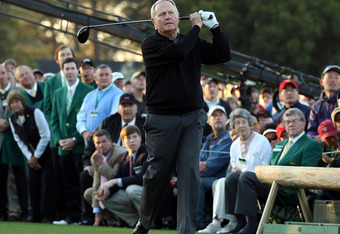 Ross Kinnaird/Getty Images
Jack Nicklaus
"The Golden Bear" won the Masters six times stretching from 1963 until 1986. To put Nicklaus' staying power in perspective, Tiger Woods would need to win the tournament in 2020 to match the length of time from first until final Augusta triumphs.
He possessed terrific power, which often gave him a massive advantage over his competition. That paired with a formidable short game allowed him to put his opponents behind early, and not too often were they able to chase him down.
Nicklaus also holds the record for most total majors with 18. Nobody has ever risen to the occasion quite like he did during his prime. If there was a major on the line, he was either going to be winning or breathing down the leader's neck.
Tiger Woods
It was basically a foregone conclusion that Woods would eventually pass Nicklaus in Masters titles before personal issues derailed his career. He still has a chance to do it, but staying healthy will be key, and that hasn't been his strong suit lately.
That said, he still has four Augusta titles under his belt. His 1997 performance was probably the best ever, as he posted a score of 18-under to win by 12 strokes. The ability to make the game look so simple left even his playing partners in awe.
Winning it again won't be nearly as easy. There isn't a more competitive player in the field, however, so it's hard to bet against him right now.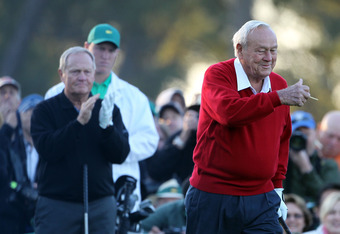 Jamie Squire/Getty Images
Arnold Palmer
Palmer's four Masters victories came in a span of six years a half-century ago. He faced stiff competition from Nicklaus and Gary Player, but "The King" had the perfect game for Augusta. He won the Masters more times than the other majors combined.
The star became a fan favorite thanks to his charisma, and that, of course, carries on to this day. He really helped the sport become a mainstream event during his heyday, so the modern stars have to thank him for helping generate interest.
It all started thanks to his mastering of Augusta. Without those major victories, he wouldn't have received the credit he deserved as one of the important golfers ever.