Oklahoma City Thunder Are a Couple Lightning Bolts Short of a Championship
April 7, 2012

Harry How/Getty Images
It's that time of year again. The flowers are blooming, Charles Barkley is throwing out his two cents worth of playoffs predictions, goosebumps creating playoff commercials are beginning to loom and of course, the top 16 NBA teams are preparing to make a run for the 2012 NBA championship trophy. 
But where do the Oklahoma City Thunder fit in all this mayhem? Can they really bring home the cookies this time? 
Well, there is a major problem with this equation and it's actually quite simple: As long as the Thunder's so-called point guard in Russell Westbrook continues to chuck up more shots than a frat party, the Thunder will have virtually no chance to compete for a title yet again. 
While the Miami Heat, San Antonio Spurs, Chicago Bulls and Los Angeles Lakers all seem to be getting into their late season grooves, the Thunder are standing alone when it comes to elite teams struggling at this point in the season.
Rather than gelling together, the Thunder are falling apart, and fast. 
With a mere 12 games remaining on the Thunder's regular season schedule, it is puzzling to see a fat "L2" next to their current streak, and it may be a silver lining as to what may happen in the coming playoffs.
The Thunder are currently holding the top spot in the Western Conference, but that may soon change. Tim Duncan and the San Antonio Spurs are only one game back at this point, and as they for surely sit their star players in the last stretch of remaining games, it's a simple sign that the Thunder are no longer the sure cut winners out in the West in the coming 2012 playoffs.
After watching Westbrook shoot the Thunder out of the previous two games against the Memphis Grizzlies and Miami Heat, one has to wonder what is going on in that big head of his—it surely isn't intelligent.
When a team has arguably the best small forward in the game in Kevin Durant, most would agree that passing the ball on occasion would be necessary to win. But not Westbrook—he would rather not pass and pull up for that infamous mid-range jumper. Utterly ridiculous.
The Thunder will be heading into the playoffs most likely as the No. 1 or No. 2 spot in the West, and that means the first round will be a breeze, which is great news for Durant and the Thunder. But as soon as the first round comes to a close, what then? There isn't any way a two-man—well really one man—can win a championship, is there? 
No. No. No. There is absolutely no way the Thunder can win a championship with this current system, or should I say Westbrook's system, the one where the ball goes nowhere but up.
It just won't happen. 
The sad part to this reality is the fact that the Thunder have the talent and roster to pull off a deep playoff run, and it's just going to waste as Westbrook throws every bit and piece of living hope the Thunder have to bring their first title to Oklahoma City. 
Serge Ibaka, James Harden and even Kendrick Perkins have been on their game this season and it would be a shame if that went to waste. For all those Thunder fans out there, be sure to give a nice thunder clap to Westrbook's head; it may wake him up.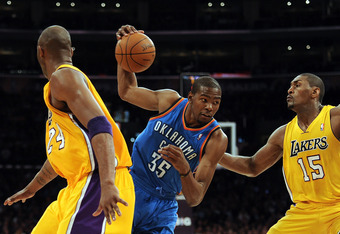 Harry How/Getty Images
This may or may not be an overreaction to Westbrook's decision making as of late, but it does, however, show some gaping holes in the Thunder, which are the lack of low-post scoring, too much reliance on jump shots, a high number of turnovers and biggest of all, the ignorance of Durant as the No. 1, go-to player on the team. 
I heard there is a 50 percent sale at Hallmark this weekend—maybe every Thunder fan can buy a card and send a great big thank you to Westbrook for being the horse that doesn't drink the water at the top of the mountain. 
What's mind-boggling about Westbrook is the fact that he could be 10 times better at point guard if he took less shots and simply passed the ball to Durant five to 10 more times a game than he currently does.
If he can do this, the Thunder have as good a chance to win a title as anybody. 
With the defensive low-post presence of Ibaka and Perkins, alongside the potentially lethal dynamic duo in Westbrook and Durant (if Westbrook passes), the Thunder will be there are the end of the day. But as of now, they are a couple passes and turnovers away from winning their first title. 
I guess in this case, lightning doesn't strike again, if at all.