Buffalo Bills: Why Offense Needs to Run Through Fred Jackson and C.J. Spiller
April 6, 2012

Andy Lyons/Getty Images
The Buffalo Bills surprised a lot of folks last year with their jump in offensive production. The team finished in the top half of the league in passing yards, rushing yards and points per game. Meanwhile, quarterback Ryan Fitzpatrick set career highs in passing yards, touchdowns and completion percentage.
But if Buffalo wants to get over the hump next year, it may need to pull on the reins just a tad.
Fitz's many career marks last year include a career high in pass attempts (569). The final run-to-pass ratio for the Bills offense turned out to be 391 rush attempts to 578 pass attempts, which translates to about 40 percent to 60 percent overall.
Over the course of the season, Fitz threw 40 or more passes in a game five times, including both games against the New England Patriots.
Clearly, circumstances to the roster (injuries, personnel) and game situation (playing from behind) largely dictate how teams call plays. Take Buffalo's furious comeback wins against Oakland and New England in Weeks 2 and 3 last year, for example, when they had to fight back from 21-3 and 21-0.
However, despite Buffalo's eye-opening success in such shootout games and high-scoring affairs, the team is built to be a little more balanced.
In the backfield, Fred Jackson and C.J. Spiller are two of the NFL's most dynamic runners who can take a lot of pressure off the passing game. Jackson, in only 10 games last season, rushed for 934 yards on 170 carries and six touchdowns. He added 39 catches for 442 yards. With 1,376 total yards in just 10 games, Jackson was arguably putting up MVP-like numbers.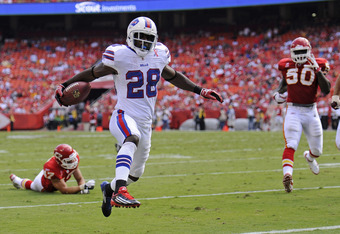 Peter Aiken/Getty Images
Spiller wasn't too shabby himself, totaling 561 rushing yards on 107 attempts, good enough for a 5.2 yards-per-carry average. The 24-year-old chipped in 39 catches for 269 yards as well.
In addition to the talent of both backs, the offensive line, too, is more cohesive when opening up holes for them. It's probably safe to say that each player up front is better in run-blocking than in pass-protection at this stage of their respective careers.
Though the line yielded the fewest amount of sacks in the NFL last year, much of that can be credited to the quick passing game that Chan Gailey has established, which features short to intermediate slants and crossing routes.
Do the Bills still need to stretch the field? Of course. Having a deep threat to keep defenses honest is just as important as having a strong running game. The more weapons defenses need to account for, the more likely an offense will succeed, which is exactly why the Bills need a reliable threat opposite Steve Johnson.
Fitz is still going to pull the trigger in 2012, and he's still going to take his shots when they're open. But with their personnel right now, the Bills shouldn't be relying on the pass to win ball games.
So, as ironic as it might sound, Buffalo may in fact add a No. 2 threat to complement Steve Johnson out wide, yet they might ultimately pass less in 2012.
With an improved defense next year, the Bills hopefully won't be playing from behind as often as they were in 2011. As a result, Jackson and Spiller should be featured weapons to control the clock.
I love watching Fitz light up the scoreboard as much as anyone else. His 300-yard games and multi-touchdown performances are exciting. Hopefully more of these kinds of games will be because the Bills want to be slinging the pigskin around, not because they have to.