Philadelphia Phillies: Jonathan Papelbon and 6 Players Who Need a Fast Start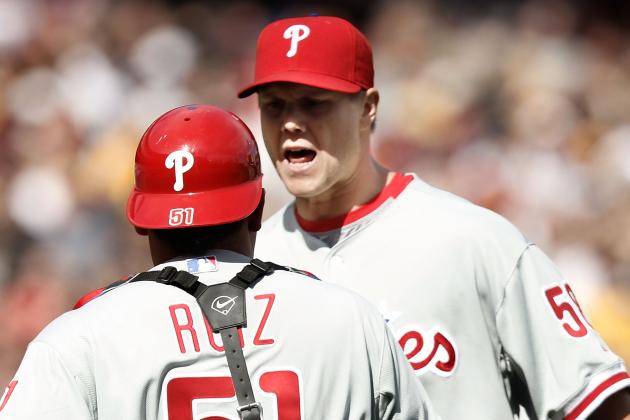 Jared Wickerham/Getty Images
Papelbon signed a $50 Million Contract with the Philles this offseason
Phillies fans have expectations. After winning it all in 2008, every year since then has been a World Series win or bust. Phillies fans this year are definitely quieter about their chances this year. Some expressed that they were not as excited as they once were.The infield has so many question marks because of its health and age.
Opening Day is one of the best days of the year for Phillies fans. The season started off the right way. Roy Halladay out-dueled Pittsburgh's Erik Beddard, giving up only two hits.
It set up a near-perfect scenario for Jonathan Papelbon to come in and get his first save of the season. The Phillies lacked offense in last year's NLDS because they were too banged up. They lacked it again against the Pirates on Opening Day.
Papelbon came in and retired all three hitters he faced. He struck out one, and the other two grounded out. Out of 10 pitches, nine of them were strikes.
The Phillies very well may have offensive struggles early on in the season. If that is the case, Papelbon could wind up being the guy that gets the Phillies some key wins early on in the season. He looked like an All-Star closer on Opening Day. He will need to be that way for most of the season. The Phillies will need Papelbon if they are going to win pitchers' duels like the one on Opening Day.
After all, Brad Lidge's 2008 season performance won the Phillies the World Series. It may come to that for the Phillies in 2012, only this time it will be Papelbon.
Begin Slideshow

»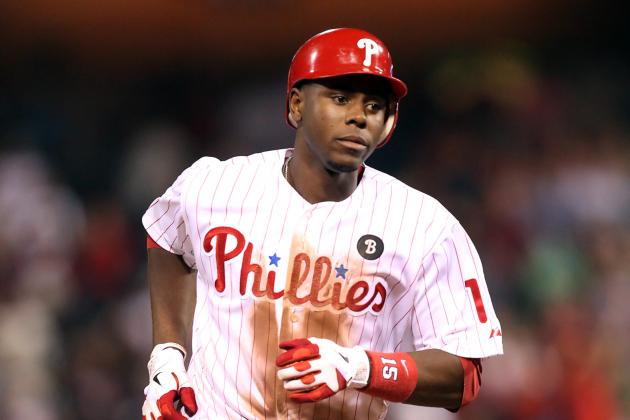 Hunter Martin/Getty Images

In left field it looks like John Mayberry Jr. will be the guy to start out the season. Later in the year, Mayberry could play against left-handed pitchers and Domonic Brown could play against right-handers.
Mayberry has asked manager Charlie Manuel when he will become an everyday guy in the past. He very well could be a late bloomer like Jayson Werth was. He has been compared to Werth as well. Mayberry is 28 and has great potential to be an everyday starter in left field for the Phillies.
Last year he hit .273 with 15 home runs and 49 RBI. A fast start will help him improve on those totals this season.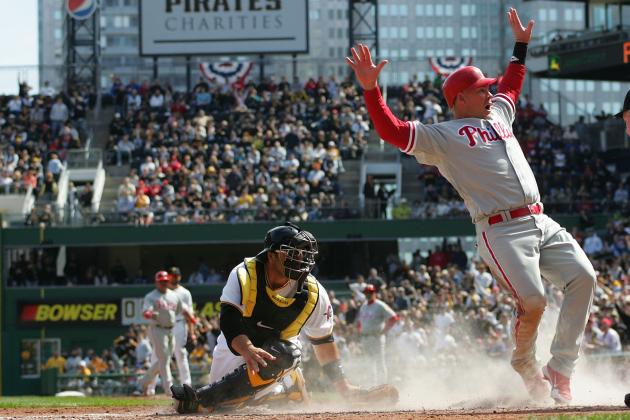 Jared Wickerham/Getty Images
Wigginton scored the only run on Opening Day in Phillies' Win
Wigginton is a utility man. He can play every position in the infield with the exception being shortstop. Carlos Ruiz drove him in on a shallow fly ball to right field. The play was close but Wigginton was able to slide in safely.
Wigginton is a slow runner, however. He will be in the middle of the order when he does play, which means he will be the five, six or seven hitter.
With Hunter Pence hitting cleanup while Ryan Howard recovers from the Achilles injury, Wigginton will have to get some key hits to drive the guys ahead of him like Pence or Mayberry.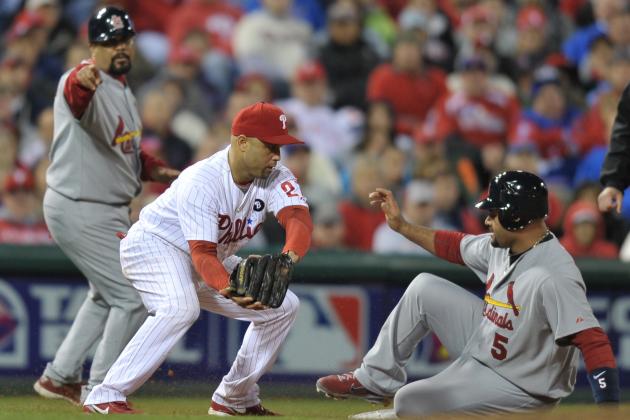 Drew Hallowell/Getty Images

Early on last year, Polanco was doing very well. He was one of the best hitters in the Phillies lineup. Once he spent some time on the disabled list, he was not quite the same guy. Polanco had a hernia.
In the postseason, Polanco battled through injury during the NLDS. It showed in his performance. Polanco could not hit the ball out of the infield. He went 2-for-19. The two hits was his best stat.
When the news came out days after the losing the NLDS against the St. Louis Cardinals, Polanco would finally have surgery on his hernia.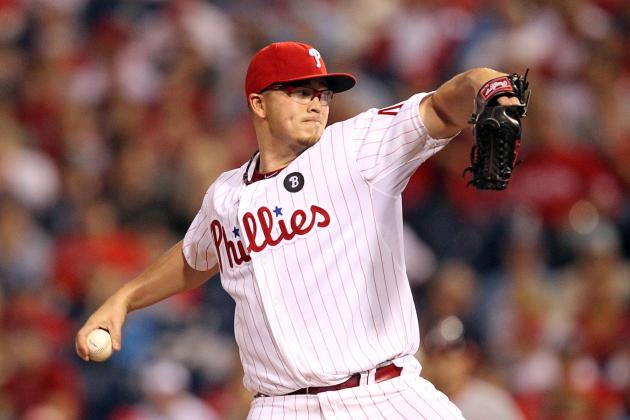 Hunter Martin/Getty Images

"Vanimal" was a big part of why the Phillies won a franchise record 102 games last year. It has earned him a spot on the rotation. His performance in his rookie campaign certainly made it easier for the Phillies to look elsewhere to improve the team. Worley has the potential to be an All-Star pitcher this year. If he can get a fast start, the Phillies can go far with him.
Hopefully for the Phillies, he will not suffer the sophomore jinx. But it would not be a surprise considering he told the team he did not have command of his pitches last time out.
Worley went 12-4 in his rookie season.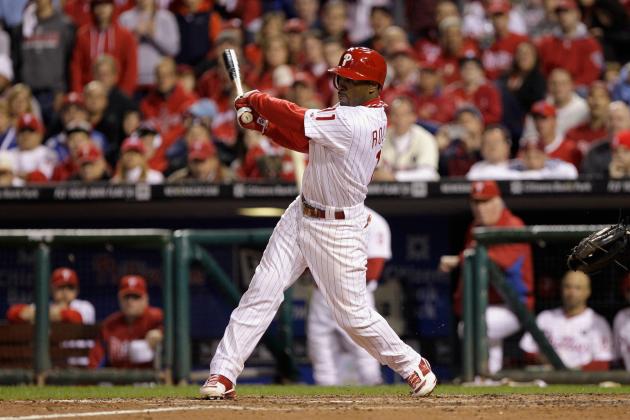 Rob Carr/Getty Images

With a new contract, it looks like Jimmy Rollins will be a Phillie for a little longer. Rollins has been one of those guys to go on extended hitless and hitting streaks. One month he will be cold, the next he will be hot. Signing a new contract could make a player go either way. A player will either relax and play well or could feel the pressure of signing an extended contract and not perform well.
The Phillies typically do well when Rollins is doing well and vice versa. It will all depend on where he winds up in the batting order.
J-Roll hit in the No. 3 spot, which is not where he normally hits. It could be a good move for him. The three hitter normally sees more fastballs, thus gets more hits than the cleanup hitter.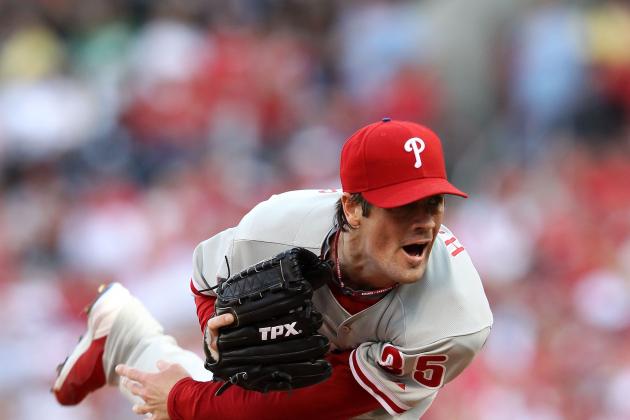 Jamie Squire/Getty Images

The 2008 World Series MVP definitely had a championship hangover in 2009. That year, he blamed his poor pitching on the attention he got from winning the MVP award. He said it threw him off his routine that he normally had in the offseason. Some in the Philadelphia media said that was an excuse, but it is a valid reason.
In 2010 Hamels could not get run support, and his record was not as good as it could have been.
It really was not until last year that Hamels got back to the level that we saw from him before. He had his best record since 2007 (15-5). He went 14-9 last year.