Detroit Lions Need to Draft a Running Back Early in the 2012 NFL Draft
April 6, 2012

With the 2012 NFL Draft just a few weeks away, teams are already busy putting the finishing touches on their big boards. They interview the final candidates, review tape for the billionth time and look over their current rosters to see where they need the most help.
Undeniably, the top need for the Lions is at cornerback or safety.
However, almost as critical is the backfield.
I can hear the comments already: "They just spent a high pick on Mikel Leshoure! Jahvid Best will be fine! We need offensive line/outside linebacker/punter help."
I hear it, I get it, I disagree with it.
While the NFL in general and the NFC North in particular goes heavy on the passing, even the pass-happy Packers are talking about running the ball more effectively.
Looking at the overall stats for the Lions last year, it's easy to look at the 29th ranking and say that the team was bad running the ball. However, their 4.3 yards per carry is a good average, tied for 12th in the league.
You have to take into consideration that they ran the ball just 356 times, second-to-last in the league in attempts. So that will skew the average a bit.
Still, considering the massive injury issues at the position, that's pretty good.
However, the injuries cannot be overlooked, and they are the reason the Lions should select a running back in the first three rounds.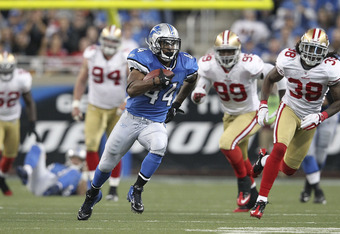 Leon Halip/Getty Images
Jahvid Best had two concussions in the span of two months, including three in the last two years.
He's healthy right now, but studies show that the more concussions you have, the more likely you will sustain further ones.
This particular part of the "Concussion Facts" from the Sports Concussion Institute's website is important to note:
A major determinant of sport-related concussions is an athlete's prior history of concussions. Research suggests that if someone has already received one concussion, they are 1-2 times more likely to receive a second one. If they've had two concussions, then a third is 2-4 times more likely, and if they've had three concussions, then they are 3-9 times more likely to receive their fourth concussion.
The cold, hard fact of the matter is that Best is very likely to have at least one more concussion, but probably more. At the position he plays, you are hit early and often, and not surprisingly—given that backs lower their heads when they run into a tackler to bowl him over—it's a position where you take a lot of abuse.
There is a real chance that the Lions will have to deal with Best's concussions again and again.
What about Mikel Leshoure, you ask? Well, forget the incident this week, and let's just focus on the field.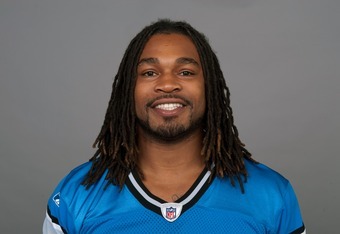 Handout/Getty Images
Of course, you'll recall that last season, Leshoure tore his Achilles, causing him to miss his rookie year. He's on schedule to return, but there's no guarantee he's the same back as he was prior to the injury.
In fact, it's quite likely he won't be, according to an article by Khalid Shirzad, MD back in March of 2010, which says that only two-thirds of players ever return to football at all, and the ones who make it back "find their performance significantly affected."
I've heard that players can lose quite a bit of burst and explosion, a significant part of Leshoure's game.
So, even if both backs are healthy and ready to go, one is likely to get hurt and miss time again, and another isn't going to be the same back the Lions drafted just a year ago.
The team did retain Kevin Smith in hopes that he will be a safety net in case of injury to the other two.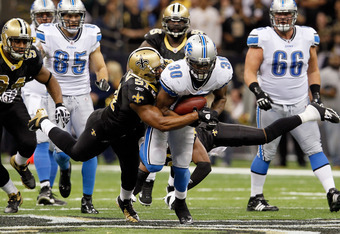 Kevin C. Cox/Getty Images
How safe is a safety net that hasn't played a full 16 games since his rookie year? Smith came into the league with a heavy workload, and one can argue that the tread on his tires is already a bit thin.
I don't know about you, but a guy who couldn't even play half a season last year isn't a reliable long-term option.
The Lions have to have that reliable option. They have to know their back can stay healthy and contribute week to week. Nobody on the roster is.
There are several running backs in the draft that could be available with the Lions' first three picks.
Let's assume Trent Richardson isn't one of them, as I believe he won't drop as far as the 23rd pick.
Here are five backs who will be available throughout the first three rounds that the Lions should look at.
Doug Martin, Boise State
Martin is a tough, versatile runner who really impressed at the Senior Bowl and kept his momentum going ever since. He might not last until the late second, but could be an option if the defensive-back group remaining at the 23rd pick is borderline worth the value.
David Wilson, Virginia Tech
Wilson is tough to bring down and will lower his pads for the hard yards, but he's also able to get to the outside. He has strong build and can also work on special teams. His stock has dropped a little, so I think he's a possibility in the late second.
Lamar Miller, Miami
Miller has worked on bulking up a bit and improving his ability to break tackles. He was very productive at Miami and is another guy whose stock slipped a tad that might be available with the second-round pick.
Chris Polk, Washington
He lacks explosion, but is a tough inside runner who has had some injuries in college. Durability could be a reason to pass on him, but if Polk's there in the third, he'll be worth a look.
LaMichael James, Oregon
James is a smaller back who consistently comes up big. He's very tough, though he lacks the strength to move the pile consistently. When he can get to the sideline or breaks free into the open field, he's a big play waiting to happen. He's a very physical guy and a willing blocker—again, he could be there in the third for the Lions.
There are backs worth looking at later as well, but I believe these players—especially the first three—would solidify the Lions' backfield for a long time.
It's tough to go running back early on twice in two years. However, the Lions don't have a choice if they want a backfield they can rely on.