Red Sox Should Let Kevin Youkilis Walk in Order to Extend Jacoby Ellsbury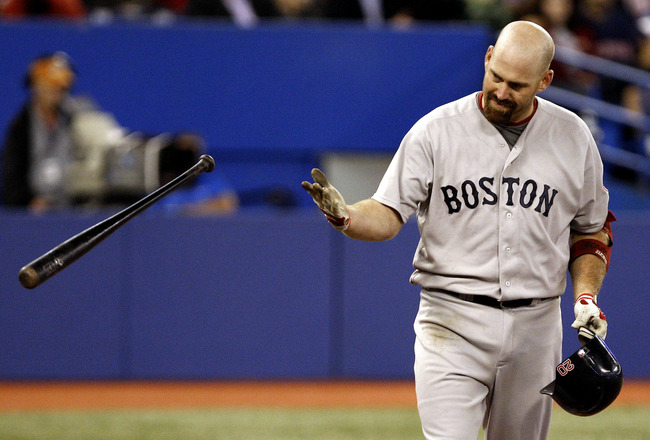 Abelimages/Getty Images
Could 2012 be the final season with the Boston Red Sox for Kevin Youkilis and/or Jacoby Ellsbury?
Youkilis is 33 and entering the home stretch of a four-year, $40 million contract signed before the 2009 season. Ellsbury is 28, coming off a monstrous 2011 campaign and is eligible for arbitration once 2012 is in the books.
Despite being injured at times in each of the last two seasons, Youkilis' performance over the course of his contract has been solid enough where he won't be easily convinced to take a pay cut. And with his 2011 performance—not to mention Scott Boras—backing his case, Ellsbury will look to cash in after 2012, either with Boston or another team.
If both players prove stubborn in offseason negotiations, Boston should focus their efforts on re-upping Ellsbury and letting Kevin Youkilis walk in free agency. Ideally the team could keep both players, but if they were forced to choose one, Ellsbury represents a far sounder investment.
The reasons for which are clear.
Ellsbury Is a Better All-Around Player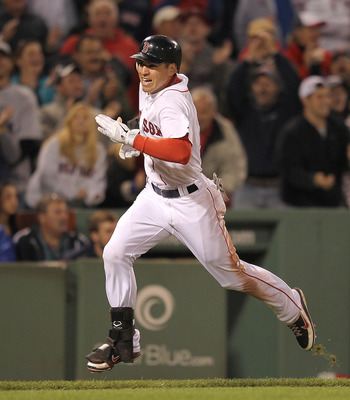 Jim Rogash/Getty Images
There are only a handful of players in recent memory who can claim to have as good an all-around season as Ellsbury enjoyed in 2011. The numbers are staggering: a .321 average, 32 home runs, 105 RBI, 119 runs, 212 hits and 39 stolen bases. Oh, and he won a Gold Glove and finished the year with a perfect fielding percentage of 1.000.
That five-tool impact is the baseball equivalent to a unicorn, and it's why the Red Sox drafted Ellsbury in the first place. Youkilis has built himself into one of the better right-handed hitters in the league and continues to be an on-base machine, but he doesn't make the same wide-reaching impact on the game that Ellsbury does.
That's not Youkilis' fault, as few people possess Ellsbury's abilities. Alas, it makes choosing between the two players (if it comes to that) an easy decision.
Age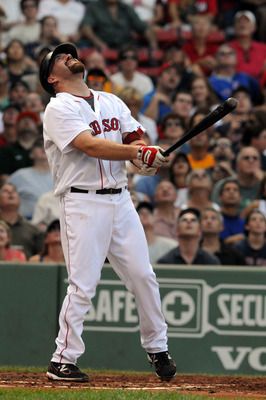 Darren McCollester/Getty Images
By Opening Day 2013, Youkilis will be 34 years old. Handing out multi-year deals to players in their mid-30s is a dicey proposition. While strong seasons are possible—Derek Jeter had arguably his finest statistical season in 2009, at age 35—expecting consistency year over year is a stretch.
Aging is inevitable, and it's magnified for baseball players. Reaction time decreases, the body gets softer and it takes longer and longer to recover from the daily grind. Youkilis can still rake but not at the rate that he once did, and his range at third base is on the decline.
It's hard to let fan favorites like Youkilis go, but his best days are likely behind him. The older he gets, the more his skills will erode.
Injuries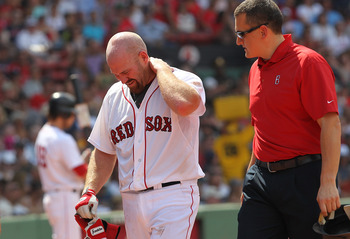 Jim Rogash/Getty Images
It's not just Youkilis' age that is catching up to him. It's also the gritty way he plays the game each day. While it has endeared him to the Red Sox brass and fans, it has also taken a toll on his body.
A right thumb abductor muscle tear ended his 2010 season after just 102 games. The next year it was a sports hernia that sent him to the DL for good. Those are just the season-ending injuries and don't include the smaller stuff he's played through, such as hip soreness.
Youkilis could give his body a break if he was at either first base or DH, but Adrian Gonzalez and David Ortiz are entrenched at those respective positions. As long as he plays, it will be with the same intensity through which he's left his mark. But it's a double-edged sword: the longer he plays like that, the less and less he'll be able to stay on the field.
Grumpiness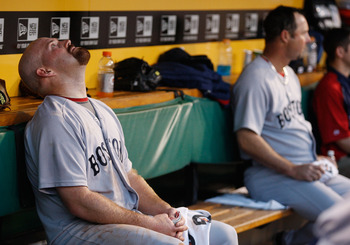 Jared Wickerham/Getty Images
There were a lot of unflattering storylines amidst the Red Sox's late-season collapse in 2011. One of which was the less-than-positive effect an injured Youkilis had on the mood of the clubhouse.
His frustration was understandable. When it was determined that he was out for the year, Youkilis was powerless to help prevent his team from blowing a shot at the postseason. And for a player as competitive and loyal to his team as Youkilis, that had to be agonizing.
But he can't be discouraging when he's not on the field. And with the injuries piling up, he could be off the field a considerable amount of the time. Dealing with his grumpiness over not being out there could turn into a headache the Red Sox don't want to deal with.
Will Middlebrooks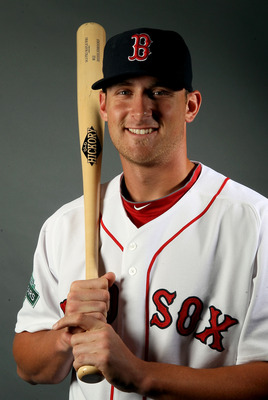 Elsa/Getty Images
The 23-year-old Middlebrooks—Boston's fifth-round draft pick from 2007—is already being called the Red Sox's third baseman of the future.
With quick feet and a cannon arm, he's well on his way to being an above-average defensive third baseman. He's still a work in progress offensively, but at 6'4" 200 pounds, he has the potential to be a power threat to all fields.
Middlebrooks is starting his first full season with the Triple-A affiliate in Pawtucket, and a strong performance could fast track him to Fenway. It could also make Youkilis expendable should he not be willing to take a pay cut.
Keep Reading

Boston Red Sox: Like this team?