Saints Bounty Scandal: Is Gregg Williams a Rogue Coach or a Scapegoat?
April 6, 2012

Chris Graythen/Getty Images
Earlier this week I wrote about the Saints bounty scandal in light of the decisions by Sean Payton, Mickey Loomis and GM Joe Vitt to appeal the suspensions handed down by commissioner Roger Goodell.
I posited out that the Saints just didn't get it with their decision to try to stretch out the window on their coach's availability by lodging their appeals.
Of course, that riled up some of the Saints fans here at Bleacher Report, and now I am at it again.
Today, after meeting with Mr. Goodell, David Cornwell, the attorney for assistant coach Joe Vitt, stepped up to the plate and followed the oh-so-classy lead of head coach Sean Payton.
He blamed it all on Gregg Williams.
Cornwell described the situation as one where Vitt indeed had some culpability, but which was run by a "rogue" Williams, and pointed to the newly released audio recordings as one striking example of that. This of course echoes Payton's statement at the recent owner's meetings, where he took "full responsibility" for the program—but blamed the whole mess on a Williams.
Is this the strategy that the Saints expect will sway public opinion in their favor?
Maybe someone ought to inform them that it probably won't impress Commissioner Goodell that the people seeking his official mercy refuse to actually take responsibility for their actions in this bounty scandal.
While it may be true that the bounty program was run primarily by Gregg Williams, the idea that he alone was responsible is a laughable position. The evidence clearly shows that both Payton and Loomis were informed by the league of the program, were told to end it, and instead let it go on. They knew what was going on and ignored it, but Gregg Williams is the only bad guy here?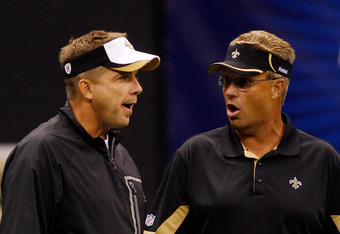 Chris Graythen/Getty Images
Give me a break!
It is beyond belief that Williams was running amok in New Orleans with nobody looking over his shoulder. It is also hard for me to believe that any one of the higher-ups in the organization told him to stop what he was doing and that he just ignored them.
But Williams was the rogue, who Vitt's lawyer informs us was on the verge of being fired by New Orleans. Now, I could be wrong—and Saints fans will undoubtedly let me know if I am—but I don't remember Williams being fired, or any talk of him being on the outs within the Saints organization.
In an attempt to make themselves look like dupes of the nefarious defensive coordinator, however, the remaining Saints coaches involved in this mess are tripping over each other trying to lay the blame on Williams.
The irony here is that the only (former) member of the Saints organization that has truly taken responsibility for his central role in this scandal has been Gregg Williams. He hasn't filed any appeals, hasn't tried to pass the buck, or place blame on anyone not named Gregg Williams.
Looks to me that the only person involved in "bountygate" who has shown any honor and integrity is the "rogue" Williams.