Miami Dolphins 2012 Mock Draft: The Latest Full 7-Round Predictions
Can you believe the 2012 NFL draft is less than three weeks away?
It's amazing how fast time flies.
It feels like just yesterday the debate over whether the Dolphins would take Mike Pouncey or Mark Ingram with the 15th-overall pick engulfed the city of Miami.
Things have changed drastically since then, of course.
A new coaching staff is in place, Chad Henne is out, Matt Moore is here to stay, and the Dolphins appear to be embarking on another rebuilding period. All of these changes will factor into Miami's draft plans, and here's a look at which prospects the team might choose to lay the foundation for a future contender.
Round 1, Pick 8: Quinton Coples, Defensive End, North Carolina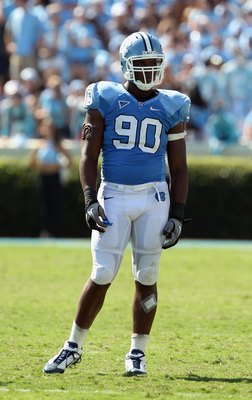 Streeter Lecka/Getty Images
Every mock draft out there has the Dolphins drafting Ryan Tannehill with the eighth-overall pick (Literally. I challenge you to find one that doesn't.), but that's not going to happen.
Just because the Dolphins desperately need a quarterback doesn't mean they will automatically draft one with their first-round pick. This team is a few years away from competing for a championship, and they know it. There's no need to rush things. Wait for the right quarterback to come along—don't lunge at one because you need one.
Former NFL GM and current NFL Network analyst Charley Casserly offered an interesting outlook on Tannehill:
In December, I surveyed a dozen teams on Tannehill's draft value. The consensus: He was worth a second-round pick...I don't see a special QB, but a player who can be a solid QB in the NFL.
Casserly also said that he doesn't think Tannehill is a reach at eight, but is a quarterback "who can be solid" really worth a top-10 pick? No, but a pass-rusher who can be elite is.
During the playoffs, the Texans and 49ers proved that a great front seven can compensate for mediocre quarterback play. And, the Giants' pass-rush played a primary role in their Super Bowl victory.
Quinton Coples is a physical freak with infinite potential, and concerns about his work ethic are overemphasized. He also fills a huge need and could help solidify Miami's front seven as a top-flight unit.
Round 2, Pick 42: Brock Osweiler, Quarterback, Arizona State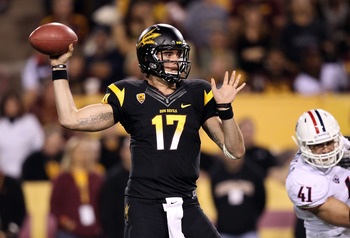 Christian Petersen/Getty Images
Even though the Draft is only a few weeks away, nobody can agree on Brock Osweiler's true value.
Legendary NFL executive Gil Brandt believes Osweiler "vaulted himself into the first round on draft day" after the QB's pro day. However, both Charley Casserly and NFL Films analyst Greg Cosell vehemently disagree.
Casserly said, "I haven't studied this guy yet but I interviewed nine teams about him. Eight of them had him rated in the fourth round."
Cosell added that Osweiler is "absolutely not" a first-round pick.
So, Osweiler could go anywhere between the first and fourth round, but the Dolphins shouldn't pass on him in the second. Quarterbacks with Osweiler's physical tools don't come around very often. He's 6'7", 240 pounds, and boasts great athleticism and charisma—a trait that bonds many of the NFL's most successful quarterbacks.
Osweiler might not be ready to play anytime soon, but, remember, the Dolphins are rebuilding. The team can afford to groom him for two or three years. And, under the guidance of Joe Philbin (who oversaw the development of Aaron Rodgers and Matt Flynn) and Mike Sherman, Osweiler could become a long-term solution at quarterback.
Round 3, Pick 73: Brandon Boykin, Cornerback, Georgia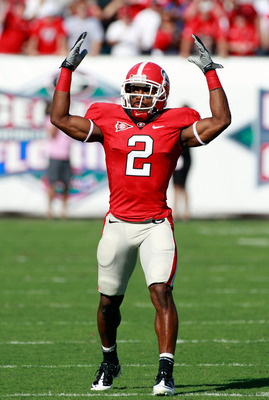 Sam Greenwood/Getty Images
Even with Vontae Davis and Sean Smith on board, the Dolphins need to bolster their cornerback corps.
Smith is entering the final year of his contract, and NFL defenses need at least three or four quality corners to defend the growing number of pass-happy offenses. Plus, the Dolphins ranked a lowly 25th in pass defense last year.
Boykin is an explosive athlete with experience defending wide receivers in the slot and on the outside. He has already suffered two concussions and needs to bulk up, but he's a dynamic player who the Dolphins can't pass on.
Round 3, Pick 74: Greg Childs, Wide Receiver, Arkansas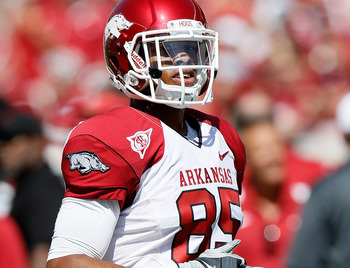 Kevin C. Cox/Getty Images
Had Arkansas wide receiver Greg Childs not torn his patella tendon in 2010, there's a chance he could've been a first-round pick this year.
Before he suffered the injury, Childs was emerging as one of the country's best young wideouts. But, a knee injury derailed his career. He didn't seem fully recovered last season, and, consequently, he was an afterthought on the Razorbacks offense.
Childs is a gamble for obvious reasons, but he looked pretty healthy at Arkansas' Pro Day, where he ran a 4.41 40—an impressive time for a 6'3", 217-pound receiver. Also, watching Childs' play from 2010, you see a wideout who can fight off press coverage, run quick routes and threaten defenses downfield, all key attributes for a West Coast offense wideout.
Round 4, Pick 105: Marvin McNutt, Wide Receiver, Iowa
This selection seems is too perfect not to happen. Here's why:
1. The Dolphins should double-down on wide receivers. Unless the team believes Marlon Moore, Roberto Wallace or Clyde Gates can become reliable, top-flight wideouts, they need to bring in fresh blood. And, if Miami is going to become a pass-first team, the offense needs multiple premier wideouts—just like Green Bay has.
2. McNutt is a perfect fit for a West Coast offense. Iowa employs one, and McNutt has the size, quickness and hands.
3. McNutt's offensive coordinator at Iowa, Ken O'Keefe, is now Miami's wide receivers coach.
Round 5, Pick 147: Brandon Mosley, Offensive Tackle, Auburn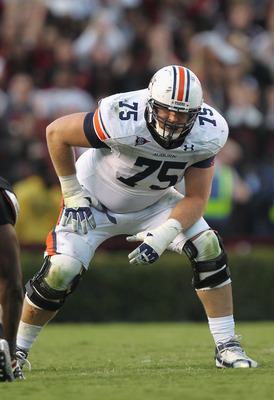 Streeter Lecka/Getty Images
Behind quarterback, the Dolphins' biggest need is probably right tackle. But, Lydon Murtha deserves a shot at the starting job, and Nate Garner and Artis Hicks can also compete for that role.
The Dolphins have chosen not to splurge on a free agent, and wisely so. Offensive lines can be built through the back end of the draft. For example, look at Green Bay's offensive: Chad Clifton (second-round pick), T.J. Lang (fourth-round pick), Scott Wells (seventh-round pick), Josh Sitton (fourth-round pick) and Bryan Bulaga (first-round pick).
Auburn's Brandon Mosley is a perfect fit. He's a converted tight end (so he has the athleticism required of a West Coast offensive lineman), boasts a 6'5", 314-pound frame (meets Jeff Ireland's size criteria), has long arms and started on a national championship team.
Mosley won't start right away. In fact, he might never become a regular starter. But, he has the anatomy of a NFL lineman and could help add depth to Miami's line at the very least.
Round 6, Pick 199: Olivier Vernon, Outside Linebacker-Defensive End, Miami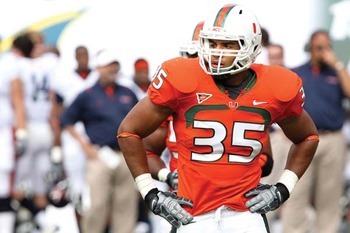 It's been seven years since the Dolphins drafted a Miami Hurricane, but it's time for that streak to end. Even though the Dolphins already signed Jamaal Westerman and drafted Quinton Coples, they should add a developmental pass-rusher to the roster.
The University of Miami's Olivier Vernon is an ideal prospect to grab here. He was suspended for much of the 2011 season due to his involvement in the Nevin Shaprio scandal. But when Vernon is on the field, he's a fierce and overpowering pass-rusher. In 2010, he registered six sacks in 11 starts.
Vernon has a stocky, 6'2", 260-pound frame, and as long as he can soothe those character concerns, he could be an absolute steal this late in the draft.
Round 7, Pick 218: Jerry Franklin, Inside Linebacker, Arkansas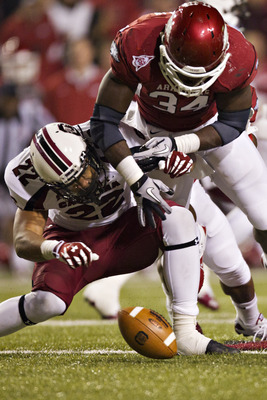 Wesley Hitt/Getty Images
With their final draft pick, the Dolphins could literally go in any direction, but there's one area where they've struggled to add depth at: inside linebacker.
None of Miami's recent late-round linebacker draftees—A.J. Edds, Austin Spitler, J.D. Folsom, Kelvin Smith—have panned out. This might discourage Jeff Ireland from drafting another linebacker in the seventh round, but his history suggests he will.
If Ireland decides to take a shot at a linebacker again, he should consider Arkansas' Jerry Franklin.
Franklin possesses a nice combination of size (6'1", 243 pounds), athleticism (4.68 speed), experience (four-year starter) and production (led the Razorbacks in tackles in 2010). At the very least, Franklin deserves a late-round flier. Even if he only becomes a special teams contributor or practice-squad fodder, Franklin has the potential for more.
Keep Reading

Miami Dolphins: Like this team?