NFL Free Agency: Young DT Amobi Okoye Drawing Interest from Denver Broncos
April 6, 2012

Jonathan Daniel/Getty Images
As the Denver Broncos try to solidify their defensive front, specifically looking for help at the defensive tackle position, it appears like a young, 25-year old DT from the Chicago Bears, Amobi Okoye, will be shopping his services around to various teams, including the Denver Broncos.
Adam Caplan, a reliable NFL reporter, tweeted that the Broncos are among interested teams in Okoye's services.
@caplannfl: In addition to the Bengals and Bears, Amobi Okoye has received interest from the Bucs, Pats, and Broncos, according to sources. #freeagency
The Broncos have been in need of a new DT ever since free agency started, and that need increased after the New Orleans Saints signed away free agent Brodrick Bunkley last month.
Okoye is a stout 6'2", 292 pounds—prototypical size for an NFL defensive tackle.
While Okoye did not start every game last season, he was a force in the pass rush, picking up four sacks from the interior of the defense. He also notched 27 tackles over those 16 games. Only Ryan McBean for the Broncos, who may be serving a six-game suspension barring the results of an appeal, recorded a sack from the DT position last season.
Much speculation has been made concerning the Broncos' need to acquire a top DT in the upcoming NFL draft at the end of April, but adding a piece like Okoye may reduce that need and let the Broncos focus on other additions, such as weapons for the newly-acquired Peyton Manning, or offensive line help, specifically at center, as people have criticized J.D. Walton.
On another note, the Chicago Bears, who have already released DT Anthony Adams, would likely use their first-round draft pick at No. 19 overall to snatch up a DT that the Broncos would also want to acquire. If still available, I can see the Chicago Bears picking either Fletcher Cox or Michael Brockers, making a top DT available in the first-round slim pickings. The others who could be there are more risky selections and have much lower ceilings.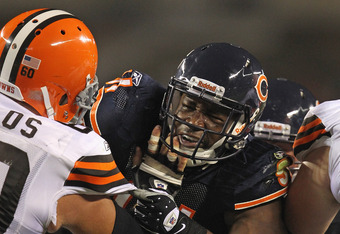 Jonathan Daniel/Getty Images
Okoye would provide both depth and experience at the DT position. He would provide the Broncos with an experienced pass-rushing DT to wreak havoc on the inside, something that was severely lacking last season.
Right now, the Broncos are deep at the DT position with bodies, but much less stronger with the talent of those players. The defensive tackle group right includes Ty Warren, Kevin Vickerson, Mitch Unrein, Sealver Siliga, Jeremy Jarmon and Ryan McBean.
Warren remains a question mark after his season-ending triceps tear last season. Kevin Vickerson is also coming back from an ankle injury that ended his season last year. Vickerson has never really stood out as being an exceptional DT so far in his career. Mitch Unrein is an interesting prospect who was acquired as an undrafted free agent by the Broncos last season and spent most the season on the practice squad. Ryan McBean was the biggest contributor on the field among the bunch last season, as he had four sacks and 33 total tackles. He was active for all 16 games last year and had three starts.
The Broncos need to add some more veteran players due to McBean's impending suspension and the many question marks surrounding the other options at DT. Okoye would fill that need and could prove to be a steal if he sticks.