Kansas City Chiefs: 5 Position Battles to Keep an Eye on This Summer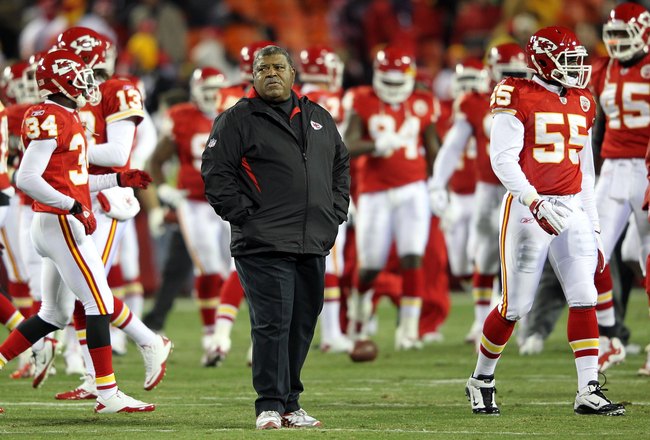 Jamie Squire/Getty Images
The Kansas City Chiefs look to bounce back in 2012 under the direction of Romeo Crennel, the new head coach of the Chiefs.
Crennel appears to have a defense set in stone, but an offense with some questions.
In this slideshow, I will go over five position battles that Chiefs fans must keep their eye on this year as practices get underway in late July and early August. As always, let me know what you agree and disagree with as well as your reason!
Backup Quarterback Position: Ricky Stanzi and Brady Quinn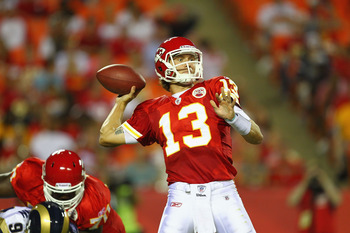 Dilip Vishwanat/Getty Images
Chiefs fans who are also fans of the Iowa Hawkeyes football program are sold that Ricky Stanzi will one day be the quarterback of the franchise. While it is nice to see that college football fans remain passionate and supportive of the players from their program, we need to let reality set in.
While Stanzi's popularity is higher than some players who start for the Chiefs because of how familiar fans are with him, locally, that does not mean Stanzi is ready to take over the franchise. At least not anytime soon.
Both Stanzi and Brady Quinn were backups in 2011 and didn't play one snap.
Usually, Chiefs fans leave the stadium or tune out at home at halftime during preseason contests. With an improved depth, watching these two quarterbacks during the preseason might keep fans interested for four quarters.
In the end, Quinn's experience could give him the slight edge as the top backup behind Matt Cassel.
Regardless of who earns the top backup spot, you can expect Quinn to get his first snap since 2009 and Stanzi to play a regular season game for the first time in his career.
Projected winner: Brady Quinn
Starting Running Back Position: Jamaal Charles and Peyton Hillis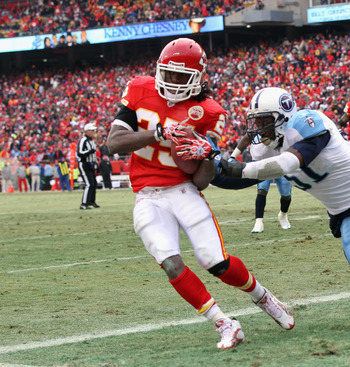 Jamie Squire/Getty Images
Chiefs fans are thrilled to see Jamaal Charles and Peyton Hillis team up in 2012 to help make the Chiefs the top rushing team in the league for the second time in three years. The only thing the fans want to know is, who is going to start?
As a powerback, Hillis has the ability the ability to break through the middle and drag defenders with him while rushing the football and can be most useful in the red zone, where the Chiefs struggled the most offensively.
With tremendous speed and agility, one hole and one big block through the hole is enough for Charles to get through the lane and amass a large chunk of yards.
Charles has had a bad history of injuries. In 2009, he played with a distressed shoulder after being named the starter when Larry Johnson left the team. During the 2010 offseason team activities, Charles did not participate due to the same nagging shoulder injury. He managed to eventually play during the preseason and the regular season.
And as we all know, 2011 was a tough year for Charles as he only played for one game plus one extra drive and was forced to watch his team from the sidelines for the rest of the season.
Despite everything he has gone through, Charles is showing that he is strong and can still play, despite his size and some of the injuries he has gone through. However, it is important that the Chiefs play it safe with him, as he is their best player.
The player who starts may not be the same player who leads the team in carries. As long as offensive coordinator Brian Daboll makes sure the best player leads the team in carries, Chiefs fans won't be complaining, unlike 2010.
Projected starter: Peyton Hillis
No. 2 Wide Receiver Spot: Jonathan Baldwin and Steve Breaston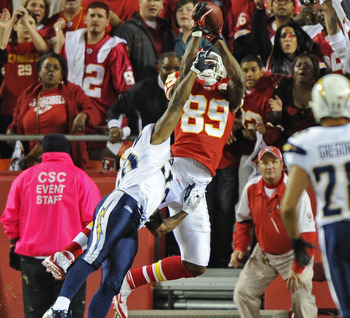 Peter Aiken/Getty Images
Jonathan Baldwin missed five games during his rookie campaign due to an off-the-field injury. This meant that Steve Breaston started alongside Dwayne Bowe for most of the 2011 season.
Breaston signed with the Chiefs and was projected to be the team's slot receiver in hopes that Cassel would have a good season with multiple pass-catchers on the field. But a preseason injury to a tight end and the loss of Baldwin caused the Chiefs to start slowly on offense and eventually finish last in the AFC in scoring.
This time, Baldwin will hopefully have the chance to participate in offseason team activities, training camp and preseason games. This will allow Baldwin to be better prepared for the regular season and live up to general manager Scott Pioli's expectations.
Projected starter: Jonathan Baldwin
Starting Tight End Position: Tony Moeaki and Kevin Boss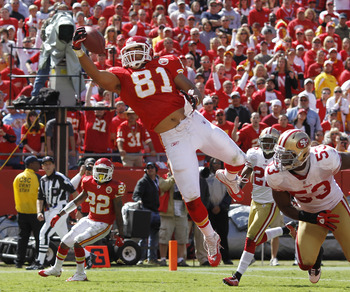 Joe Robbins/Getty Images
Was Tony Moeaki sneaking his way to the top 10 among active tight ends? We will never know as Moeaki suffered an injury in the preseason, forcing him to miss all of the 2011 regular season.
Moeaki has only played one season in the NFL, and it was not a complete one either. Moeaki has missed 17 regular season games in two seasons. Signing Kevin Boss to the Chiefs is what the franchise needs to help Moeaki ease his transition back to football.
Moeaki certainly has the potential to be a great tight end. But does he have the potential to also stay healthy?
For the Chiefs, it might be better to be safe than sorry. Let Boss start things while allowing Moeaki to rebound.
Projected starter: Kevin Boss
Primary Special Teams Returner: Dexter McCluster and Javier Arenas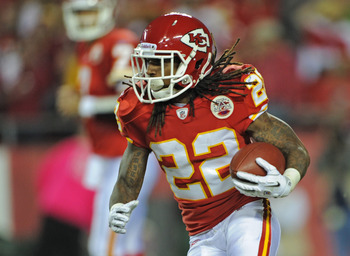 Peter Aiken/Getty Images
The Chiefs made some interesting moves in the second round of the 2010 draft, as they had a pair of picks in that round. The Chiefs spent those resources on Dexter McCluster and Javier Arenas. Although one plays on offense and the other plays on defense, both players are also well-known for their ability to return a football off of punts and kickoffs.
While McCluster and Arenas have not been dominant on special teams, they have had some flashes.
Everyone remembers McCluster's 94-yard punt return touchdown against San Diego in Week 1 of the 2010 season, which was ultimately the game-winning touchdown as the Chiefs defeated the Chargers on Monday Night Football, 21-14.
Arenas has yet to have the spotlight shine on him. However, he finished third in the NFL among all active punt returners with 20 or more returns in return average with 12.8 yards per return off of punts—the most among all AFC returners. Only Patrick Peterson and Devin Hester had a higher average.
So who do the Chiefs put? This past season, McCluster handled most of the kick return duties while Arenas got a lot of the punt returns. In the end, the Chiefs might leave it that way again.
Projected punt returner: Javier Arenas
Projected kick returner: Dexter McCluster
Keep Reading

Kansas City Chiefs: Like this team?