Kansas City Chiefs: 5 Best Draft Picks Since 2000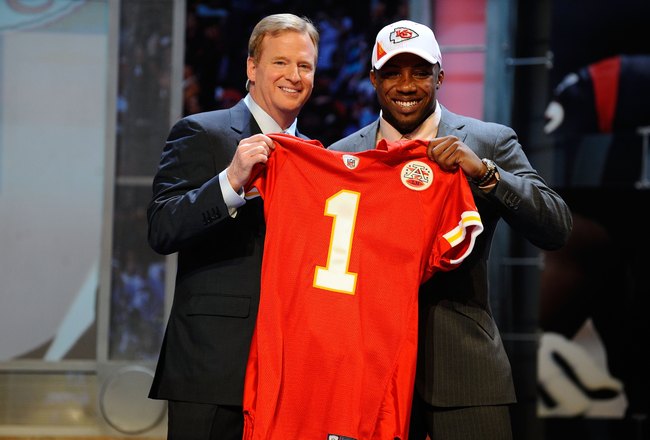 Jeff Zelevansky/Getty Images
When evaluating the success of a particular player or draft class, often times it comes down to expectations from draft position compared to how that certain player performs once they step onto the field.
The Kansas City Chiefs have had their share of draft busts over the years, but have also hit on some players that have become stars in the NFL.
Although the successes haven't directly translated into a lot of wins on the field, there has been a sense of excitement surrounding the Chiefs over the last couple of seasons.
Here are the five best draft picks by the Chiefs since 2000.
5. Jamaal Charles, 2008 Round 3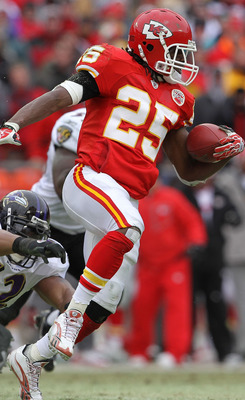 Doug Pensinger/Getty Images
Drafted as a complementary back to starter Larry Johnson, it was unsure what long-term role Jamaal Charles would serve for the Kansas City Chiefs after being chosen out of the University of Texas in the third round of the 2008 NFL Draft.
However, as Johnson became prone to injury and his skills started to decline, coupled with his lewd off-field behavior, Charles was quickly thrust into the spotlight as the focus of the Chiefs' offense.
Since becoming a full-time featured back midway through the 2009 season, Charles has certainly not disappointed. Over his young career he has amassed 3,027 yards on just 499 carries with 12 touchdowns.
Although an ACL injury ruined his 2011 season, Charles will have had close to a full year to recover by the time the 2012 season begins. With an improved offensive line, it will be interesting to see how he bounces back.
4. Derrick Johnson, 2005 Round 1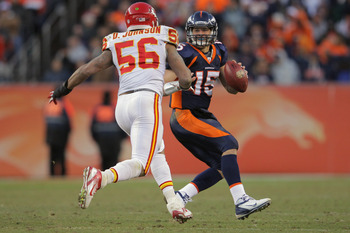 Doug Pensinger/Getty Images
The playmaking linebacker out of the University of Texas slipped to the Kansas City Chiefs with the 15th pick in the 2005 NFL Draft.
Derrick Johnson's career in Kansas City can be described as tumultuous, but his production over the last few seasons is making some of the teams that passed on him regret their decision.
Since the Chiefs moved to the 3-4 defense and he was able to escape head coach Todd Haley's doghouse, Johnson has thrived at the middle linebacker position. His speed and nose for the ball allow him to be a part of most plays on defense—evidenced by his nine career interceptions, three career touchdowns and first Pro Bowl appearance last season.
If the Chiefs can add a more traditional run-stopping linebacker at this year's draft to man the middle alongside Johnson, it will go a long way toward freeing him up even more to do what he does best—simply make plays.
3. Dwayne Bowe, 2007 Round 1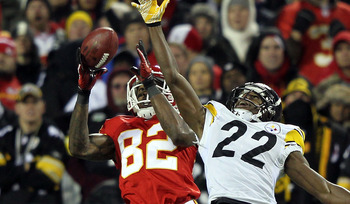 Jamie Squire/Getty Images
The Kansas City Chiefs' most notable pass catcher over the past 15 years was a tight end (Tony Gonzalez), so it was no shock when they started investing high picks in wide receivers.
Although the last time they used their first-round pick on a wide receiver didn't turn out as planned (Sylvester Morris, 2000), Kansas City couldn't keep ignoring the position. Enter LSU wideout Dwayne Bowe in 2007.
After an average start to his career as the Chiefs No. 1 receiver, Bowe broke out in 2010 to the tune of 1,162 yards on 72 receptions and 15 touchdowns.
Bowe has solidified his place in the NFL as a respected premier option, and if the Chiefs can get him inked to a long-term deal they won't have to worry too much about the wide receiver position for the foreseeable future.
2. Tamba Hali, 2006 Round 1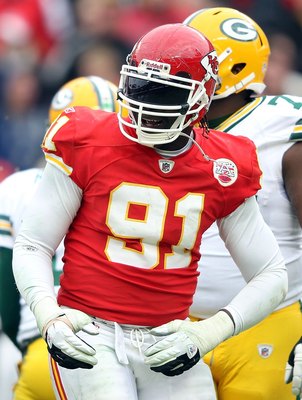 Jamie Squire/Getty Images
The Kansas City Chiefs have used their fair share of high draft picks on defensive linemen, and to their dismay, have misevaluated most of them. But what Tamba Hali has provided the team over his career has been able to mask that deficiency a bit.
Taken with the 20th pick in the 2006 draft, the quiet Hali has done nothing but impress since he stepped onto the field.
Embracing the 3-4 defense the Chiefs installed in 2009, Hali has made a name for himself as a pass rusher with 35 sacks over the past three seasons.
It is possible that with another threat opposite Hali, he could take the next step towards consistently being mentioned as one of the best in the game at sacking the quarterback.
1. Jared Allen, 2004 Round 4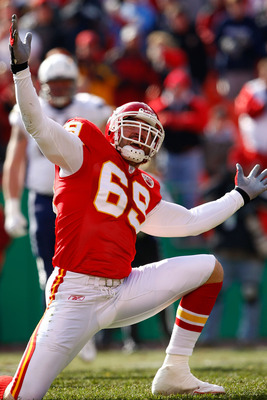 Jamie Squire/Getty Images
If not for an unknown defensive end out of Idaho State taken in the fourth round, the Kansas City Chiefs' 2004 draft would be considered the worst in franchise history. But little did anyone know that Jared Allen would become the player that he is now.
Allen is the premier defensive end in football with 105 sacks in his eight-year career, including 22 last season for the Minnesota Vikings.
If not for Chiefs' former general manager Carl Peterson essentially running Allen out of town, he would more than likely still be racking up those numbers in Kansas City. But the Chiefs were able to trade him to the Vikings for the 2008 picks that netted Jamaal Charles (No. 5 on this list) and starting left tackle Branden Albert, so all was not lost.
Contact Jeremy at jeremy@popflyboys.com, on Twitter @KCPopFlyBoy and read more at popflyboys.com.
Keep Reading

Kansas City Chiefs: Like this team?