AFC South Rankings: Wide Receivers
April 5, 2012

Rick Stewart/Getty Images
Beauty is in the eye of the beholder, but ugly lives in the numbers.
Ranking the best receiving units is like trying to rank the greatest hits of Stryper. You can pull it off, but you don't feel good about yourself afterward. This is going to be brief because spending any more time than necessary analyzing this motley crew is in no one's best interests.
These rankings are for 2012, and to that end, I'm assuming perfect health for both Kenny Britt and Andre Johnson because to do otherwise would mean finishing this list would likely destroy my will to live.
The Titans are really the only team in the South with two legitimate 1,000-yard threats. Kenny Britt was off to a massive start to his season when a knee injury took him down in Week 3. Nate Washington responded with the best season of his career.
The Titans need to find a viable slot receiver, but given how much they use their backs and tight ends, it's not a make-or-break issue for their offense.
Andre Johnson is amazing. By himself, he almost tops this list.
After Johnson, the other Texans wideouts are just not strong. Kevin Walter is serviceable, and if he were strictly a third guy in the slot he could probably maximize his talents. As a No. 2, however, he's a stretch.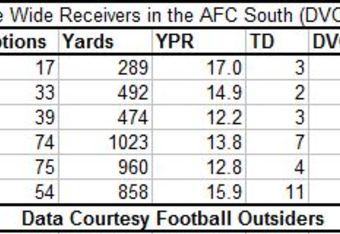 Reggie Wayne is a shadow of his former self, but he catches the ball when it's thrown to him. Austin Collie struggled in 2011, and it's not clear if it was the result of his multiple concussions in 2010 or merely because he was getting passes from the worst quarterbacking unit in football. For now, we'll give him the benefit of the doubt.
Perhaps Andrew Luck can help him raise his numbers to his pre-injury heights of 2010. I believe the Colts' third receiver right now is Air Bud.
Laurent Robinson had arguably the best season of any wideout in the South, but he didn't play in Jacksonville in 2011.
Every other Jaguars receiver was so putrid in 2011 that they don't even merit a mention. After looking at this crew, it's obvious why the Jaguars had to pounce on Robinson. Rumors that the Jaguars are looking to deal for Air Bud cannot be confirmed at the present.