Masters TV Schedule 2012: Dates and Times for Every Round at Augusta
April 5, 2012

Streeter Lecka/Getty Images
The 2012 Masters at Augusta National begins today and barring any weather delays, it will go until Sunday evening. 
Some golfer doesn't know it yet, but he's about to be enshrined into a great membership of golfers for the first time or perhaps we'll have a repeat winner. 
It's uncertain who will win, as the field of talent is so big and so good this year, which is why watching it will be so much fun. 
That being said, take a look below for all the TV times and dates for each round at the 2012 Masters. 
Broadcast Info
Thursday, April 5
Online Coverage: Masters.com
10:45 a.m. - 7:30 p.m. ET Amen Corner Live Video Coverage, Live Coverage of Holes No. 15 and 16, Featured Groups Coverage and Masters In-Depth Coverage 
TV Coverage: 
3:00 p.m. - 7:30 p.m. ET on ESPN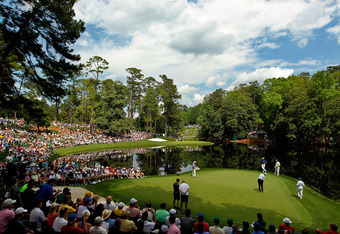 Streeter Lecka/Getty Images
Friday, April 6 
Online Coverage: Masters.com
10:45 a.m. - 7:30 p.m. ET Amen Corner Live Video Coverage, Live Coverage of Holes No. 15 and 16, Featured Groups Coverage and Masters In-Depth Coverage 
TV Coverage: 
3:00 p.m. - 7:30 p.m. ET on ESPN
Saturday, April 7 
Online Coverage: Masters.com
11:45 a.m. - 7:00 p.m. ET Amen Corner Live Video Coverage, Live Coverage of Holes No. 15 and 16, Featured Groups Coverage and Masters In-Depth Coverage 
TV Coverage: 
3:30 p.m. - 7:00 p.m. ET on CBS 
Sunday, April 8 
Online Coverage: Masters.com
11:45 a.m. - 7:00 p.m. ET Amen Corner Live Video Coverage, Live Coverage of Holes No. 15 and 16, Featured Groups Coverage and Masters In-Depth Coverage 
TV Coverage: 
2:00 p.m. - 7:00 p.m. ET on CBS