AFC South Advanced Stat of the Week: Indianapolis Colts
April 5, 2012
Marc Serota/Getty Images
Welcome to the Advanced Stat of the Week for the AFC South. This week we'll be discussing Catch Rate. Catch Rate is a deceptively simple stat that can lead to very wrong conclusions about wide receivers if misused.
I first encountered Catch Rate on the FootballOutsiders wide receiver pages. Catch rate is easy to calculate. Take the number of times a wide receiver catches the football and divide it by the number of times he is "targeted" by the quarterback. Ratio of catches to targets is his catch rate.
Catch Rate = Receptions / Targets
Catch rate divorced from the overall context of a receiver's profile is meaningless. You can't simply say, "Wes Welker has a catch rate of 71 percent and Calvin Johnson has a catch rate of 61 percent." Without more information, you cannot judge the players at all using this stat.
However, if in addition to catch rate you add yards per reception, targets and quarterback overall completion percentage, you can get a more complete view of the skill set and effectiveness of the pass catcher.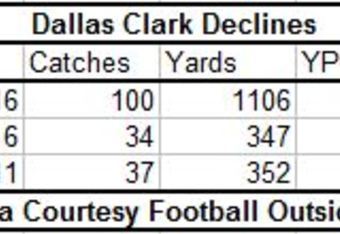 One of the biggest surprises to fans this offseason is the fact that Dallas Clark is still without work. Many have wondered why he hasn't been picked up by anyone. There have been rumors from scouts that Clark has just hit the wall, and historically 32 years old is the end of productive play from a tight end.
In this case, catch rate can tell us a lot about Clark's current abilities.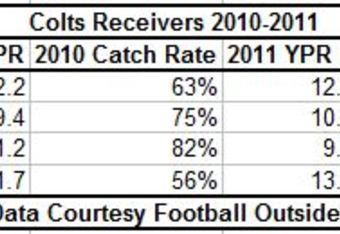 Clark's catch rate has plummeted from the mid-70s for much of his career down to just 52 percent in 2011. Of course, there was a major change at quarterback for the Colts last year that might have accounted for some of his decline.
Unfortunately for Clark, if you check the leader board of dropped passes, you'll find his name prominently mentioned.
Clark's nine dropped passes came in just 65 total targets. That means he dropped nearly 14 percent of all passes thrown his way in 2011. Compare that to Roddie White who lead the league in drops with 15, but did it on 180 targets (8 percent).
It's clear that his wrist injury that took the final 10 games of the 2010 season was still affecting him. All the Colts receivers took noticeable steps backward without Peyton Manning last year, but Clark's struggles with catchable balls, 15 missed games in the past two years and his age of 33 all combine to tell a sad tale.
Dallas Clark is probably done as a productive NFL player.