MLB Opening Night 2012: Standouts and Sitdowns from Cardinals-Marlins Opener
April 5, 2012

Mike Ehrmann/Getty Images
Depending on your viewpoint (or rooting interests), opening night at Marlins Park was either a success or disappointment.
It's just one game, of course, and hardly an indicator of what we could see from either the St. Louis Cardinals or Miami Marlins over the next 161 on their respective schedules. 
But with just one game to watch, the scrutiny is heavier because we're watching so closely. Who thrived under the spotlight of a prime-time showcase? Who wilted?
As tempting as it might be to list the Marlins' carnival dancers as a highlight and the lime-green motif throughout Marlins Park as a lowlight (I still can't get that color out of my eyesight this morning), we'll stick to focusing on the players.
Here are three who stood out, followed by three who sat down on MLB's opening night.
Opening Night Standouts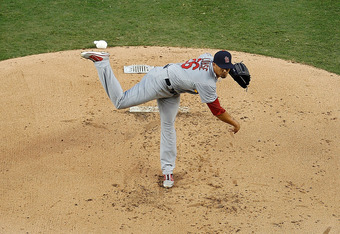 Sarah Glenn/Getty Images
Kyle Lohse
Cardinals manager Mike Matheny raised some eyebrows when he tabbed Lohse for the season opener in place of the injured Chris Carpenter. Why not start the team's ace, Adam Wainwright?
Whether you think getting the Opening Day start is overrated or not, Lohse showed he was deserving of the honor. He also reminded us how deep the Cardinals' starting rotation is, which is a big reason they'll contend for the postseason.
Lohse was brilliant, allowing just two hits over 7.1 innings. He only notched three strikeouts, but threw 56 of his 90 pitches for strikes and didn't walk a Miami batter. Pounding the strike zone resulted in some balls getting hit hard, but Cardinals outfielders swallowed them up in the big Marlins Park outfield.
David Freese
Everybody said it Thursday night: Freese picked up right where he left off from his World Series MVP performance, batting 3-for-5 with two RBI. 
The Cards' third baseman knocked the Marlins back on their heels and quieted the festive atmosphere in the new ballpark early with a two-run double in the first inning.
Batting fifth in the St. Louis lineup, what kind of numbers could Freese put up if he stays healthy over a full season?
Rafael Furcal
We already know this, of course, but spring training numbers don't always translate to the regular season. Furcal had an awful spring, batting .192/.222/.269 with just two walks in 52 at-bats.
He was so bad that Matheny batted him eighth by the end of Grapefruit League play and began considering other candidates for the leadoff spot. 
But Furcal showed those numbers don't mean anything once the regular season lights get turned on. He hit 3-for-5 Wednesday night, driving in a run and stealing a base. In the ninth inning, Furcal hit a deep double to center field that might have been a home run in some ballparks. 
For one game, his swing looked just fine.
Opening Night Sitdowns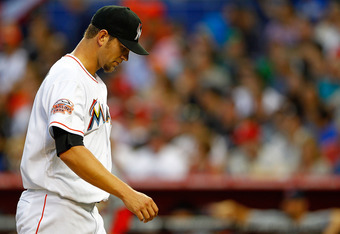 Mike Ehrmann/Getty Images
Josh Johnson
Johnson is the kind of pitcher a major league team is supposed to start in the season opener: the ace who's capable of throwing a no-hitter every time he takes the mound.
What better statement could the Marlins make to begin their 2012 season than for their best pitcher to shut down the defending World Series champions with a national ESPN audience?
Yeah, it didn't exactly go that way. The Cardinals knocked Johnson around early and often, tagging him for three runs and 10 hits over six innings. As ESPN.com's David Schoenfield points out, that was only the second time Johnson gave up 10 hits in his career.
Maybe Johnson had Matt Cain money on his mind Wednesday night and that distracted him a bit. He'll have better days this season. 
Giancarlo Stanton
To be fair, Marlins Park may have confounded Stanton more than anything Lohse threw toward the plate. Batting 0-for-4, Miami's right fielder hit two balls to deep center field that should have given him home runs.
But his new home outfield is some big country and those deep drives ended up landing in Jon Jay's glove. 
This might be the first chapter in what could become a season-long storyline. How many home runs could Stanton—who hit 34 homers last season—lose in the vast Marlins Park outfield?
How could this either hurt or help the home team as the season progresses?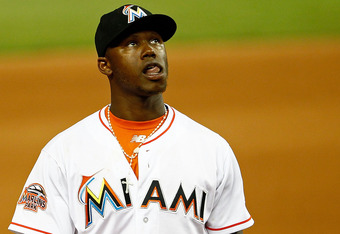 Mike Ehrmann/Getty Images
Ramirez also went 0-for-4 at the plate Thursday night in his debut as a third baseman. The Marlins didn't reach base many times against Lohse, but Ramirez was the guy who came up with potential runners to drive in.
Those runners (actually, it was Emilio Bonifacio each time) were never technically in scoring position, but an extra-base hit from Ramirez could have gotten the Marlins back in the game.
Defensively, however, Ramirez looked comfortable and showed good instincts. ESPN showed one instance in which Ramirez took a step in for positioning but quickly turned back to cover third base for a pickoff. It looked like something he'd done hundreds of times before.