New York Giants Free Agency: Grading Every Move the Giants Have Been Involved In
Jim McIsaac/Getty Images

The New York Giants have not been serious players in this offseason's free-agency period, but the minimal moves they have made have been vital to their improvement in 2012.
The Giants shored up key positions by re-signing cornerbacks Justin Tryon, Michael Coe and, most importantly, Terrell Thomas to strengthen a position that the Giants lacked at because of their absences due to injuries.
With ACL injuries sidelining tight ends Jake Ballard and Travis Beckum for at least the early part of the 2012 season, the Giants filled a big hole in their offense by adding former Dallas Cowboy Martellus Bennett. Bennett may be the Giants biggest signing this offseason and could be even more spectacular if he is able to live up to his expectations within New York's high-powered offense.
Though the Giants biggest needs can be found along the offensive line and within their linebacking corps, minimal salary cap space handcuffed the defending Super Bowl champions and has forced them to look toward the draft to bolster those positions. General manager Jerry Reese and the Giants will not shy away from that opportunity, however, as they have had substantial success through the draft process since Reese's promotion in 2007.
Unfortunately, such little remaining cap space also forced the Giants to let some valuable players go. Brandon Jacobs, Kareem McKenzie and Mario Manningham have all been major contributors for Big Blue for some time but will find time in the NFL elsewhere in 2012.
Despite this, the outlook heading into the 2012 NFL draft is a positive one and their moves in free agency should aid them as they attempt to successfully defend their Super Bowl title.
Let's take a look at how those moves grade thus far.
Begin Slideshow

»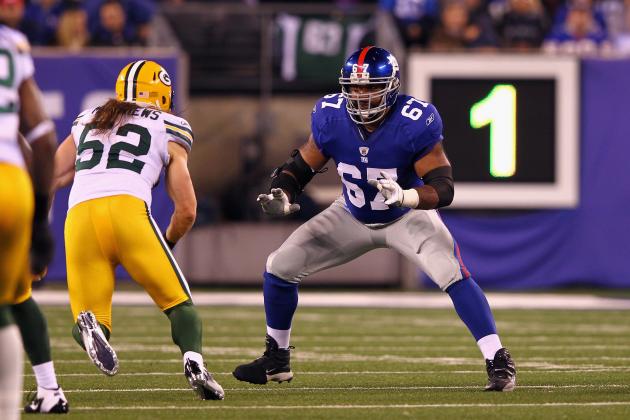 Al Bello/Getty Images

Kareem McKenzie has been one of the cornerstones along a strong, veteran offensive line for the New York Giants for the past seven seasons. His leadership and ability to be the epitome of what head coach Tom Coughlin yearned for in a player made him a central piece in two Super Bowl runs.
The Giants are looking to get younger along the offensive line, however, and McKenzie is a 32-year-old showing all the wear-and-tear expected from an 11-year NFL lineman.
It is sad to see a longtime Giants player move on, but it's best for both McKenzie and the future of the franchise.
Grade: A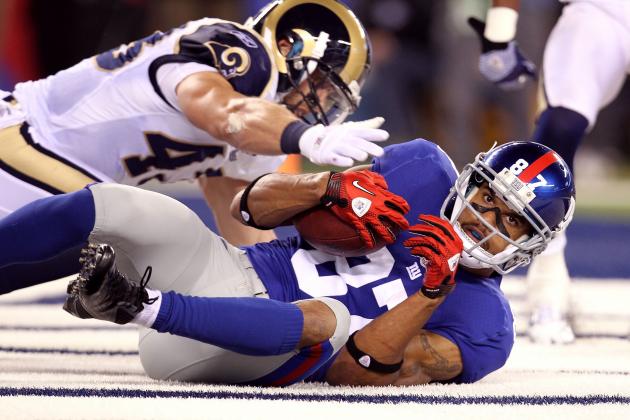 Al Bello/Getty Images

Domenik Hixon has shown all the capabilities to a solid receiver in the NFL. Unfortunately, he cannot keep from landing on the injury report.
The former No. 2 receiver for the Giants has played in just two games over the last two seasons, boasting a career riddled with injuries.
However, Hixon has been a key player for the Giants when he has been healthy. In 2008, he had his best season for New York and played in all 16 games, catching 43 passes for 596 yards and two touchdowns.
In just two games played in 2011, Hixon had four catches for 50 yards and a touchdown—the play in which he tore his ACL. With No. 3 receiver Mario Manningham gone, Hixon could be the go-to guy to fill his shoes.
With minimal cap space and fewer better options in-house or on the free-agent market at such a low price, re-signing Hixon was a great move for the Big Blue brass.
Grade: B+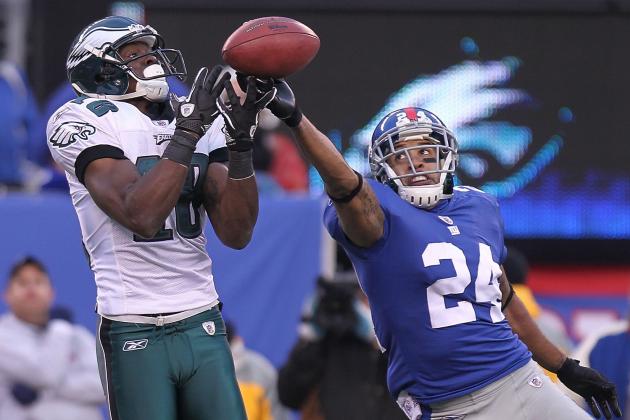 Nick Laham/Getty Images

The New York Giants pass defense was atrocious in 2011. They constantly found themselves beat on plays down the field and were simply outmatched by most opposing teams' receivers.
Much of that had to do with their depleted secondary, most notably missing starting cornerback Terrell Thomas for the entire season.
The Giants knew they needed their star corner on the roster in 2012, and made him their first priority when the free-agency period began.
The contract is one laden with incentives, a smart move by a franchise more than happy to gift a well-deserving player, but also looking out for their best interests considering Thomas has suffered two torn ACL injuries in his short football career.
Grade: A+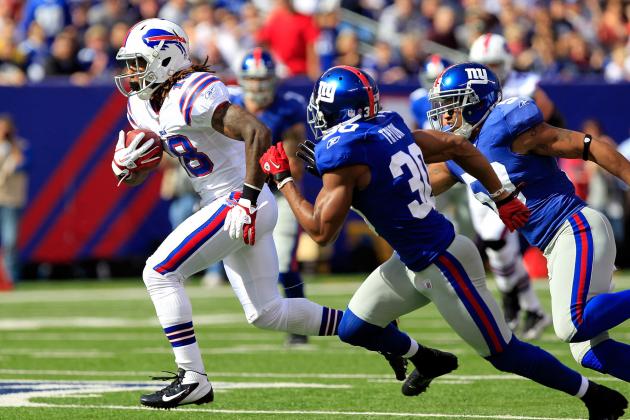 Chris Trotman/Getty Images

Neither player was a key contributor for the New York Giants for a tenuous period, but Michael Coe and Justin Tryon were both good players who added depth before injuries sidelined them in 2011.
The Giants expect both men to play a bit of a bigger role in 2012 while giving them the depth they were lucky to have with all of the injuries that depleted their secondary. Hopefully, both men will not go down with injuries once again, and could see some solid playing time behind Corey Webster, Terrell Thomas and Prince Amukamara.
Grade: C+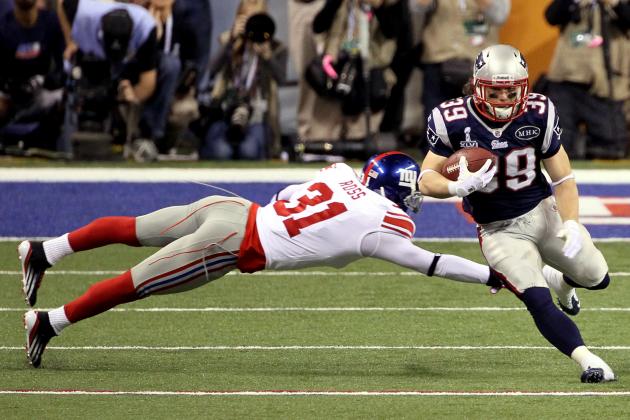 Jeff Gross/Getty Images

Aaron Ross had stayed his welcome in New York.
A good player for the Giants since being taken in the first round of the 2007 NFL draft, Ross' production at the cornerback position regressed dramatically in 2011. Opposing offenses attacked him on a weekly basis and left him eating dust on numerous big plays.
Ross played well in the postseason for the Giants, helping them to their second Super Bowl victory in five seasons. However, he was seeking a much higher asking price than his play truly warranted and the Super Bowl champions were not going to make that mistake.
With the re-signings of Terrell Thomas, Michael Coe and Justin Tryon, Ross' career with the Giants came to a rightful end.
Grade: A+
Jim Rogash/Getty Images

Jake Ballard may be on the sideline for much of the 2012 season, but after the year he had in 2011 there was no way the Giants would not re-sign their exclusive-rights restricted free agent.
Meanwhile, Bear Pascoe and Bruce Johnson are both vital pieces to New York's depth. Both men should be key players as the Giants seek to defend their Super Bowl title.
With tight ends Ballard and Beckum out with injuries and Aaron Ross signing elsewhere, Pascoe and Johnson will see significant opportunities to help the Giants this upcoming season.
Grade: B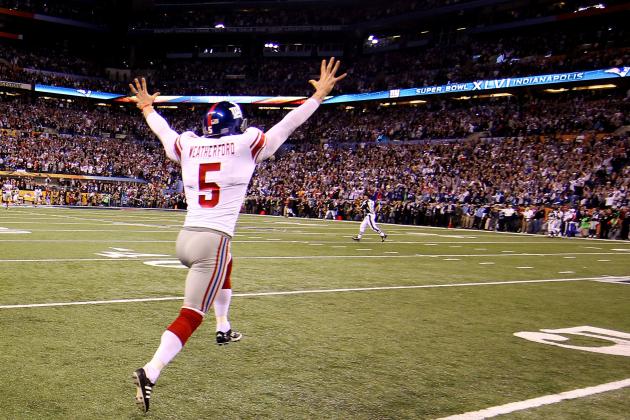 Ezra Shaw/Getty Images

For the New York Giants, special teams was never a positive aspect. Anyone who questions that statement can go watch the tragedy that was "The Miracle at the New Meadowlands." The return game has been a non-factor for years and, while serviceable, Lawrence Tynes is not a very good NFL kicker.
Thank goodness the Giants have punter Steve Weatherford, who played as big a factor in their Super Bowl XLII victory against the New England Patriots as anyone else. His big play in the Super Bowl was merely a representation of what he gave the Giants all season—a dependable, productive punter who aided in the battle for field position.
He was one of the best punters in the NFL in 2011 and his new contract—a five-year, $12.75 million deal—reflects that.
Grade: A+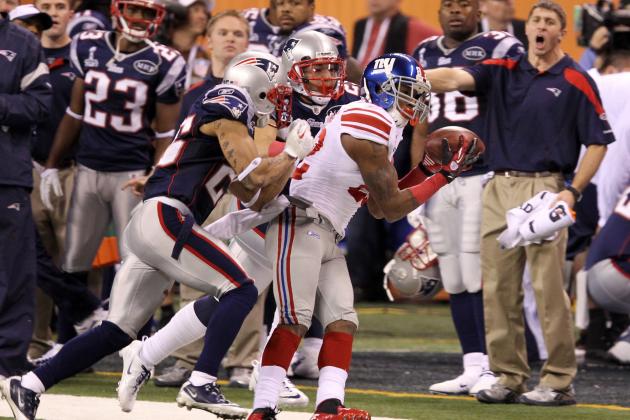 Andy Lyons/Getty Images

Mario Manningham was the Super Bowl hero against the New England Patriots. Without that unbelievable sideline grab in the fourth quarter, the Giants may not be Super Bowl champions.
But his play in the Super Bowl did not warrant what he was demanding once free agency hit and the Giants had no choice but to let their No. 3 receiver walk.
Boasting highlight-reel wide receivers Hakeem Nicks and Victor Cruz, the Giants can get away with letting a player of Manningham's caliber go. Despite impressive campaigns in 2009 and 2010, Manningham played 12 games in 2011 and caught 39 passes for 523 yards and just four touchdowns.
Nicks and Cruz accounted for more than half of quarterback Eli Manning's offensive output in 2011, catching 158 passes for 2,728 yards and 16 of Manning's 29 touchdown passes.
Manningham was unaffordable as a No. 3 receiver and while he can be a good player going forward, there is simply no room left for him in New York.
Grade: A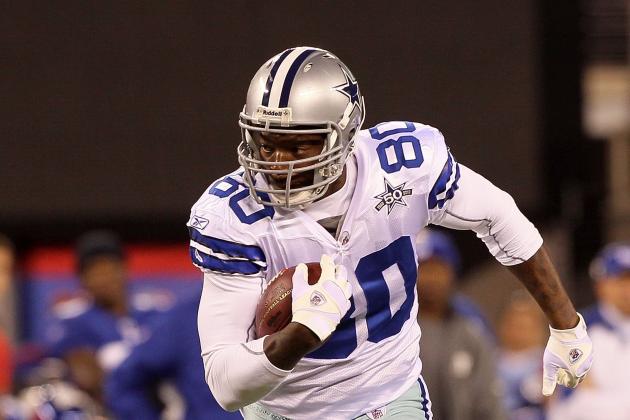 Jim McIsaac/Getty Images

The New York Giants needed a tight end, but was Martellus Bennett their best option?
Granted he has been stuck behind superstar tight end Jason Witten as a member of the Dallas Cowboys, but Bennett has mostly been a disappointment thus far in his NFL career. In four seasons, Bennett has just 85 receptions for 846 yards and four touchdowns—all four coming during his rookie season.
Though Bennett boasts all the physical tools you look for in an athletic tight end, he has been underwhelming and that should be a concern for a team that appear to be putting their stock in him for the 2012 season.
Luckily, that is what the contract he has been signed to is for, however. One year leaves minimal risk if Bennett is to fail.
If he disappoints, the Giants move forward; if he succeeds, he is just another genius pickup by general manager Jerry Reese.
Grade: B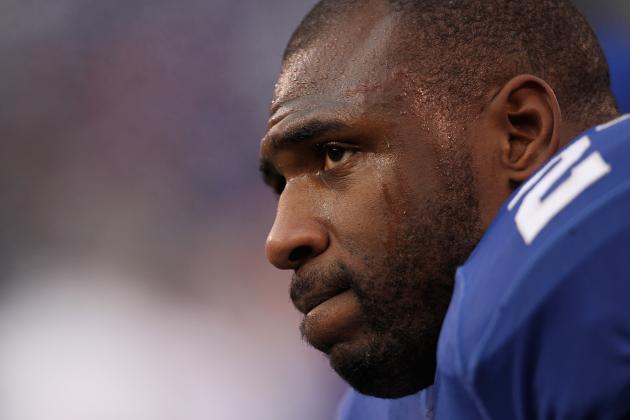 Nick Laham/Getty Images

There was a time when Brandon Jacobs appeared as if he would be a New York Giant forever. That time came and went, as Jacobs was released on March 9th.
Today, Jacobs is a member of the San Francisco 49ers. His departure has left a vast hole in the Giants backfield, though, and the hole has become a much more desperate need to fill with news of Ahmad Bradshaw's uncertain future as injuries heal.
Originally thought to be a good move for the Giants, could the release of Jacobs come back to haunt them? His steady decline in production insists it was the right move, but what happens if Bradshaw is not ready to go in training camp as currently planned?
The Giants have yet to take care of such concerns and could be leaving themselves in a dangerous position when it comes to the rushing attack—and that is saying something considering they finished dead-last in rushing last season.
In the long term, releasing Jacobs will likely be the best move they could have made. It enabled them to free up cap space and should allow them to make deals with their drafted players without an issue. However, if the Giants cannot do something about the running back position heading into the 2012 season, their decision could have some severe backlash for the short-term.
Grade: C