College Basketball Recruiting: NC State Blowing North Carolina, Duke Away
April 5, 2012

Andy Lyons/Getty Images
The North Carolina State Wolfpack have been out-recruited by North Carolina and Duke for years, but the Wolfpack's three incoming McDonald's All-Americans think head coach Mark Gottfried will shift the recruiting battle in Raleigh's favor in the upcoming years.
Tyler Lewis (No. 44), T.J. Warren (No. 29) and Rodney Purvis (No. 20) are all North Carolina natives and were sold on the program from first-year coach Gottfried, who led the Wolfpack to the Sweet 16 before losing a close 60-57 game to the Kansas Jayhawks.  
North Carolina State has three players in the ESPNU 100 and they are heavily recruiting forward Amile Jefferson (No. 18) and shooting guard Torian Graham (No. 81).
North Carolina did sign McDonald's All-American point guard Marcus Paige (No. 23), small forwards Brice Johnson (No. 30) and J.P. Tokoto (No. 66) and center Joel James (No. 77). As for Duke, they have a great athlete in McDonald's All-American shooting guard Rasheed Sulaimon (No. 14), but he's Duke's only ESPNU 100 signee. The Blue Devils are also pursuing forwards Tony Parker (No. 21) and top recruit Shabazz Muhammad.
The Wolfpack trio all performed well at the McDonald's All-American Game, which was the first time they all played on the same team. Lewis (two points, three assists), Purvis (15 points, three assists) and Warren (10 points, five rebounds, two assists) kept the East in the game.
Lewis, the Gatorade Virginia Player of the Year, originally committed to North Carolina State before his junior year and had to go through a coaching change from Sidney Lowe to Gottfried and the new staff.
However, Lewis gave Gottfried a chance and decided to stick with his original commitment.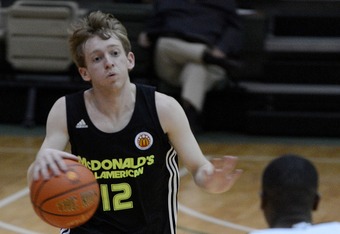 "It's definitely Coach Gottfried and his changing the whole environment down in Raleigh," Lewis said. "He's definitely going out and recruiting people a lot harder. I think I played a major role in getting Rodney and T.J. We've all been friends since we were little and we always wanted to play with each other. We want to help others notice that NC State will be a top team in the ACC."
The 5'11", 165-pound Lewis is good friends with Purvis and Warren, who he played AAU basketball with as a kid.
"I grew up with Rodney and T.J. since I was 11, so I know their games well," Lewis said. "Rodney is impossible to handle in the open court. You're not going to stop him on a fast break. He is a lock-down defender. T.J.'s a solid scorer who could produce points in a variety of ways. It's going to help us out a lot at NC State."
Purvis, the Gatorade North Carolina Player of the Year, said he wanted to be a part of something special.
"I really liked Coach Gottfried," Purvis said. "If the program is able to turn around, I wanted to be able to say I was a part of it. I wanted to get some excitement back to Raleigh."
The 6'3", 192-pound Purvis said that he was really impressed with Gottfried and his honest approach.
"I think Coach Gottfried," Purvis said on why NC State is out-recruiting North Carolina and Duke. "He's a man of his word. He just wants you to trust in him and believe in him. As you could see, he came into a team that he's never coached and didn't recruit any of the players. He made a Sweet 16 run."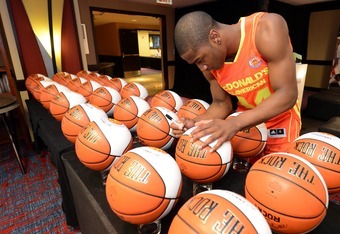 Purvis said that he is excited in how his game fits with Lewis and Warren.
"With T.J., we're similar," Purvis said. "He's a bit taller, but we both score the ball. It's been fun playing with him and we both understand our games. Tyler is so easy to play with because he's going to get you the ball regardless."
Warren, a star player at Brewster Academy (Wolfeboro, N.H.), said he received an offer from North Carolina, but he wasn't too impressed with the Tar Heels.
"I feel like UNC is kind of in a slump right now," Warren said. "We just want to come in and compete against them. It's kind of cool for us to have three McDonald's All-Americans here on the team. It's amazing seeing coach Mark Gottfried in his first year without recruiting any of his own players. It was a good run for him and he showed NC State that he could win. We're trying to get that era back when NC State used to be great."
The 6'7", 205-pound Warren said he is very excited to be playing with Lewis and Purvis, who he thinks will form a great trio.
"Tyler is a great pass-first point guard who is very crafty and can knock down the open shot," Warren said. "Rodney is very strong. He could get to the rim on anybody and is a strong finisher. They both compliment my game as a great scorer and playmaker."
Purvis said he and his fellow recruits can't wait to represent North Carolina State in the upcoming season.
"The future of NC State is very exciting," Purvis said. "I'm going to continue working on my game. T.J., Tyler and I are all going to continue working together and be ready when the fall comes."
Warren added that they all want to compete and defeat the top programs like Duke and North Carolina.
Bob Bajek is a Chicago Bulls/NBA Featured Columnist. He has covered the McDonald's All-American Game onsite in Chicago. He is a freelance reporter and can be followed on Patch.com and Twitter.