A lot of things happened in the WWE over the weekend.
WrestleMania 28 has come and gone and the Monday Night Raw that followed did not disappoint.
Heading into WrestleMania, there was a buzz in the online wrestling community that former WWE Champion Brock Lesnar signed a contract with the WWE for his big return to the squared circle.
That rumor turned into reality when Lesnar's music hit as John Cena stood in the ring expecting The Rock to come out.
Cena wanted to congratulate The Rock face-to-face, but instead got a rude awakening and an F5 from Lesnar.
However, it was what was said and what happened earlier in the evening that has me still thinking about Raw.
The Rock stood in the ring and talked about his victory the previous night at WrestleMania, while thanking his fans.
The Rock claimed he had a vision, and told his close friends about this vision.
What vision is that? Once again becoming the WWE Champion.
"The Rock...one day, will walk down that aisle. As the jabroni-beating, pie-eating, trail-blazing, eyebrow-raising, one vision in mind, don't need no revamping, The Rock is going to be WWE Champion."
With that quote right there, I still get goosebumps.
Originally, I figured The Rock's victory at WrestleMania XXVIII would be his last in the WWE, but that doesn't seem to be the case.
Now that I have heard this, it helps me understand The Rock's victory at WrestleMania and it is the exact boost he needs to get back into the mix, because that is clearly what is happening now.
The question is, how long will he be around?
Honestly, I am not expecting The Rock to be a full-time competitor in the WWE. I don't think that is possible at this point with all of the movie roles he has planned.
According to his profile on IMDB.com, The Rock has been named for five roles in the next two years, with one already filming (Pain and Gain).
With that being said, it is quite obvious to me that this is one last run for The Rock. No, he isn't leaving the movie scene, but he is going to find the time to perform at a high level one last time.
The Fast and the Furious 6 looks like it will begin filming in May, but if that wraps up in time, a SummerSlam appearance in sunny Los Angeles isn't out of the question for The Rock.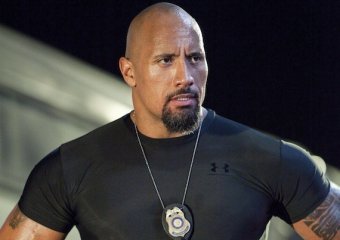 Right now, it is just a big guessing game on how The Rock plans to do this.
The Rock has been pretty quiet about it on his Twitter account, and hasn't gotten into any specifics.
Next week, Monday Night Raw is at the Verizon Center in Washington, D.C.
It already seems like The Rock isn't going to be on hand, but as for Lesnar, he is already being featured:
"Brock Lesnar has returned to WWE for the first time in 8 years! How will John Cena respond to Brock Lesnar in Washington DC next week after Lesnar's actions this past week on Raw?!"
It's crazy to sit here and think that The Rock and Brock Lesnar are both part of the WWE again, even if it is for just a short period of time.
I mentioned SummerSlam as a possible attraction for The Rock this summer. Oddly enough, SummerSlam 2002 is the last time he was WWE Champion.
Even more fittingly, it was Lesnar who beat The Rock at that very event to win his first of three WWE Championships.
However The Rock plans on doing it, he is going for his 10th World Championship in the WWE.
What are you more excited about?
If The Rock can pull this off, he won't be the oldest WWE Champion ever. Vince McMahon has that honor, at 54 years of age when he defeated Triple H for the title on September 14, 1999.
It is worth noting that if my calculations are correct, only Hulk Hogan has ever left the WWE for this period of time (roughly eight years) and become WWE Champion again.
It has been nearly 10 years since The Rock has been WWE Champion.
If anyone can do it, The Rock can and will become champion again.
Follow me on Twitter @nyyrobinson.