Masters 2012 Leaderboard: Latest Scores, Results and Analysis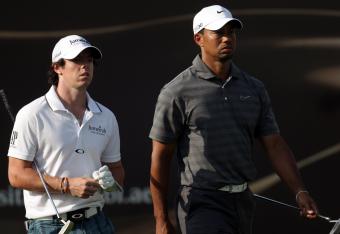 Ross Kinnaird/Getty Images
Welcome to live coverage of Day 2 at the 76th Masters on Bleacher Report. Tiger Woods, Rory McIlory and Phil Mickelson lead the star-studded field this week at Augusta National Golf Club in undeniably the most highly anticipated major of the last decade.
The variety of players at the top of their games paired with the historic presence of golf greatness at the Masters guarantees a captivating four days of competition. Augusta National is the unchanging host course of the Masters and one that is truly renowned in the golf world for its unparalleled history, beauty and difficulty.
The course has proven a bit more receptive after the 1.5 inches of rain it received Tuesday night, as well as the storm front predicted to roll through Georgia Thursday night and into Friday. However, the weekend looks to have clear, blue skies and temperatures in the mid-70's, truly ideal conditions for the verdant fairways and towering trees decorating the Augusta landscape.
Keep checking back here for live updates, results and analysis for the 2012 Masters!
Masters Leaderboard:
| | | |
| --- | --- | --- |
| Name | Today | Overall |
| 1. Fred Couples | 67 | -5 |
| 2. Jason Dufner | 70 | -5 |
| T3. Lee Westwood | 73 | -4 |
| T3. Sergio Garcia | 68 | -4 |
| T3. Louis Oosthuizen | 72 | -4 |
| T3. Bubba Watson | 71 | -4 |
| T7. Miguel Angel Jimenez | E thru 17 | -3 |
| T7. Rory McIlroy | 68 | -3 |
| T9. Nick Watney | -2 thru 16 | -3 |
| T9. Phil Mickelson | 68 | -2 |
Tiger Watch:
| | | |
| --- | --- | --- |
| Tiger Woods | +3 thru 17 | +3 overall |
Stay updated with the live action on Twitter: Follow @golfforthesoul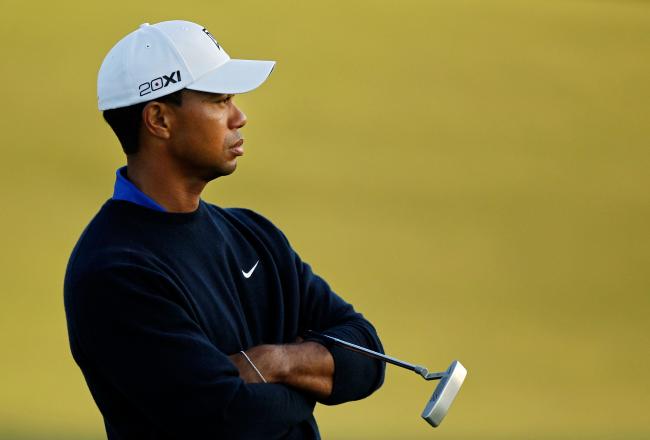 The 2012 Masters will enter the weekend with 63 players making the cut, and the last time that happened, co-leader Fred Couples won the tournament.
Couples and Jason Dufner are tied for the lead at five under par. Four players are just one stroke behind Couples and Dufner, including Rory McIlroy, Sergio Garcia and Lee Westwood.
Phil Mickelson had a strong second round, finishing four under on the day which makes him two under par for the tournament.
Tiger Woods had an abysmal round on Friday, shooting a three over 75 to finish the day three over par for the tournament. After making two birdies to start his day on holes No. 1 and 3, Tiger didn't make another all day. He made five bogeys over the course of the next 15 holes, including three on the back nine.
Even though Woods had a poor second round, he could still win his fifth green jacket if he makes up ground on Saturday. No one has run away with the tournament after two rounds.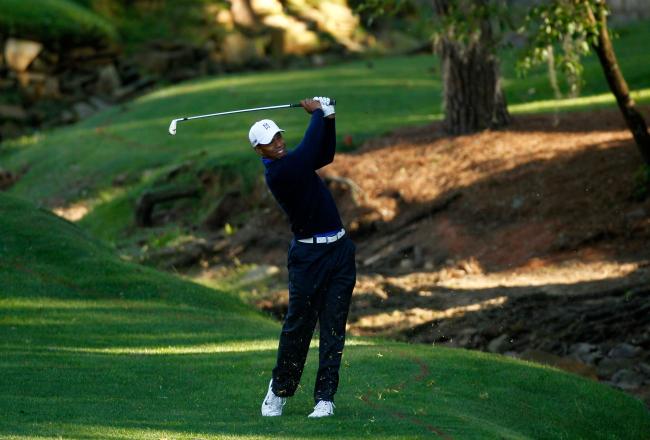 Tiger Woods finishes an uncomfortable round two with pars on holes 17 and 18 to finish with a three over 75. He is also three over par for the tournament.
Woods was two over par on the back nine, and failed to make a bride after the third hole.
Only 12 of Tiger's 62 rounds at the Masters as a professional have been over par, including Friday's second round.
Tiger will surely head to the driving range this evening and try to figure out why his tee shots were so poor on Friday.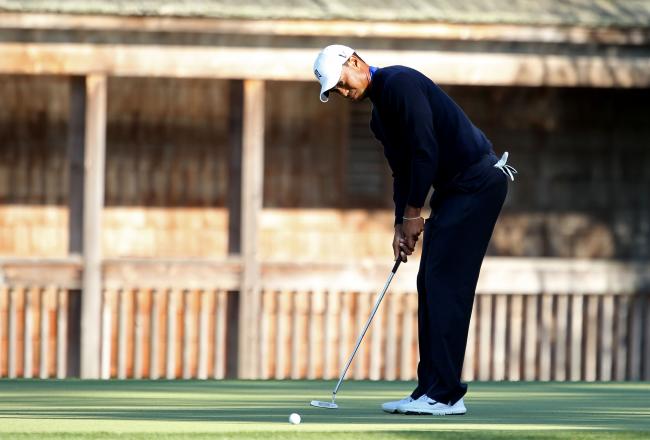 Tiger Woods has lost his game and mind at hole No. 16. His tee shot on the par three was dreadful, and after he saw the ball land in the bunker, he kicked the club he used off the tee. It was a meltdown that we don't expect from players of Tiger's pedigree.
Woods escaped an even worse nightmare when his shot out of the bunker barely hung onto the rough on the side of the green and did not roll down into the water.
He nearly chipped his shot from the rough into the hole for par, but had to settle for a very short bogey putt.
Tiger is currently third over par heading into hole No. 17. He bogeyed 17 and 18 in round one, and doing that again could put him in danger of missing the cut, which is projected to be five over par.
Jason Dunfer and Fred Couples currently sit atop the leader board at five under par.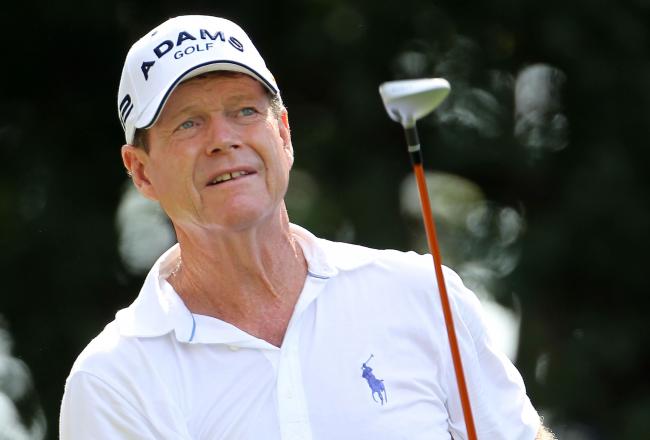 Tiger Woods is currently two over par with a par on holes 14 and 15 . He missed a makable birdie putt on No. 14 and was clearly frustrated when the ball broke in a manner he certainly wasn't expecting. Tiger now hasn't made a birdie in 11 holes.
Woods then put his approach shot into the crowd on No. 15 when he hit the ball off balance and appeared to be aiming too much. It was an ugly looking swing for sure. He eventually found the green with a strong bunker shot.
Tiger has struggled on par fives in round two, which has really hurt his ability to get under par for the tournament.
Golfing legend Tom Watson finished his second round at seven over par, and is not expected to make the cut. He received a great applause from the fans after walking off the 18th green. Watson's first Masters was in 1970, and he captured the green jacket in 1977.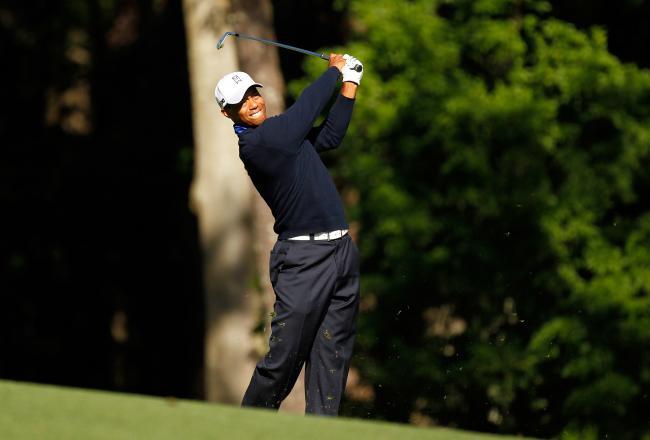 His second shot on the par-5 12th hole was meant to be a lay-up in front of the green, but it hooked too much and ended up trickling down into the hazard, meaning a penalty. The projected cut is +5 and Tiger is currently +2 on the 12th hole.
Are you thinking what I'm thinking? Because that'd be unthinkable.
Tiger Woods needs to save himself on the 12th hole and then make a serious adjustment or he may miss the cut at the Masters.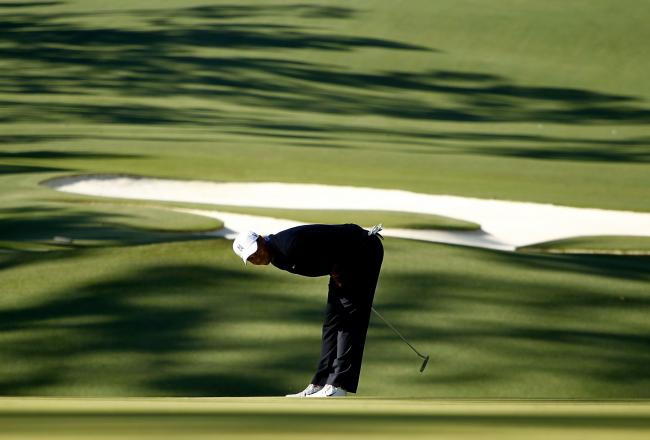 He stormed out of the gate with a birdie on the first and third holes. However, just when it seemed like he was gaining momentum and making a Masters charge as golf fans worldwide have come to expect, he's absolutely plummeted. He's currently +2, the leader is -5.
Woods' driver is errant, his irons are inconsistent, and his short game unreliable. Not exactly a winning combination.
However, if Tiger will be known for anything in his career it will be his ability to recover. He's never been the most accurate player off the tee, but, his imagination paired with his versatility has allowed him to make impossible shots come to life.
Unfortunately, his first 11 holes of the second round have been dreadful.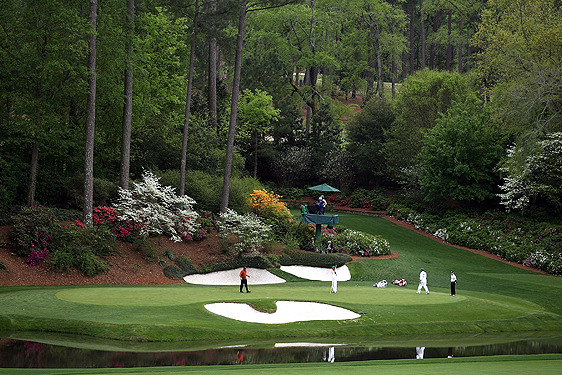 The term Amen Corner was coined by a Sports Illustrated writer named Herbert Warren Wind back in 1958. Like baseball's 'hot corner,' Wind was intent upon finding a way to convey where the most riveting moments of golf occurred at the storied Augusta golf course.
However, considering the 'corner' entails three incredibly treacherous holes, it seems more appropriate that players pray they survive the corner in general.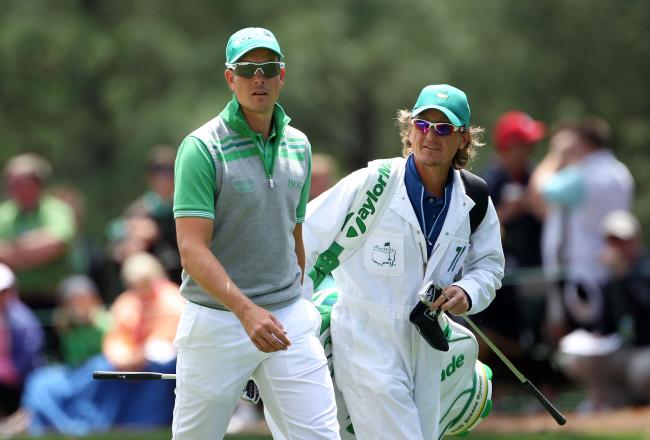 It's great to see Henrik Stenson (-2) rebounding after he made a snowman (8) on the par-4 18th hole yesterday.
Stenson had the lead throughout the opening round of the Masters, but after his drive on 18 found the woods, it took him two get out, two to reach the green, and suddenly he'd dropped four shots and well down the leaderboard.
Sure enough, he's got good vibes at Augusta, especially on the greens, which is where it counts most.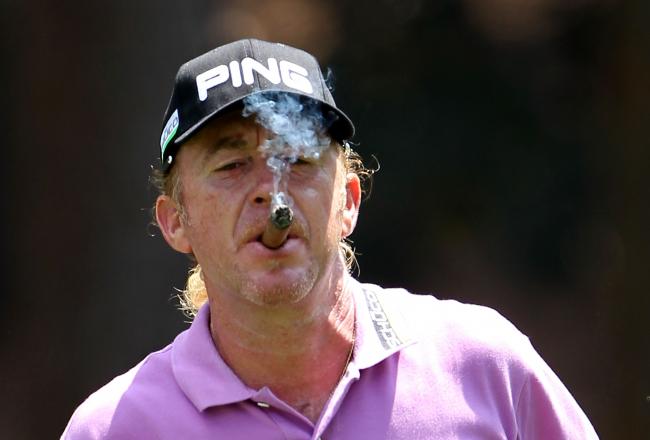 You may remember him from this amazing shot at the British Open two years ago at St. Andrews. Or perhaps you'd recognize him with a cigar hanging out of his mouth, considering that's how he prefers to compete.
Jimenez is -4 in the Masters through nine holes in his second round and shown zero signs of slowing the pace. The Spaniard plays primarily on the European Tour, where he's won 18 times in his career. He has a solid history at the Masters, making the cut each of the last seven years and finishing in the top 20 three times.
He's a gritty and tough, no-nonsense golfer. Jimenez never holds back in his swing, plays aggressively with his irons, but has a silky smooth touch on the greens.
Just a shot off the lead, don't rule him out.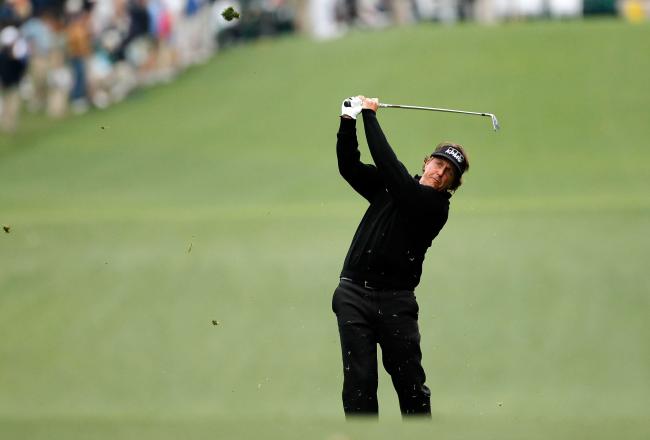 Phil Mickelson, love or hate him, battled back from a two-over par 74 yesterday to shoot an impressive four-under, 68. He is now -2 for the Masters and three shots off the leader.
His short game was on fire today, knocking pitches close and gaining a firm grasp of the speed of Augusta's slick greens.
The most significant change in his game from yesterday was his ability to put himself in position off the tee to hit greens in regulation. As a result, he carded six birdies on the round against just two bogeys.
Watch out for Mickelson over the weekend, the proud owner of three Green Jacket's.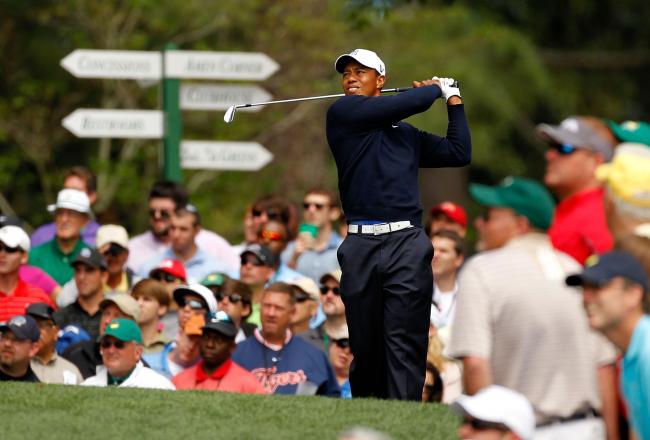 But is this or is this not classic Tiger? On the 8th tee box, Woods clobbers his drive, but hit's it so errant and left that he slams the club head on the ground and yells "Fore Left!" From there, Woods is buried in pine staw under the trees and has a scarily slight opening between two trees, so what does he do?
No need to be cautious — he pummeled the ball right through the gap in the trees, lining up a third shot into the green.
There's no denying it's dramatic and fun to watch, but realistically this is not how he's going to get a fifth Green Jacket. His issues with putting are serious, however, the story of his rounds over the last six months are about not establishing a rhythm off the tee that would give himself opportunities to hit greens in regulation. When you don't hit greens in regulation, it's nearly impossible to make birdies.
He's heading into the ninth hole five shots off the lead and will need to make an effective adjustment off the tee to get back in the red.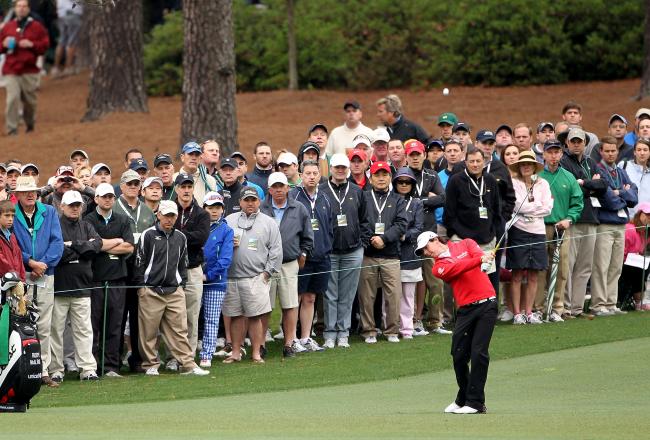 Proving the naysayers wrong is becoming a habit of his.
McIlroy never veered from the path, hitting shot after shot in the right place, sinking putts when he needed it most, and most importantly, he's near the top of the leaderboard in striking distance.
What are his chances this week?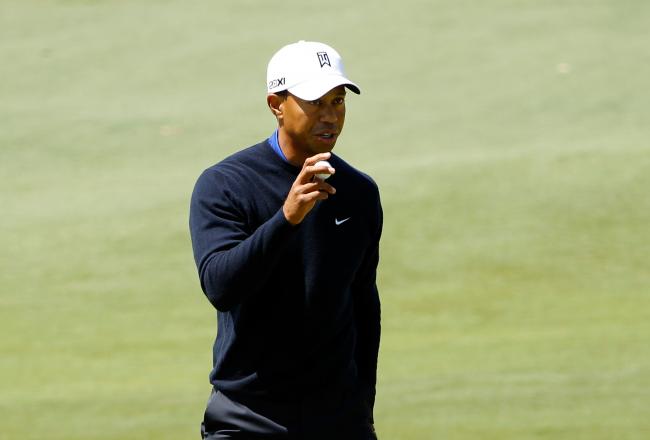 So the 51-year-old is now tied with the 22-year-old, Rory McIlroy, as well as Jason Dufner and Sergio Garcia.
Tiger Woods, however, who made two quick birdies, has now added two quick bogeys and is back to even-par.

"If you get out of position on this golf course, it can punish you."
Those are the words of Lee Westwood just after his double-bogey on the 18th. Westwood had the lead for almost the entirety of his round, then stumbled with a poor second shot on his final hole.
He has six top 3 finishes in majors, but the major championship itself has remain elusive. Is this his week?
As much as it would be a veteran-Cinderella story, I don't see it happening. Westwood has consistently come up short for a reason. He tends to be erratic and have one or two blow-up holes amidst an otherwise clean scorecard, just as he did in his +1 round of 73 today.
Also, he's got company. McIlroy tied atop the leaderboard. Mickelson climbing back into contention at -1, and Tiger Woods also in the red early in his round.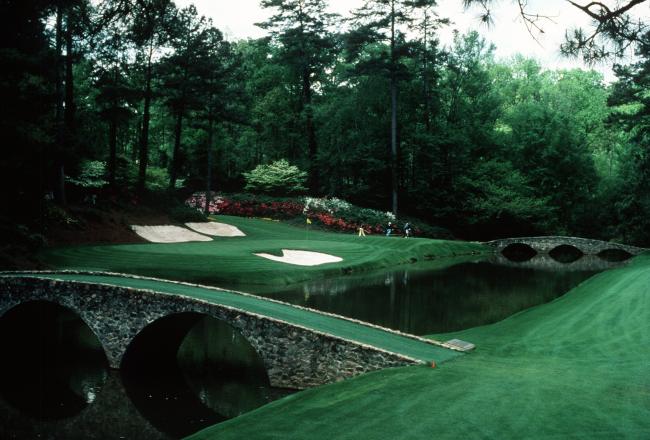 Some have called this "Tiger-proofing," a trend rampant across a variety of courses in the U.S. involving intentionally increasing the distance of holes, adding bunkers, water hazards, trees in the middle of the fairway — pretty much anything to make the golfer's life more difficult.
Deadspin just linked to one of Co. Design's infographics, explaining how Augusta National has become nearly impossible.
Please take a look and post a comment if you think these changes are fair or ridiculous.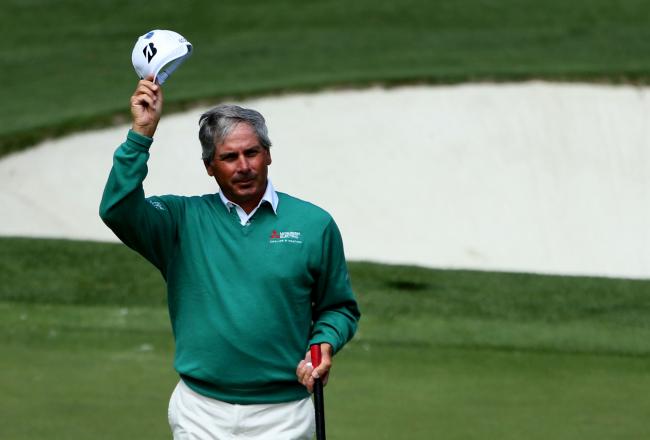 Fred Couples, who by the way is 52-years-old and won the Masters exactly 20 years ago, is just a shot back of the leader, Lee Westwood. There's no denying it, Couples still has one of the sweetest swings in the game, but also the grit to challenge the young guns.
But how can you ignore the roars of the throngs following Tiger Woods? He's already made two quick birdies that were set up by initially finding the fairways off the tee. Although his even-par round yesterday was decent, it could've been much better had he been able to create opportunities for himself off the tee, rather than needing to recover from poor tee shots.
Now, it appears, Woods has found his stride. He is currently -1 for the tournament, five back of the leader, Lee Westwood. Although, Westwood just hooked his second shot at the 18th, which came up well-short of the green, leaving an impossibly difficult chip shot over a massive bunker, into the wind, and onto a two-tiered green. Good luck there, Westy!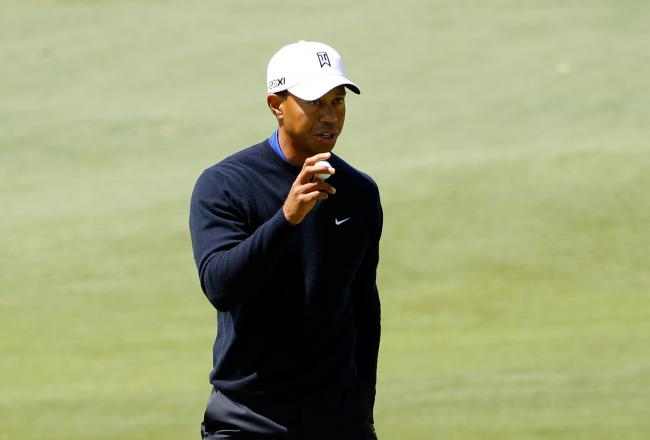 I'm going to hand things back over to Will in a minute here, but first, a quick update.
Jason Dufner bogeyed his final hole and fell into solo second after finishing his round at 2-under 70. Lee Westwood is now in sole possession of the lead at -6.
Tiger Woods has birdied two of his first three holes and had vaulted himself into a tie for ninth. Obviously whether or not he can keep it going will be the story of the day.
Phil Mickelson has gotten himself back to even par for the tournament with consecutive birdies on 12 and 13. Luke Donald and Adam Scott are both at +2 after hitting birdies early in their rounds and are in a better position to make the cut now than they were at the start of the day.
Finally, Rory McIlroy is hanging around at T5 thanks to a round in which he is 3-under through 14 holes.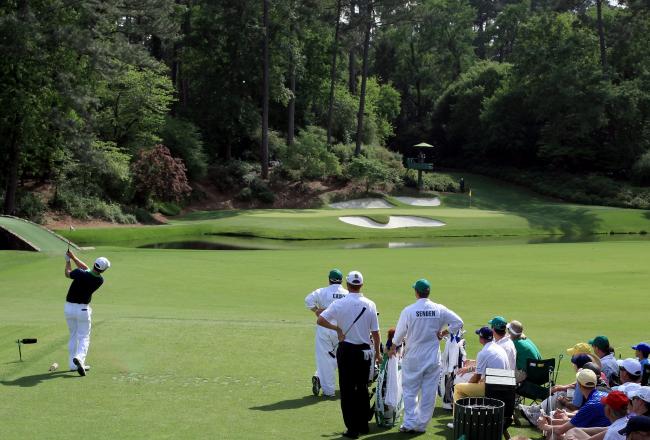 The par-3 12th is the shortest hole at Augusta National, playing at only 145 yards. For most pros that's a 9-iron or maybe even a pitching wedge.
But this hole is also the second-most difficult on the course because of its swirling winds and small landing area. Hazards surround the green as Rae's creek runs in front and bunkers wait in back for shots that won't sit on the shallow green.
The pin location today has been nice to players, as it has allowed 25 birdies and 24 bogeys. Far more shots have landed close to the hole today than yesterday and the second shots from off the green have generally been easier as well.
Don't think Augusta won't put it in an extra-challenging location on Sunday though. Golfers won't be looking forward to that.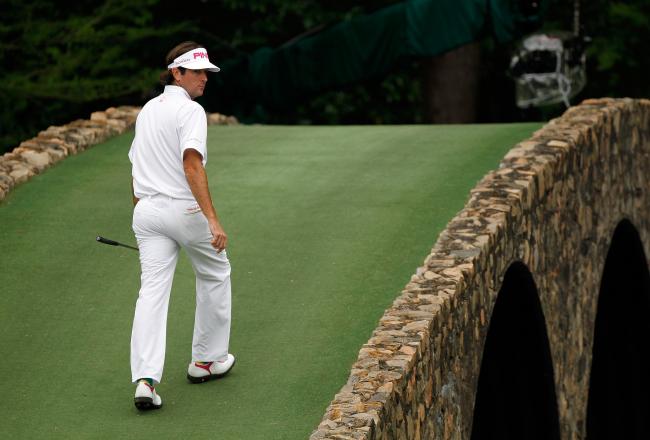 Bubba Watson is getting some incredible movement on his shots over at the 13th. He took an extremely open stance on his tee shot and sliced it perfectly on line with the dogleg left par-5. After a great second shot, Watson reached the green in two and will be putting for eagle shortly.
In other news, Jason Dufner took over sole possession of first place with a birdie at 16. That moves him to -6 for the tournament, which means more to those looking to make the cut that it does for the top of the leaderboard. If Dufner finished his final two holes cleanly, anyone at +4 or better will be playing the weekend unless he closes out his round by adding to his one-stroke lead over Lee Westwood.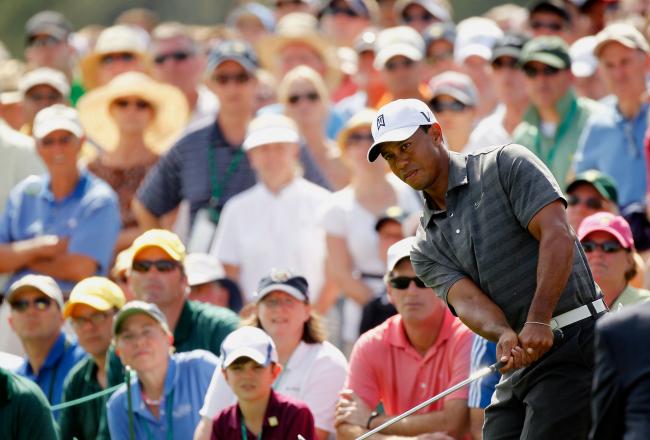 Tiger Woods just became the eighth person all day to birdie the first hole. A sign of things to come? Maybe.
Some quick clothing observations:
1. Bubba Watson's all-white outfit makes it difficult to distinguish him from the caddies.
2. Ian Poulter came to play in all-purple, adding some color to make up for the flowers that bloomed too early.
3. Phil Mickelson is dressed in the all-black that he wore en route during his 2010 Masters victory. It doesn't seem to be doing anything spectacular for him today though.
4. We've got several bumblebee looks today with both Sergio Garcia and Hunter Mahan sporting black and yellow.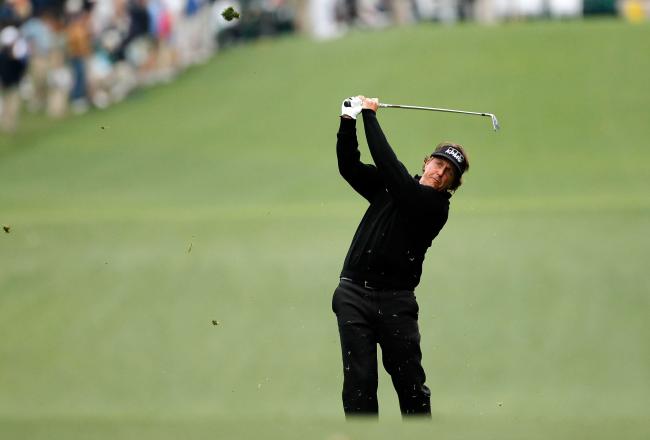 As Jason Dufner joins the leaders with a birdie on 14, Lee Westwood is struggling on 13 and will likely drop a shot. Rory McIlroy bogeyed 10 after a previously clean round and Tiger Woods is set to tee off any moment now.
Phil Mickelson has had an uneventful round to this point, posting a -1 on the first nine. Adam Scott has birdied his way out of the missed-cut danger zone and is now at +1 for the tournament through his first six holes.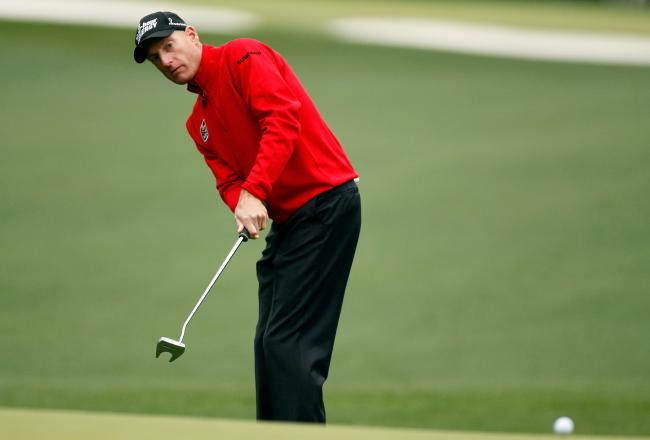 Interesting stat just pulled by the coverage team at Amen Corner:
Jim Furyk has 16 wins on Tour and one of those was a major, the 2003 U.S. Open. That line should be good enough to get him into the Hall of Fame.
Compare that to Tiger Woods, who just won his 73rd tournament two weeks ago at Bay Hill. He has been famously stuck at 14 majors after limping to victory at the 2008 U.S. Open. Of Tiger's 73 wins, 16 of them have been by five strokes or more. Of his majors, five have been by five strokes or more.
In other words, Tiger has had a Hall of Fame career when just counting his wins by five strokes or more.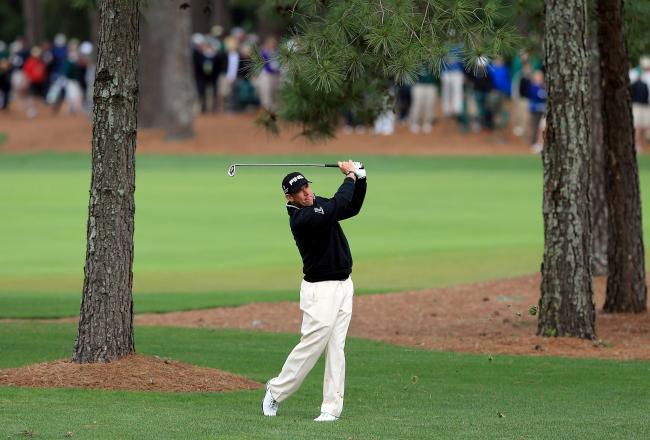 Lee Westwood hit a bogey on 11 but quickly got it back with a birdie on 12 to regain a share of the lead. Westwood's tee shot on the par-3 12th was one of the best of the tournament thus far, as he dropped it within a few feet of the hole.
Loois Oosthuizen had a rough start to the day, going +3 over his first five holes, but has jumped back to the top 5 with birdies on three of his last four holes. Oosthuizen is teeing off on 18 right now and currently sits tied for third at even par for the day and -4 for the tournament.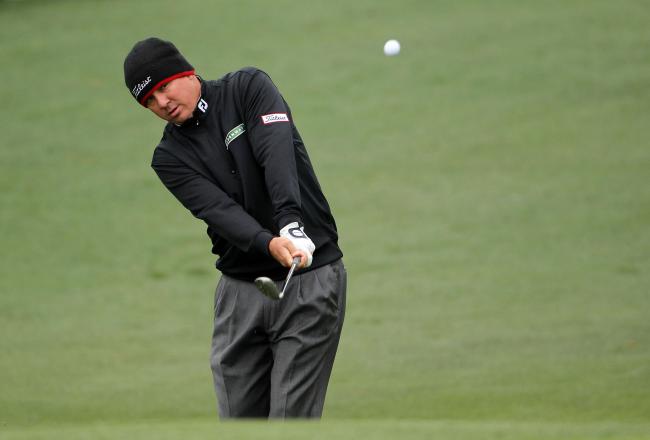 Jason Dufner (currently tied for 5th at 3-under) is one of few players to find success using a quick backswing.
This is a problem for most causal golfers, as they get off plane and out of rhythm taking the club back too quickly. Dufner, however, finds a rhythm before beginning his backswing by hovering his hands over the ball and bringing his wrists back and forth, almost like a metronome.
It goes to show you that unconventional can work just as well as conventional. Jim Furyk, Bubba Watson and Spencer Levin will tell you the same thing.
This article is
What is the duplicate article?
Why is this article offensive?
Where is this article plagiarized from?
Why is this article poorly edited?