Masters 2012: Power Ranking Top International Players with Best Shot To Win
April 5, 2012

Jamie Squire/Getty Images
Three out of the last five champions at the Masters have come from overseas, and it wouldn't be a surprise if an international player won it all again this year. 
South Africa has been represented well in recent years, as defending champ Charl Schwartzel hails from there, as well as 2008 Masters winner, Trevor Immelman. Ángel Cabrera from Argentina won the event in 2009. 
This year, it's anybody's tournament to win once again. The American players will give it their all, but there's no guarantee they defend their home turf and keep the Green Jacket in the states. 
With that said, here are the top three international players at the 2012 Masters. 
3. Luke Donald 
Donald may be No. 1 in the World Golf Rankings, but for me, he's the third-best international player heading into the Masters this weekend.  
The Englishman hasn't done very well at Augusta National during his career, which is why he falls to No. 3 here.
Still, he's a phenomenal golfer and he should be able to thrive this weekend. He tied for fourth last year, so look for him to build on that and try to win it all. 
2. Lee Westwood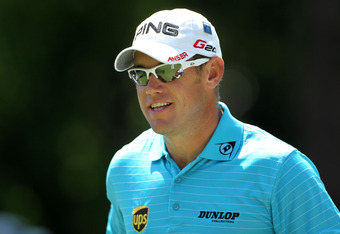 Jamie Squire/Getty Images
Another Englishman makes the top three, as Westwood is poised and ready to continue his success at Augusta National. 
In the last two years, Westwood almost finished in the top 10 both times. In 2010, Westwood stood alone in second place and in 2011, he tied for 11th place. 
This year, Westwood is ready to rock, looking to get the Green Jacket and leap into the No. 1 ranking in the world. 
1. Rory McIlroy 
Currently No. 2 in the World Golf Rankings, McIlroy is the one international player with the best shot at winning this weekend.
Born in Northern Ireland, McIlroy was in prime position to win it all last year before he choked. He's since put that well behind him, but because it's all everyone will talk about at Augusta, expect McIlroy to rise up and prove to everyone he's the real deal. 
McIlroy is shaping up to be the best golfer in the world and he has his sights set on a Green Jacket, which doesn't bode well for the rest of the field.