UCLA Basketball: What Would Recruit Shabazz Muhammad Mean to Bruins in 2012-13?
April 5, 2012

Jonathan Daniel/Getty Images
When I think of Pac-12 basketball from a year ago, I think uninspiring, unwatchable and boring. Shabazz Muhammad could change that with one signature. Muhammad is a 6'6", 215-pound small forward that can fill up a stat sheet on both ends of the court.
As a senior Muhammad averaged 30.2 points and 10.4 boards per game. He is the kind of player that gives you a shot to make a deep run into the big dance. Muhammad is the real deal—he is this year's Michael Kidd-Gilchrist, and UCLA sure could use him. According to Sports Illustrated, UCLA, Kentucky and Duke are Muhammad's final three picks.
UCLA basketball was the mecca of all things college basketball at one point. This school ran off 11 national titles between 1962 and 1975. UCLA also made 14 Final Fours from 1962 to 1980, which is completely unheard of today.
This is a program that had arguably the greatest sports dynasty ever. Since the national title in 1975, the UCLA Bruins basketball program has only won one title.
The Bruins' season in 2011 was anything but something to remember. The Bruins failed to win 20 games for the second time in three years and couldn't even make the big dance. Then a Sports Illustrated story released in late February detailed how Ben Howland had lost control of the team.  
The good thing about sports is there's always a new season. The UCLA basketball program could be close to being relevant again on the national landscape. Muhammad could be that guy to make them relevant.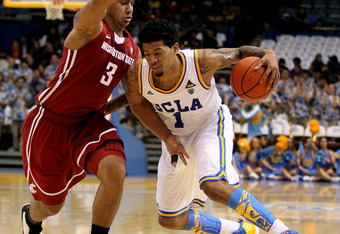 Stephen Dunn/Getty Images
If Howland and UCLA can somehow sway Muhammad to stay close to home and go to UCLA, then the program would immediately jump high into the preseason polls. Muhammad would take a program that has lost the respect of the basketball nation and put it back into where it used to be. Even if for one year, it could be a turning point for the program.
The letters "UCLA" used to mean something when you would say them. Now most people under the age of 25 only know the stories of the glory days.
Landing Muhammad could be a snowball effect. He could lead to more great players wanting to go to Los Angeles for school. They will be able to hang out with the movie stars and be within a rock's throw of the ocean.
Which, when you think about it, is kind of surprising that most players don't want to go to a school like UCLA or USC or Pepperdine. Instead, they are heading to the heart of America where bluegrass music can be heard.
But, I'm not knocking what Kentucky is doing by any means. They are playing by the rules and getting the best talent. John Calipari has embraced the rules and until the NCAA changes them, there's no sense in knocking what Kentucky is doing.
Landing Muhammad would make UCLA relevant for not only the short term, but the long term as well.
Short term, the Bruins are probably going to win the Pac-12 and make a run deep into the tournament; they are also going to get more exposure. People are going to want to watch Muhammad play. You can bet the major networks are going to try to get more UCLA games on TV if he lands there.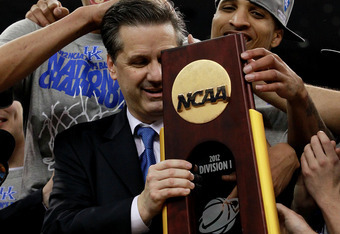 Ronald Martinez/Getty Images
Long term is what really matters to me. Muhammad would make it cool again for the big-time recruits to go out west.
The long-term goals need to be embraced by the staff at UCLA, including Howland. They need to change the way they recruit and go after the one-and-done kids. Monday night was proof that it can work; think about the advantage UCLA would have if it embraced this.
Howland could walk into a teenager's home and tell him he is going to be going pro in a year or two. He can tell them to enjoy college out west, where UCLA has everything he could dream of.
Muhammad would bring back that mindset that, "Hey, UCLA is on, why don't we go watch them?" back to Westwood, and it would make the Pac-12 worth watching.
The Bruins have already landed Kyle Anderson, so they already have one piece to making a run. Adding Muhammad would solidify the fact that UCLA is on the way back.