Boston Celtics: 5 Reasons Avery Bradley Should Start over Ray Allen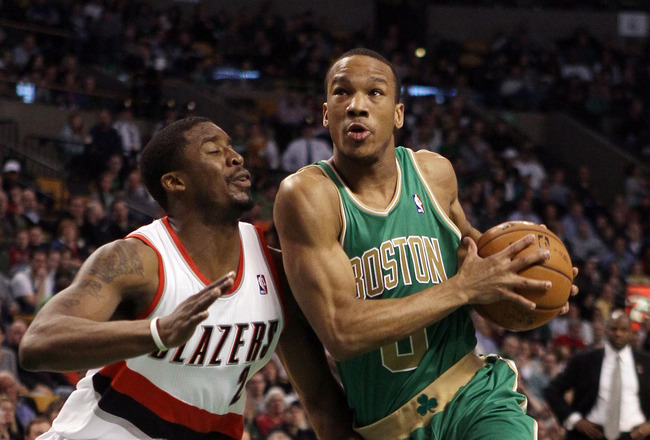 Avery Bradley has been stellar as a starter this season, and should remain in the lineup even once Ray Allen returns
Elsa/Getty Images
Change can be a very disruptive, uncomfortable thing. Often, though, it's for the better.
This is a reality the Boston Celtics must now face. It may be hard to believe, but Avery Bradley needs to continue starting even when Ray Allen comes back from his ankle injury.
The notion that this could be a legitimate argument would have seemed insane even a month ago, but facts are facts. For the year, the Celtics are 10-1 without Allen. Though they are certainly not winning despite him (all 29 other NBA teams would love to have Allen's .463/.459/.921 shooting percentages), the team has proved that it can indeed thrive without him.
It is not an argument against Allen so much as it is one for Bradley. Rarely used as a rookie out of Texas last season, Bradley has emerged as a defensive force in 2011-12. This elite skill has now been coupled with a spike in his offensive production, and fans are beginning to see why General Manager Danny Ainge used the 19th pick in the 2010 draft to select him.
Bradley's offense must continue to develop, and it would be foolish to suggest he'd be able to match Allen's production on that end of the floor. However, Bradley is coming along quicker than fans might think; he is shooting at a .481 clip for the season and over his last five games is averaging 14.6 points per game, the same exact total as Allen.
While Allen will certainly see a lot of game action when he returns, it should come with the second unit. The starting group as a whole has dominated with Bradley in the lineup, and there is no reason to break it up now.
Here are the five main reasons why Bradley needs to remain a starter:
If It Ain't Broke…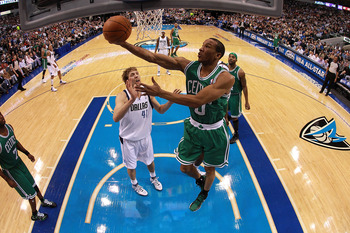 Ronald Martinez/Getty Images
In the most recent six games Ray Allen has missed this season, the Celtics are 5-1. Obviously, this does not all have to do with his absence; the Celtics are attacking the glass, playing better defense and shooting a higher percentage.
Wins, however, are the most important stat there is. Avery Bradley has been a spark for the Celtics with his improved offensive play and tenacious defense, and the whole team has benefited; Paul Pierce was just named Eastern Conference player of the week.
While it may not be quite as dramatic, this is a similar situation to the one the Knicks faced with Jeremy Lin. A new starter has come in and given the team a spark it sorely needed. Given the problems the Celtics have had winning consistently this season, it would behoove coach Doc Rivers to stick with the lineup that is getting results.
Keeps Ray Healthy and Rested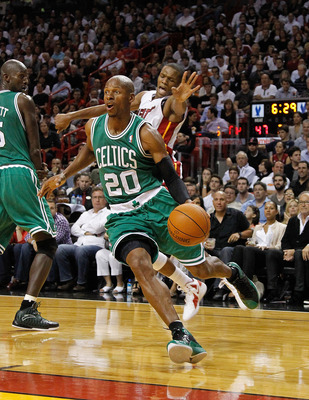 Mike Ehrmann/Getty Images
Despite his fanatical health and fitness regime, the one thing Ray Allen can't fight is time. At 36 years old, his best days are obviously behind him, and he is at the stage in his career where conservation of energy is vital over the course of a long season.
This is particularly true in this lockout-shortened season, where the brutal road trips and back-to-back-to-backs can break down even the fittest of players. It appears that Allen's ankles, surgically repaired in the offseason before he joined the Celtics, are starting to feel the effects of this scheduling crunch.
Bradley, on the other hand, is only 21 years old. He appeared in just 30 games last year, logging a grand total of 162 minutes. He has the young, fresh legs that can maintain a breakneck pace as the season wears on. By giving Allen more rest, the Celtics will both keep him more rested for the playoffs and get Bradley valuable experience.
Scoring for Second Unit
The Celtics second unit has struggled all season to find consistent scoring. It ranks 29th of the 30 NBA teams in bench points per game (23.8) and 24th in three-point percentage (.311).
By adding Allen to the bench, the Celtics would instantly give themselves a boost in both categories. Though he may not be the high-volume scorer he was in his earlier days, Allen can still shoot the ball. He's currently putting up a career-best .459 three-point percentage to go with a solid 14.6 PPG average.
It might take him some time to adjust to being the Celtics' sixth man; Allen has been starter in all but three of his 1143 NBA games and hasn't come off the bench since 2002. However, he would be incredibly dangerous as a "microwave" shooter capable of swinging a game.
Defense
This is one area where there will likely be no controversy. The improvement the Celtics have seen with Bradley in the starting lineup has been staggering, particularly in terms of overall points allowed.
The Celtics' starting five of Bradley, Rajon Rondo, Paul Pierce, Brandon Bass and Kevin Garnett averages allowing 89.96 points per 100 possessions, significantly better than both their overall season average (99.63) and their average with Ray Allen in the lineup instead of Bradley (101.78). While it is impossible to determine the exact impact Bradley's presence has had, this nearly 12-point difference would surely have turned a couple of close losses into easy victories.
The other key factor is the momentum swing a big defensive play can generate. Bradley's block on Dwyane Wade from Sunday is a perfect example; after the block, the Celtics outscored the Heat 51-37, turning a narrow five-point lead into a 19-point rout.
An Eye on Next Season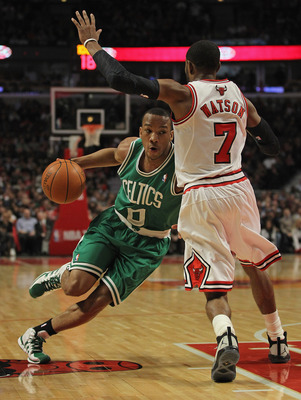 Jonathan Daniel/Getty Images
While Celtics fans will always have a soft spot for Ray Allen, the reality is that the 36-year-old's run in Boston is nearing its end. His 14.6 PPG and 34.2 MPG are his lowest totals since his rookie year, and with a contract that expires at the end of the season, he is likely through as a starter in a Celtics uniform.
Having said that, he would surely be welcomed back next season (for the right price) as a reserve and mentor for younger players. His work ethic and commitment to perfecting his shooting stroke is a model all young players should strive for.
At the same time, with Allen's role reduced, Bradley would likely be called upon next season to step in as a starter. By starting Bradley the rest of the way in 2012, the Celtics would have a chance to really examine what they have as he gets experience over the stretch run of the season and into the playoffs.
Keep Reading

Boston Celtics: Like this team?