Miami Marlins: Logan Morrison's Favorite Feature of New Marlins Park
April 3, 2012

Mike Ehrmann/Getty Images
Wednesday night is the regular season debut for Marlins Park, the new home of the Miami Marlins. (The Marlins and New York Yankees played exhibition games there on Sunday and Monday.)
Plenty of attention (and snark) has been given to some of the ballpark's more notable features, such as the home run feature in left-center field and aquariums behind home plate. 
But the Marlins players will also enjoy several new features that are vast upgrades from what they had at Sun Life Stadium. Some of the new home benefits, as reported by the Sun-Sentinel's Mike Berardino, include a batting cage directly behind the Marlins dugout. Previously, Marlins batters had to clomp out to a cage in right field, walking with spikes on concrete. 
Other features touted by the players were a bigger weight room and swimming pool, an underwater treadmill (man, I could use one of those) and a new video room that includes a coaching area with floor-to-ceiling mirrors that allow batters (and eventually, pitchers too) to get a look at what they're doing from virtually every angle.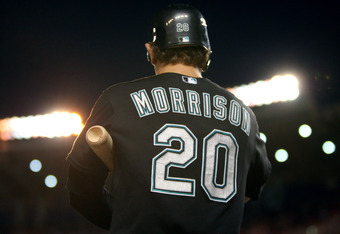 Ned Dishman/Getty Images
But the simple things shouldn't be overlooked, either. For outfielder Logan Morrison, having bathroom stalls with doors that close is the improvement he appreciates most.
"Couldn't shut it all the way, couldn't lock it," Morrison told Berardino. "It's not like you have any privacy anyway in a clubhouse, but still, it wasn't a perk."
The importance of this really cannot be overstated. Some athletes are able to focus on the task at hand, regardless of the environment. Others can't perform at their best with distractions and conditions that are less than ideal. And so many of us, whether we're professional athletes or not, just want a little privacy.
Kudos to Jeffrey Loria for providing his players a little bit of privacy for less than dignified moments.