Michael Pineda and Phil Hughes: More in Common Than You Might Think
April 4, 2012
Thearon W. Henderson/Getty Images
I'm not going to be one of those countless writers in the blogosphere ready to call the MIchael Pineda/Jesus Montero deal a massive loss for the New York Yankees. It's true Seattle's newest slugger will break camp as his team's starting designated hitter while the Yankees newest acquisition heads to the disabled list.
It's also true that Michael Pineda showed up to Yankees camp overweight and weak fastball, while Jesus Montero showed up ready to build upon the brilliant (albeit brief) success he saw at the end of last season. But it's too soon to pass any kind of judgement...yet. 
That being said, Yankees fans have every right to worry. 
The parallels one can draw between Pineda and fellow pinstripe hurler Phil Hughes are enough to raise some eyebrows. They're two different players, but the similarities are kind of scary.
Let me explain...
In 2010, Phil Hughes announced his long-awaited introduction to the Yankees' rotation with authority. An 18-8 record, with a 4.19 ERA and 146 strikeouts was enough to earn the right-hander his first All-Star bid and a guaranteed spot in the 2011 rotation. However, the overall numbers don't tell the full story, these do:
Pre-All Star Break: 11-2, 3.65 ERA, 1.17 WHIP, 8.1 K/9
Post-All Star Break: 7-6, 4.90 ERA, 1.34 WHIP, 6.6 K/9 
The numbers look like they came from two different pitchers. A lot of it was blamed on fatigue, and the gradual decline of his fastball velocity. The big righty can typically hurl a mid-90s fastball to go with his cutter and developing change-up, but that dropped down to the low-90s late in the season.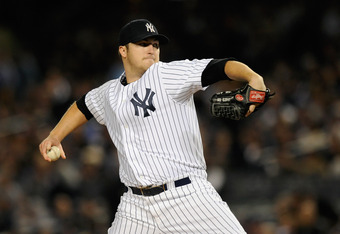 Patrick McDermott/Getty Images
Thanks to his glowing first-half success, a lot of this was pushed under the rug and forgotten, until last spring, that is. 
Hughes came into camp struggling to muscle his heat over 89 miles per hour. He debuted as the Yankees No. 2 starter anyways, and was hit all over the park in his first three starts. He'd go on to spend more than three months on the DL en route to a 5-5 season with a 5.79 ERA.
While he came back after the break to put up a somewhat respectable numbers, Hughes wasn't the same pitcher he was to start the 2010 season.
Enter Michael Pineda. The imposing fireballer has better pure stuff than Hughes but throws a lot of the same pitches, with a fastball that hit 97 regularly and averaged 94.2 miles per hour (the fourth-fastest in the league) and devastating change-up. He took the MLB by storm, being named to the All-Star game as a rookie and finishing fifth in the ROY balloting.
But his season was also something you'd see in a cheesy Jekyll and Hyde knockoff.
Pre-All Star Break: 8-6, 3.03 ERA 1.04 WHIP, 9.0 K/9
Post-All Star Break: 1-4, 5.12 ERA 1.22 WHIP, 9.3 K/9
While batters continued to swing and miss a lot, they also started to connect. Opposing batters hit .298 off Pineda after the break, and he surrendered eight homers in just 58 innings (after giving up 10 in 113 innings before the break).
However, like Hughes, Pineda was able to ride the wave of his first-half success and dub his rookie campaign a resounding success. Evidently, the Yankees did as well, enough so that they'd part with their No. 1 prospect to bring in the Dominican fireballer.
So far, the returns haven't been good. Pineda showed up to camp 20 pounds overweight and a fastball hovering around a very hittable 92 miles per hour. After getting bombed in his final spring start, the Yankees finally sent him off to the DL with shoulder tendinitis to open up the season.
Barring any meltdowns from Nova, Garcia or Hughes, the move likely means Pineda will open up the season in Triple A. While that might not be what the Yankee faithful were hoping for when the trade was announced, it might be for the best.
I don't want to see Pineda rushed to the mound and suffer through a season similar to Hughes' 2011 campaign. At just 22, there's no need for the Yankees to push his development, let him regain his form while the rotation is anchored by proven veterans like Garcia and Kuroda. 
I'm confident that Pineda will be able to bounce back eventually, his stuff is too good for him not to one day be a front-end starter for the Bombers. That being said, I'll feel a whole lot better about his chances if Hughes is able to successfully return from similar circumstances.