Andrew Bailey Surgery: Will Red Sox Forever Regret Letting Papelbon Walk Away?
April 3, 2012

Elsa/Getty Images
The post-Papelbon era in Boston is not off to a good start.
With the news emerging today that new closer Andrew Bailey will indeed need surgery on his injured right thumb, the Red Sox and their fans cannot help but wonder if acquiring Bailey and allowing Jonathan Papelbon to leave was the right move for the franchise. Yes, the salary saving is substantial ($3.9 million vs. $11 million this season), but is the difference worth all this trouble?
A little under a month ago, I wrote in this space that Bailey would be an upgrade over Papelbon. Statistically speaking, I stand by my opinion; however, I (along with many others) greatly underestimated just how injury-prone Bailey is.
This will be the second year in a row that Bailey will start the season on the disabled list. Papelbon, on the other hand, has had exactly one injury in his career: a shoulder subluxation that ended his 2006 season a couple of weeks early. Since 2006, he was the model of health and stability for the Red Sox.
The key issue is that losing Bailey disrupts the order of the Sox bullpen. With Papelbon, there was consistency; everyone's role was defined, which allowed the pitchers to settle in and feel comfortable, knowing exactly what their job was. If there's an enduring lesson stemming from the Sox's 2003 "Closer by Committee" experiment, it's that in modern baseball, pitchers out of the bullpen need defined roles.
Now, with their closer already out, the Sox's pitching staff is already in chaos.
Mark Melancon, who has 20 career saves in 112.0 career innings, will likely be asked to close in the most competitive division in baseball.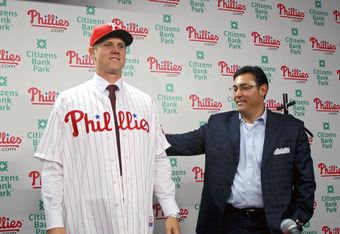 Len Redkoles/Getty Images
Alfredo Aceves will have to continue his "everyman" role, being ready to start, long relieve, set up or close, depending on the situation.
Even Daniel Bard, who only a few days ago was officially anointed as a member of the starting rotation, can't help but look over his shoulder and wonder if he's going to be summoned back into the bullpen.
Such is the problem with acquiring a pitcher who has only made it through one of his three MLB seasons without seeing time on the DL. While the Sox did not think they were giving up much to acquire Bailey, they're paying the price now.
Certainly, giving Papelbon the four-year, $50 million contract the Phillies handed him would have been a controversial decision. Papelbon has been a bit erratic over the last several seasons, and many MLB teams have succeeded in finding lower-priced alternatives to the traditional closer. The adage "Don't pay for saves" seems to be gaining traction, and a long-term commitment to Papelbon would thus have widely been regarded as a mistake.
However, the Sox were perhaps too quick to dismiss Papelbon's value to the franchise. Since 2007, he has been a model of consistency. He made no trips to the DL, appearing in 59 or more games each season. His presence gave the team a boost, both mentally and in terms of the actual results on the field.
Papelbon's accomplishments as a closer are far-reaching. He is the all-time Red Sox leader in saves and a four-time All-Star. He closed out the 2007 World Series. He has always shown a resiliency and a confidence on the mound that most pitchers lack. In his seven seasons with the Sox, he proved that he could flourish under the sometimes too-bright spotlight in Boston.
It was this ability to perform every single night that was Papelbon's greatest value to the Sox—a tool that cannot be measured statistically. Sox pitchers and hitters knew that as long as they could take the lead into the eighth inning, they had one of the best in the game ready to close it out. It didn't matter if he had already pitched two days in a row; Papelbon was always ready to take the ball.
Now, things are not nearly as certain. With no proven entity at the back end of the bullpen to back up Bailey, the 24 other players may start to press. Baserunners may try to leg out a double when they shouldn't, or a starter may stay in one inning too long. Everyone else is forced to pick up the slack left by the injured closer.
Letting Papelbon walk away may have seemed like a good idea in November. The economics overruled the eccentric right-hander's intrinsic value to the team. But, when Bobby Valentine needs a stopper to put a tight game away and Andrew Bailey is on the DL, the Sox will rue the day they let the greatest closer in their history leave town for nothing.