Miami Heat: 5 Players Who Won't Be Around Next Year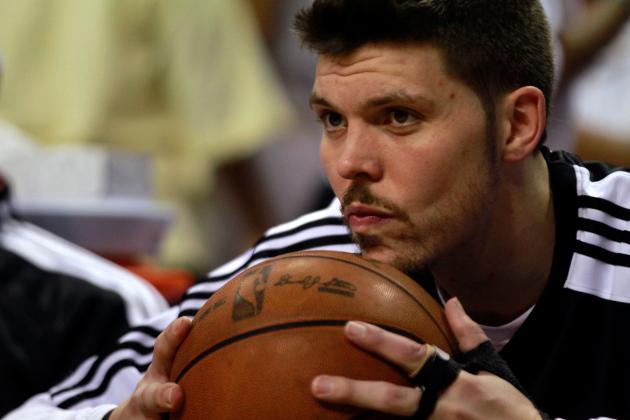 Marc Serota/Getty Images

Before we get into specifics and deal with the idea of who might leave this team, let me take time to address one annoying thing.
Can we stop saying that this Miami Heat team is done for? We did the same exact thing last year. They lost to Boston one out of four times, didn't even beat the Chicago Bulls in the regular season, lost by 30 to the San Antonio Spurs and blew a 24-point lead against the Orlando Magic. The result? A trip to the NBA Finals where they came a mental breakdown away from winning.
So what's the complaint this year? The defense is lazy and no one is boxing out? Of course nobody is. It's the regular season and it's obvious that no one on the team is focused or ambitious enough to care for the first half of the entire NBA season. They only care for the second half which is why you'll see them do the same exact thing as last year with a different result in the Finals.
Now let's get back to the subject at hand.
The Miami Heat have four players set to become free agents next year, three unrestricted and one restricted. Luckily for the Heat, none of these players are making a significant impact with all of them being benchwarmers that hardly get any playing time.
The Heat will have to make a choice with these four players, as well as a few who might be better off getting traded. We take a look at five players who could end up on a different team by the start of the 2012-'13 season.
Begin Slideshow

»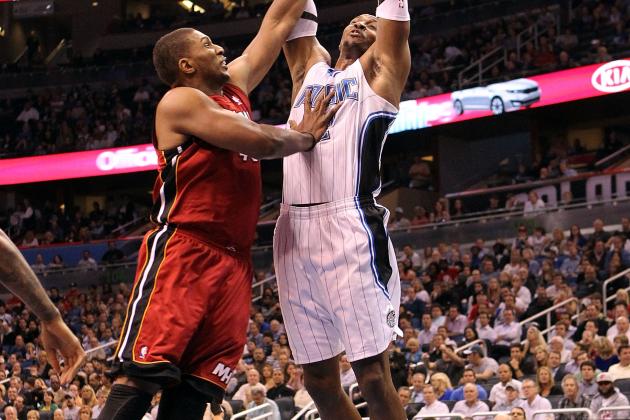 Sam Greenwood/Getty Images

Want to know how bad the Miami Heat's situation at center is?
They made Ronny Turiaf the first center off the bench immediately after he was signed. A player who had only played in four games with the Washington Wizards earlier in the year due to a broken hand had found himself as the first center off the pine for the Heat. No Dexter Pittman or Eddy Curry. Just Turiaf.
Given that Turiaf did stay in basketball shape and has been an excellent source of energy and toughness under the basket, it's just embarrassing to see Miami's center situation. The fact that someone who had just recovered from a broken hand became an immediate rotation player over a center that the Heat have been trying to develop just goes to show how badly this team needs a big man down low.
Sadly, that big man doesn't appear to be Pittman. The 6-foot-11 center who's pushing over 300 pounds may have played his last significant minutes in a Heat uniform once Turiaf joined the squad. Miami has been giving him plenty of chances to prove himself this year, playing him in 27 games, but have yet to see any reason to make Pittman the starting center or a player worth being a regular in the rotation.
Pittman received one start in a win against the Phoenix Suns. He had six points, four rebounds and four fouls in 14 minutes. The guy is a fouling machine. He had four fouls in seven minutes against the Indiana Pacers, two fouls in five minutes against the Los Angeles Lakers, five fouls in 11 minutes against the Orlando Magic, four fouls in 12 minutes against Washington and four fouls in 12 minutes against Atlanta Hawks.
A machine. An oversized fouling machine. Pittman plays aggressive going after every single rebound, but he doesn't know when to stop. He'll constantly fight for rebounds that the opponent has already won and will go over the top of defenders who have already secured a rebound. It's just a lack of fundamentals and a misuse of his body.
Pittman does have some redeeming qualities, however. His size gives him a lot of potential, he's not too bad of a rebounder and he's even got a decent offensive game that's equipped with solid footwork and a hook shot. The only problem is that we don't get to see enough of Pittman because he's fouling too often. Per 36 minutes, he's averaging nine fouls.
Miami may want to keep Pittman around to continue this experiment, though. He's not costing the team that much, can always go back to the D-League and could find ways to play the game correctly without fouling. As I stated before, these five players aren't going to, but they seem like the most likely to go if it comes down to it.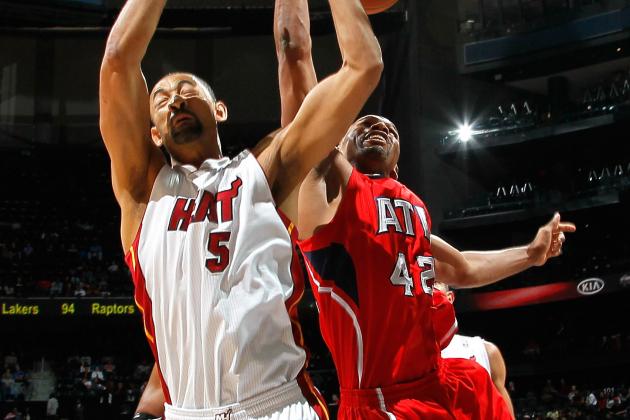 Kevin C. Cox/Getty Images

Perhaps the most frustrating aspect to the Heat losing last year's championship was not being able to give rings to their coattail-riding veterans.
Zydrunas Ilgauskas, Erick Dampier and Jamaal Magloire all missed out on possibly their last chances. Ilgauskas has retired, Dampier is now with the Atlanta Hawks and Magloire is with the Toronto Raptors. They didn't do much on the court, but it still would have been appropriate for these guys—at least Ilgauskas—to win a title.
None of those three did, and they've since moved on. However, Juwan Howard still hasn't given up hope in what could be his final NBA season. The 18-year veteran is in the final season of his contract with the Heat, and it would be a shock to see Miami re-sign him, or for any other team in the NBA to make the decision to sign a 39-year-old who can't jump.
Howard's time with the Heat has been less than eventful. He's played with them for two years and has only been featured either in garbage time or when the team was desperate enough to play him last year when Udonis Haslem was hurt. Howard played about 57 games too many last year and managed to average two points and two boards in 10 minutes of action per game.
This year, he's averaging less than one point on 25 percent shooting in less than five minutes of action per night. He's only played in 20 games, with a nine-minute stint against the Los Angeles Lakers being the most action of the 2011-12 season.
How did he get on the floor for that long? Because Chris Bosh wasn't playing and the Heat were desperate enough to match up Howard with Pau Gasol.
This should be the last year of a career that has warranted one All-Star game appearance and one Third Team All-NBA nomination. If the Heat don't win it this year, Howard's going to have to weld himself a championship ring.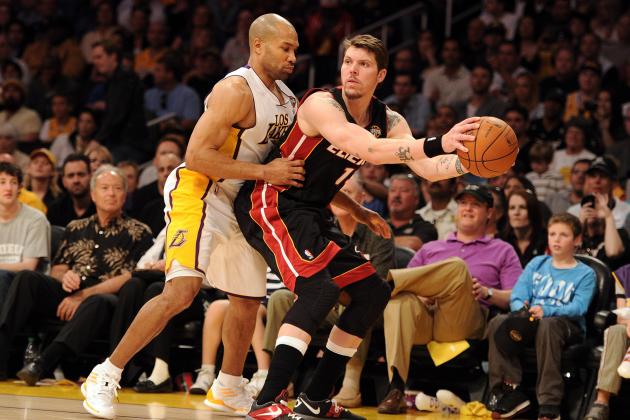 Harry How/Getty Images

Last year, I stated how the Miami Heat's worst valued contract was the nightmare that Joel Anthony possessed.
How wrong I was. Anthony can at least stay on the floor and provide some great defense. He's not worth more than $3 million per year—even if he is a starting center—but the Heat can at least expect consistent defensive production out of him.
Mike Miller on the other hand? He's really leaving a bad taste in your mouth when you find out he's making $6 million per year to sit on the bench and constantly mend injuries that he can't escape. The sharpshooter who has shot 40 percent from deep over his decade-long career has yet to truly make his impact felt with the Heat, on account of various injuries that started in last year's preseason.
Miller dealt with a myriad of injuries that forced him to the bench throughout his time with the Heat. It started off with a thumb injury in last year's preseason, which forced him to miss the first two months of the season. Once he returned, he would then find himself dealing with more thumb injuries, shoulder ailments and even a concussion.
The pain hasn't stopped. Miller missed the first month of the 2011-12 season recovering from a sports hernia surgery he had during the offseason. He's played in 28 games this year, after playing in only 44 last season. He's actually in the middle of recovering from his latest injury which happened to be a sprained ankle.
I actually want to play NBA GM here for a moment, so bear with me.
Perhaps utilizing the amnesty clause on Miller would be the correct thing to do. This team is in desperate need of a center, as well as a veteran point guard who could possibly give some guidance to Mario Chalmers and Norris Cole. Miami only has $3 million to spend and they're not going to be able to sign any player for that price who can make any sort of significant impact at either position.
This is just a suggestion, but why not utilize the amnesty on Miller, free up some money and sign Steve Nash or Chris Kaman next summer? The team is already set with three-point shooters in Shane Battier and James Jones, and could potentially add one of the league's top perimeter threats in Nash, if the Heat have the cap space.
It's wishful thinking, but it seems like the smartest thing to do at this point with Miller. His contract is absurdly overpriced and not one team is going to want to deal with a player who hasn't stayed healthy in two years, so a trade can be thrown out. Unless the Heat want to give it another try next year, dropping Miller and adding Nash or Kaman may be the for the best.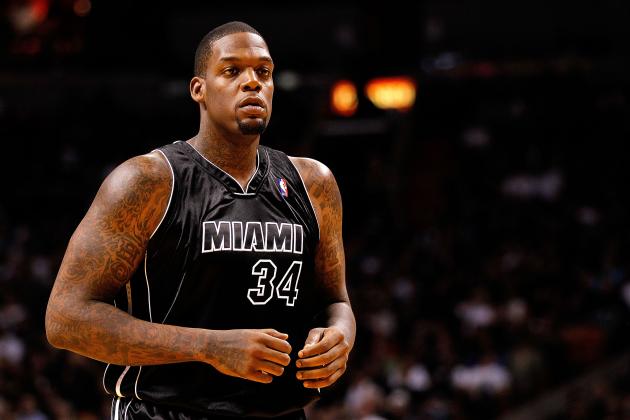 Mike Ehrmann/Getty Images

This experiment hasn't worked out as well as we anticipated, has it?
Looks like I got a little overzealous in my prediction of Eddy Curry making an impact on this team. But there was so much to be excited about. Curry played in only 10 games from 2008 to 2010; but how could the Heat not get a little hyped up over the prospect of possessing a center who once averaged 20 points and seven boards per at one time in his career?
The commitment he showed to dropping the weight that forced him out of the NBA was something worth noting as well. Many criticized the Heat's signing of Curry, but there was little risk and high reward, and it was obvious to see that the former New York Knick was commitment to turning his life around by dropping over 100 pounds and making a return to the NBA.
Sadly, he's just not basketball-ready. He's incredibly slow and lethargic, and he had the look of a player who participated in 10 games over the past three years. If the Heat were desperate for offense, then I'm sure Curry would be implemented in more games. However, the Heat strongly favor utilizing their defense to win games and Curry simply isn't ready to participate in the frantic defense the team plays.
It won't cost too much money to sign Curry next year. He'll be awaiting another veteran's minimum if the Heat are looking to keep around a third-string center when they actually go out and pursue one this summer. The Heat don't have much of a choice this offseason. The team isn't grabbing rebounds, not playing aggressive under the rim and not providing much defensive resistance against bigger teams.
A center is necessary. Curry could answer a few problems, but he doesn't fit in with the Heat's defensive system—and that's why you've only seen him play in 11 games this year. He hasn't played since March 20th, and he had only one quality appearance, which came in his first game with the Heat, when he recorded six points and three boards against the Los Angeles Lakers on January 19th.
He has scored eight total points since then. The Heat may still hold onto Curry just to have that size for a low cost, but he could be one of the first to go if the team is looking to strip apart the roster and rebuild at the always-important five spot.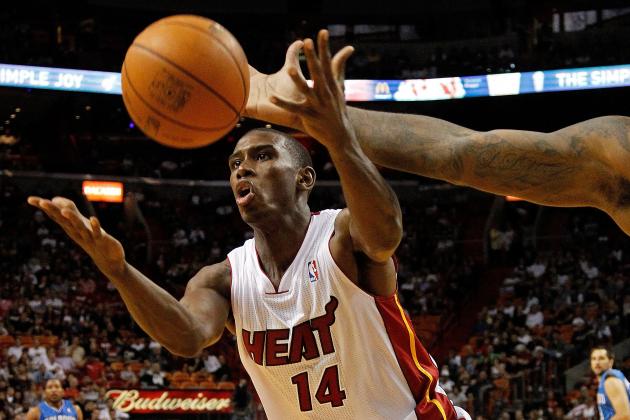 Mike Ehrmann/Getty Images

To be perfectly honest, I'd be extremely disappointed to see the Miami Heat allow Terrel Harris to walk.
Harris is a restricted free agent and would be allowed to join a team if the Heat don't match the offer that is given to him. Of course, it would be surprising for that to happen, because the chances of Harris getting an offer is slim to none. It wouldn't come as a shock to know that the 29 other teams in the league didn't know who Harris was either.
This is a player who works extremely hard and deserves more minutes on the floor. He went undrafted out of Oklahoma State University but managed to find his way onto the Heat practice roster where he would eventually be signed. He'd play his first NBA game in the Heat's season-opening blowout against the Dallas Mavericks and would score his first points against the Charlotte Bobcats four games later.
Harris scored nine points that game, but it was nothing compared to the output he had in the Heat's shorthanded win against the Atlanta Hawks.
Playing without LeBron James and Dwyane Wade, on the road against a tough Atlanta Hawks team, the Heat were in way over their heads when they sent a starting lineup that featured Mario Chalmers, James Jones, Shane Battier, Chris Bosh and Joel Anthony. Bosh and Chalmers were the two best players, with Harris arguably being the third-best.
In 44 minutes, Harris had nine points on 3-of-9 shooting and grabbed 14 rebounds, seven coming off the offensive glass. This was a 6-foot-4 guard recording those rebounding numbers, and it showed just how scrappy and ambitious of a player Harris is. Even if his shot isn't hitting as it usually does, Harris found a way to make an impact in the game by hitting the boards.
Harris is a good rebounder for a player of his size, but the main reason why he deserves minutes is because of his three-point shooting. He's 5-for-13 on the year beyond the arc, good enough for 39 percent. For a team that has inconsistent shooters in guys like Chalmers, Battier and Norris Cole, it's disappointing to see a three-point threat wallow on the bench.
Why not give him a chance? The Heat are just about guaranteed a second seed and don't put in the effort to become a No. 1 seed.
The only reason Harris would leave is if the Heat are too absorbed to find a point guard or center and don't have enough money or care to re-sign him.