2012 NBA Mock Draft: Post-NCAA Championship Game Edition
April 3, 2012

Jeff Gross/Getty Images
Kentucky took home the NCAA championship over Kansas, and that means it's time for a fresh 2012 NBA mock draft.
The top three projected picks are from the two schools that squared off in the season's final game, but how many of their teammates will join them?
1. Charlotte Bobcats: Anthony Davis, PF, Kentucky
Davis is the consensus top overall pick, and the Bobcats should be hoping that they win the lottery.
This team needs an impact player in the paint, and that's exactly what Davis has the chance to be in the NBA.
2. Washington Wizards: Thomas Robinson, PF, Kansas
Robinson has solidified himself as a premier choice in the 2012 class, and the amount of effort this kid plays with every night is impressive.
It would certainly be great for the Wizards to get a banger to pair alongside Nene, strengthening the team John Wall has to play with going forward.
3. New Orleans Hornets: Michael Kidd-Gilchrist, SF, Kentucky
Kidd-Gilchrist was hit-or-miss throughout the tournament, but his ability to get to the rim shouldn't be understated.
He would give the Hornets a player capable of running up and down the floor with the opportunity to turn into something special.
4. Portland Trail Blazers: Andre Drummond, PF/C, UConn
Some are down on Drummond because of his collegiate play, but he's loaded with potential and shouldn't be discounted.
The Blazers need a big man in the worst way, and Drummond could fill a major hole beneath the basket in Portland.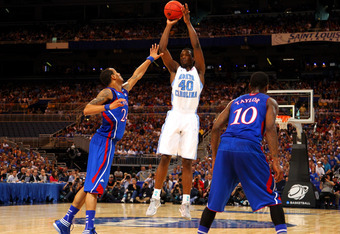 Dilip Vishwanat/Getty Images
5. Toronto Raptors: Harrison Barnes, SF, UNC
The Raptors have 2011 lottery pick Jonas Valanciunas coming to the team next season, and Toronto could really be a different team during the 2012-13 season.
Imagine a starting five of Jose Calderon, DeMar DeRozan, Barnes, Andrea Bargnani and Valanciunas.
6. Sacramento Kings: Arnett Moultrie, PF, Mississippi State
Moultrie's draft stock depends on who one speaks to, but he could very well emerge as the steal of the draft because of what he brings to the table.
The Kings need a big man to pair with DeMarcus Cousins down low, and there's no need to target a backcourt player with the logjam that's already going on there.
7. Detroit Pistons: Bradley Beal, SG, Florida
This should be a no-brainer move for the Pistons if Beal is still on the board here, as he could really help this team right away.
It's hard to imagine Ben Gordon beginning next season in Detroit, but the Pistons would be best served drafting the top overall talent regardless of need inside the top 10 picks.
8. Cleveland Cavaliers: Austin Rivers, SG, Duke
A backcourt pairing of Kyrie Irving and Rivers could really be dynamic in the future, and the Cavs desperately need to add a shooting guard.
It wouldn't be surprising to see Rivers snagged off the board earlier than some are expecting due to the belief that his game may be better suited for the NBA level.
9. Utah Jazz: Damian Lillard, PG, Weber State
Despite coming from a non-basketball powerhouse in Weber State, Lillard's talent is just too tantalizing to ignore.
It's not a secret that the Jazz would be willing to move on from the Devin Harris era at the position, and Lillard could be the perfect candidate to make that happen.
10. Milwaukee Bucks: Jared Sullinger, PF, Ohio State
The Bucks traded away Andrew Bogut, so the team is going to have to restock in the size department through the draft.
Sullinger doesn't have the upside of some other prospects in this class, but Milwaukee would certainly know what it's getting with this selection.
11. Portland Trail Blazers: Jeremy Lamb, SG, UConn
Lamb doesn't get a ton of love, but he deserves to go in the lottery and fits a major need for Portland.
He could come in off the bench and anchor the scoring attack in the second unit, considering that Jamal Crawford (player option for next season) is likely headed elsewhere.
12. New Orleans Hornets: Kendall Marshall, PG, UNC
Marshall's wrist injury is not going to impact his draft stock, and if the Hornets get the opportunity to nab Marshall, it should take all of three seconds for the team to submit its pick.
He's got great court vision and understands how to get his teammates involved, which is exactly the type of leader a young Hornets team needs.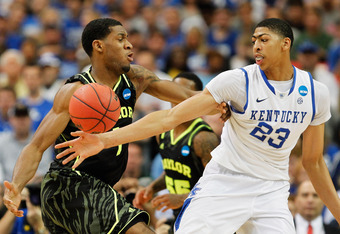 Streeter Lecka/Getty Images
13. Utah Jazz: Perry Jones III, F, Baylor
If the Jazz can come out of this draft with Lillard and Jones, it has to be considered a major win for the franchise.
There are obvious gambles with Jones' game, but Tyrone Corbin seems to really connect with his players, and it's possible that he is exactly the type of coach Jones needs to fulfill his potential.
14. Phoenix Suns: John Henson, PF, UNC
It's a bit baffling why Henson isn't more highly regarded in draft circles, and despite the power forwards currently on the roster, the UNC product would fit in well in Phoenix.
He could give the Suns a completely new look alongside Marcin Gortat on the front line.
15. Houston Rockets: Terrence Jones, SF, Kentucky
Daryl Morey loves to take a chance on players loaded with potential, and that's precisely what Jones brings to the table.
He got buried in the shuffle at Kentucky this season, but Jones could be a much larger contributor on a team that is willing to give him a larger role.
16. New Jersey Nets: Royce White, F, Iowa State
White has the chance to go even higher than this, but there are some concerns that come along with him that will prevent him from going inside the top 10.
He's got a ton of talent and should appeal to a number of teams looking to add a player at the forward position.
17. Boston Celtics: Tyler Zeller, PF/C, UNC
The Celtics are desperate for cost-controlled size, and Zeller can come in and step into that role right away in Boston.
He's going to need to add strength to bang around beneath the rim, but he's long and has shown he's capable of having success during his time at North Carolina.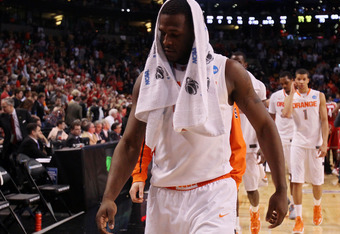 Elsa/Getty Images
18. Denver Nuggets: Dion Waiters, G, Syracuse
Waiters is quickly moving up draft boards, and a selection inside the top 20 isn't out of the question.
With Andre Miller heading to free agency in the offseason and likely to move on to another team, Waiters could be a nice combo guard off the bench for George Karl to utilize creatively.
19. Atlanta Hawks: Tony Wroten, G, Washington
The Hawks are infatuated with Wroten, and it makes sense considering that he's oozing with potential.
He's still incredibly young, so he'll have to develop his approach, but Wroten could really turn out to be one of the better players in the draft if everything aligns in proper fashion.
20. Philadelphia 76ers: Terrence Ross, SG, Washington
The Sixers need to figure out the plan at shooting guard, but regardless of what the team decides to do, it should include the selection of Ross.
He can certainly come in and knock down shots in the second unit, and he would make Philadelphia's bench group an even deeper bunch to contend with in the future.
21. Houston Rockets: Moe Harkless, SF, St. John's
With the Rockets looking to retool the bench after the season, Harkless could come in and fit a need right off the bat.
He'll come at a discounted value, and there is a divided opinion as to whether he'll be able to sustain success at the next level.
22. Indiana Pacers: Andrew Nicholson, PF, St. Bonaventure
Nicholson's stock really rose this season, and he would be a savvy pick by a Pacers team looking to add size.
With David West entering the final season of a two-year deal and Nicholson having the type of skills that point toward success in the NBA, it wouldn't be a shock to see Indiana pull the trigger.
23. Memphis Grizzlies: Doron Lamb, SG, Kentucky
O.J. Mayo is a restricted free agent, but it's unlikely he'll return to the Grizzlies as he looks to garner a larger role.
Lamb could come into a team that already boasts solid chemistry and have the chance to be a big-time contributor off the bench.
24. Boston Celtics: Jeffery Taylor, SF, Vanderbilt
The Celtics need to get younger and more athletic on the wing, and Taylor could flourish alongside Rajon Rondo.
Boston has to look toward putting personnel on the floor that will complement Rondo's game, and the point guard is at his best when running an up-tempo attack.
25. Orlando Magic: Tony Mitchell, F, North Texas
Mitchell would probably go higher if he wasn't coming out of North Texas, but that doesn't mean he doesn't have the skills to contribute.
The Magic need to get young talent in the fold rather than continually overpay free agents, and Mitchell is a step in the right direction.
26. Cleveland Cavaliers: Meyers Leonard, C, Illinois
Leonard has the eye of some scouts because he's long and athletic, but there are major questions about whether or not he'll be successful in the league.
His size will certainly get him drafted, but it won't be as high as some have previously predicted.
27. Golden State Warriors: Mason Plumlee, PF, Duke
Like Leonard, Plumlee has the size that will get him a look or two at the back end of the first round, but how much skill does he have to succeed in the NBA?
The Warriors need size in the worst way, and gambling on a big man isn't the worst way to spend a late first-round pick.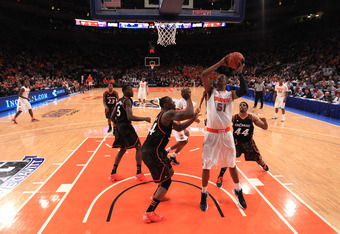 Chris Trotman/Getty Images
28. Miami Heat: Fab Melo, C, Syracuse
Melo is going to need to enter a situation where he's motivated to reach his potential on the court, and Miami could really open his eyes.
Playing alongside LeBron James and Dwyane Wade could be what Melo needs to put it all together in the NBA.
29. Oklahoma City Thunder: Quincy Miller, SF, Baylor
Oklahoma City consistently makes shrewd draft selections, and 2012 should be no different in that regard.
Miller could really be a nice backup behind Kevin Durant, but the Thunder don't need to target a high-upside player because of the solid ground the team already stands on.
30. Chicago Bulls: Marquis Teague, PG, Kentucky
A borderline first-round pick at best, Teague underwhelmed in the tournament, and that could have a direct impact on where he's selected.
The Bulls could look to him in order to develop under Derrick Rose, and that could really benefit both Teague and Chicago.