5 Changes the Miami Heat Need to Make to Take Down the Oklahoma City Thunder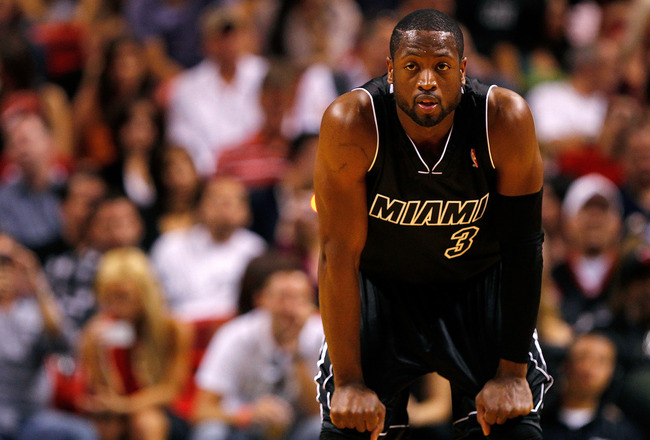 Mike Ehrmann/Getty Images
The Miami Heat could be on course to make it to the NBA Finals for the second year running.
There is, of course, the small matter of a probable Eastern Conference Finals match-up with the Chicago Bulls, but with the Heat considered favorites to overcome Derrick Rose and the Bench Mob, the Heat have to also think about how they can beat the team that eventually comes out of the Western Conference.
The West this year has been chaotic. The fourth- and eighth-seeded teams are just four games apart.
However, at the top, there is a little more clarity. The Oklahoma City Thunder hold a 2.5-game lead over the San Antonio Spurs and look by far the best bet to make it to their first NBA Finals.
Their overwhelmingly athletic and fast approach to the game gives them the perfect combination of speed in attack and half-court offense.
Miami as comprised can beat the Thunder once or twice in a series, but right now, the Thunder are playing better than every team in the NBA. Beating them four times out of seven looks like a mighty proposition.
The Heat, however, are just a few changes away from finally being able to silence the critics and capture that all-important NBA Championship.
1. Introduce More Ball Movement
Sam Greenwood/Getty Images
The Miami Heat's offense relies mostly on the defense's ability to generate steals and force turnovers, allowing the Heat to get out in transition where they are perhaps the most deadly team in the league (ironically, the Thunder are probably the only team nearly as good).
However, as witnessed these last few games, the Heat look tired. They are no longer producing enough steals and turnovers and transition points to win them games.
I alluded to there being major risk in playing that fast in a piece earlier this season, and it seems their early-season speed has caught up with them in a significant manner.
All is not lost, however.
When the Heat go all isolation-crazy with LeBron James and Dwyane Wade, their offense is reduced to either one of those two holding the ball for 20 seconds and shooting, with four guys standing around the court and watching.
When the Heat move the ball, they are almost unstoppable. Moving the ball around the offense, getting everyone touches always results in open looks for someone.
Unless that someone is Joel Anthony, the Heat will get far better results from passing the ball among their players rather than holding it with one.
And when you can get Chris Bosh or LeBron James to post up and get them the ball early in the shot clock, the Heat will almost certainly score...either through one of these two or, when the double team arrives, a timely pass to the open man.
2. More Focus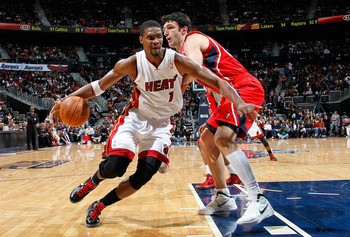 Kevin C. Cox/Getty Images
The Heat lately, as well as looking tired, have lost focus.
Whether that is down to the schedule entering the 'dog days' before the final two-week push to playoff-readiness or a lack of energy leading to less focus, the Heat's losses in March (six of them) were punctuated by a simple lack of effort.
And that it came against some of the best teams in the league is worrying.
The Miami Heat lost to the Los Angeles Lakers, Chicago Bulls, Orlando Magic and Oklahoma City Thunder and started off April with a loss to the Boston Celtics at the TD Garden.
Why is that an issue?
It's understandable for a team relatively assured of at least the second seed in the playoffs to take the odd night off as the season drags on, perhaps losing to a game-raising team like the Indiana Pacers or Memphis Grizzlies, teams who would give them problems but should not really beat them.
The Heat's losses are worrisome because they came in the biggest games of the season.
Their match-ups with Oklahoma, Chicago and Boston should have been the easiest to get up for, they were the big nationally televised games that would have been picked out by the coaching staff as games where the Heat could make a statement.
And the statement they made was that they couldn't be bothered.
That has to change, especially to beat the Oklahoma City Thunder, who don't seem to take nights off like the Heat do.
You would like to think that in the playoffs, Miami won't have nights like that, that every night will see them fully focused.
However, all it takes is one bad first quarter, and against a team like the Thunder it results in a big gap, and the Heat could lose focus and commitment and lose a crucial game.
How they fix this is going to be in the hands of head coach Erik Spoelstra and Miami's locker-room leaders. They have the power to fire up their team-mates and if we witness more listless performances like we saw in March, the Heat are in danger.
3. Play Joel Anthony Less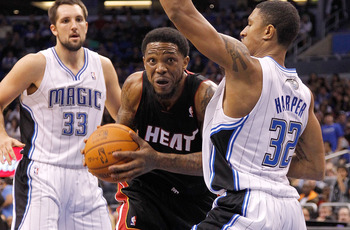 Udonis Haslem has to play more than Anthony
Mike Ehrmann/Getty Images
Joel Anthony is not good enough for the minutes he plays for the Miami Heat.
He averaged just three rebounds in the month of March and had zero points and four rebounds in the Heat's loss to the Boston Celtics.
Why is that a problem?
Joel Anthony is grabbing those rebounds over 25 minutes per game.
Incredible.
Anthony is a good player, a great defender, but when the Heat are on offense, they are essentially playing four-vs.-five as Anthony is limited to dunks and putbacks from right under the basket.
They have Udonis Haslem sitting on the bench instead. He has to play more. Anthony should be playing around 15 minutes per game. He is a fantastic energy guy and can provide in small bursts, but Haslem is a much more powerful, more reliable offensive weapon.
With the Thunder's ultra-reliable Serge Ibaka and Kendrick Perkins on the court, Miami will struggle to match them no matter who they play at center.
But they can at least help themselves by having Haslem on the court more often. His offensive threat at least prevents the Thunder big men from leaving him and doubling up on LeBron, Wade or Chris Bosh, and if they do, Haslem can knock down a mid-range jump-shot fairly regularly.
So please, no more four-vs.-five, Miami, give yourself the best chance.
4. Stay Healthy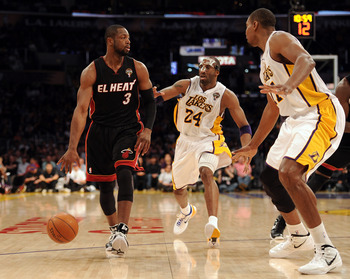 Harry How/Getty Images
Easier said than done, I know.
The Miami Heat have to keep their key players injury-free to beat the Thunder.
Mike Miller is made of glass; they need to keep him wrapped in cotton wool until season's end, playing him enough minutes to maintain game-readiness.
The Heat have had to play through significant injuries to both Dwyane Wade and LeBron James this season, and if either suffer a re-injury, the Heat are in serious trouble.
Why is this important?
The Oklahoma City Thunder, ignoring a long-term injury to backup point guard Eric Maynor, have been injury-free. None of their starters have missed a beat with injury, and it has allowed them to get create an incredible level of cohesion and on-court understanding among their players.
Miami need to start creating that bond themselves. With their fast-paced offense slowly dying and surely heavily restricted in the much slower-paced playoffs, the Heat will need that level of understanding in order for their half-court offense to flow successfully and create good looks against a fast, long and athletic Thunder team.
5. Use Norris Cole Sparingly
Mike Ehrmann/Getty Images
Norris Cole is a fantastic young talent; let me get that clear.
However, I don't think he's going to have much fun in the playoffs.
Too many times I have seen Cole drive at the basket and look out of control, either coughing up a ridiculously bad shot or turnover, or picking up a charge on an established defender.
It's not a knock on him, it's just inexperience. When he sets off on these drives, he often overlooks a teammate better placed to make a high-percentage shot.
And in the Finals, if the Heat match-up against the Thunder, Cole's defense is good in bursts, as he has the explosiveness to get back once he has been beaten and force a shot to be altered.
But against Russell Westbrook? He's going to be cannon fodder for the faster, more athletic Thunder guard.
How do the Heat change to sort this out?
They have to have faith that Mario Chalmers can do the job. That, and the Heat can get away with using a backup point guard rarely because they can effectively use LeBron James as a point guard to bring the ball up the court and run the offense.
If they can strike the right balance between Cole's effective drives to the basket and eliminate the chances of him embarking on a poor possession, the Heat have the best chance to take down the Oklahoma City Thunder this June.
Keep Reading

Miami Heat: Like this team?