NFC South Morning Jog: Lots of Buccaneers Turned out for Workouts Monday
April 3, 2012

Al Messerschmidt/Getty Images
Each morning, I like to start the day off with a workout—usually a morning jog. I can clear my head, plan my day, and think about what's going on around the NFC South.


Tampa Bay Buccaneers
LSU cornerback Morris Claiborne could come off the draft board as early as pick No. 4 to Cleveland. Still, Tampa Bay might take a shot at Claiborne if he makes it to Tampa Bay's spot. According to Claiborne's Twitter stream, he arrived in Tampa on Monday. No news on whether this is a workout or a simple visit.

Even though the workouts were optional, "almost the entire roster" showed up at the first workout session of the offseason in Tampa. 
New head coach Greg Schiano talked with the media about the good turnout for day one of offseason workouts. The coaching staff can meet with the players in meeting rooms but are not allowed to go out on the field with them in this phase.
The Buccaneers are allowed to get started a few weeks before everyone else because the team made an offseason coaching change.
Atlanta Falcons
Daniel Cox has a numbers-driven look at Michael Turner and Jason Snelling as two of the league's best running backs in pass protection.


Carolina Panthers
The official launch of the new Nike uniforms across the NFL is set for Tuesday, but some of the information has been leaked already. Here's a look at the new Carolina Panthers logo on a T-shirt.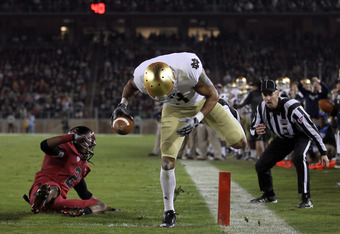 Ezra Shaw/Getty Images
Potential first-round selection Michael Floyd visited the Panthers on Monday, according to Aaron Wilson. Two other top draft targets at wide receiver—Justin Blackmon and Kendall Wright—have already visited Carolina.


New Orleans Saints
Seeing as how the Saints have already signed two middle linebackers already this offseason, it came as no surprise when Jo-Lonn Dunbar sent out a tweet Monday announcing that he had come to terms with the St. Louis Rams.
John Clayton detailed the logic behind Sean Payton's appeal of his year-long suspension and called it "the right decision."