The 25 Best Knockouts of the Last 5 Years
Scott Peterson/MMAWeekly.com
A lot has changed in MMA over the past five years.
The UFC is now partnered with the Fox network, the Pride organization has ceased to exist and a number of the sport's legends have retired. In fact, one of the only constants in the sport over the past handful of years has been the UFC middleweight title that hangs around Anderson Silva's waist.
Therefore, it should come as no surprise that Silva is the owner of some of the best knockouts in all of MMA since April 2007, so let's take a look at where Silva's most dazzling finishes stand among the hundreds of other knockouts that have happened in that time frame.
The following knockouts are ranked based on historical significance and impressiveness.
Begin Slideshow

»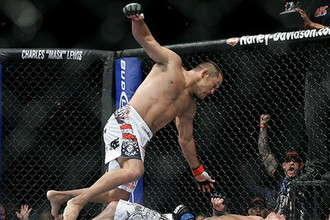 After they coached against one another on the ninth season of The Ultimate Fighter, Dan Henderson and Michael Bisping settled their differences inside the Octagon.
In what many consider the most devastating knockout in MMA history, Henderson landed a brutal overhand right, which put Bisping to sleep. Henderson followed up with a superman punch to his grounded opponent for good measure.
Though the knockout wasn't very significant in the grand scheme of things, it will be remembered long into the future by Bisping's many detractors.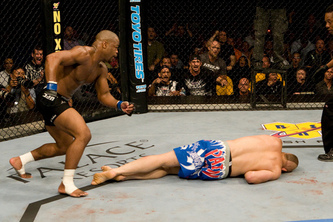 After squeaking out a split decision win over Michael Bisping, Rashad Evans was thrown at Chuck Liddell in a matchup that didn't appear to favor the former Ultimate Fighter winner.
However, Evans landed a shocking counter in the second round and laid Liddell out.
With the win, Evans earned a title shot and proceeded to capture the UFC light heavyweight belt from Forrest Griffin.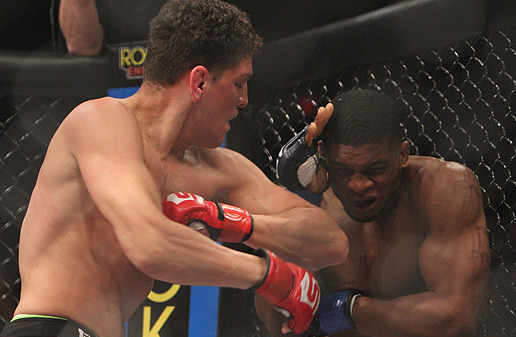 Scott Peterson/MMAWeekly.com
Despite winning nine straight fights, former Strikeforce welterweight champion Nick Diaz still had his doubters heading into a title fight against UFC castoff Paul Daley.
In an incredibly entertaining round, Diaz battled back from being rocked to finish Daley in the final seconds of the opening stanza.
With his win over Daley, Diaz drew the attention of UFC officials as a potential contender in the 170-pound division.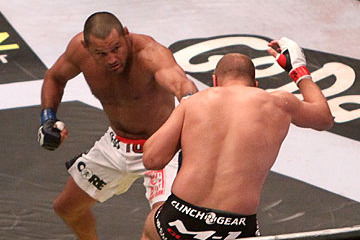 MMAWeekly.com
Former Pride champions Dan Henderson and Fedor Emelianenko may not have ever worn UFC gold, but they remain two of the greatest fighters in MMA history. As such, their meeting in July 2011 did not go unnoticed.
After withstanding an early barrage from Emelianenko, Henderson turned the table and knocked the Russian limp with a single punch.
Considering he has competed as light as middleweight, the win over a heavyweight legend further cemented Henderson as one of the greatest ever.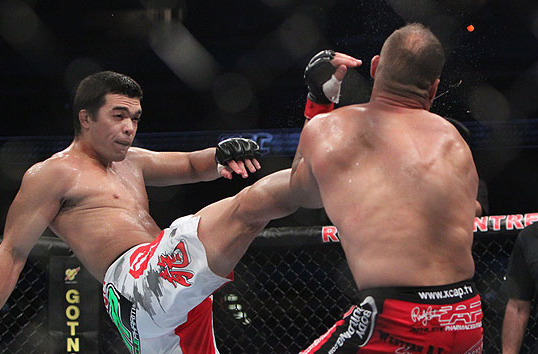 Ken Pishna/MMAWeekly.com
After a long and illustrious career, Randy Couture decided that he would retire whether he won or lost following his fight against Lyoto Machida.
Though Couture believed he understood how to solve the puzzle to beat Machida's unorthodox style, the legend was knocked out by a spectacular front kick in the opening round.
Despite the rough loss, Couture stuck to his plans of retirement and hasn't returned to the Octagon since.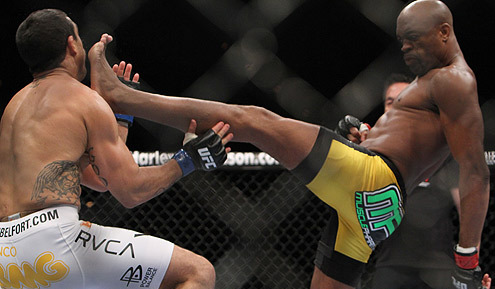 Scott Peterson/MMAWeekly.com
A mostly weak performance against Chael Sonnen in August 2010 led many to question whether Anderson Silva was finally beginning to decline.
Against Vitor Belfort, Silva made a big statement that he was not finished, as the champion finished his fellow Brazilian with an incredible front kick.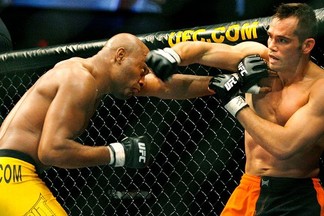 Ed Mulholland/U.S. Presswire
Though Anderson Silva's dethronement of Rich Franklin as middleweight champion happened more than five years ago, the Brazilian disposed of Franklin a second time within the past five years.
In his second title defense, Silva successfully retained his title by finishing Franklin with knees once again. By taking care of Franklin twice, Silva showed that he was prepared for a long run as middleweight titleholder.
He hasn't looked back since.
Though many purists disliked everything about Brock Lesnar's involvement in MMA, it is hard to deny the mammoth heavyweight's impact on the sport.
For Lesnar, there was perhaps no brighter moment than when the former—and again current—professional wrestler defeated MMA legend Randy Couture.
Lesnar's MMA career was short-lived, but his impact on the growth of the sport will continue to be felt for quite some time.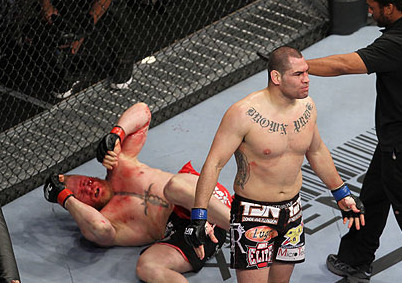 Scott Peterson/MMAWeekly.com
As quickly as Brock Lesnar ascended to the top of the heavyweight division, Cain Velasquez and health problems toppled him from the elite ranks.
After making his return to the cage from diverticulitis, Lesnar defeated Shane Carwin before suffering a first-round knockout loss against Velasquez.
Another knockout loss to Alistair Overeem sent Lesnar into retirement and back to professional wrestling.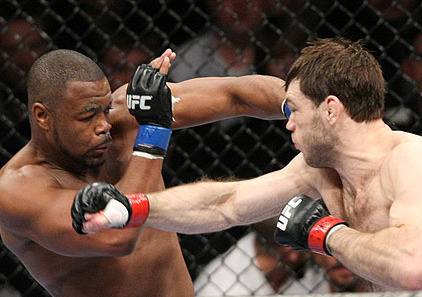 MMAWeekly.com
After a knockout win over Chuck Liddell, Rashad Evans set himself up for a title fight with fellow Ultimate Fighter winner Forrest Griffin.
At the halfway point of the fight, Evans rocked Griffin and finished the fight with a series of punches to his grounded opponent.
With the win, Evans became the first undefeated light heavyweight champion in UFC history.
Felipe Dana/Associated Press
Earlier this year, Jose Aldo met one of the last remaining threats to his featherweight title in Chad Mendes.
As the first round of the bout came to an end, Aldo blasted Mendes with a knee and picked up the third defense of his UFC title.
Now, Aldo has nearly cleared out the 145-pound division and appears to be nearing a move to the lightweight division.
In his third shot at the UFC lightweight title, B.J. Penn finally captured gold at 155 pounds by defeating Joe Stevenson.
After his win over Stevenson, Penn was matched up against Sean Sherk for his first title defense as a lightweight. In the closing second of the third round of his fight with Sherk, Penn landed a flying knee and finished the fight with punches as the round came to an end.
Considering the lack of a dominant champion in the previously depressing history of the UFC's lightweight division, Penn's knockout of Sherk began discussion about the Hawaiian being the best 155-pound fighter in MMA history.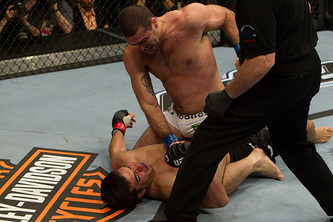 In October 2009, Mauricio "Shogun" Rua met Lyoto Machida in a championship bout that ended in a controversial decision, which went in Machida's favor. However, due to the uproar regarding the decision, the UFC opted to book an immediate rematch.
The second meeting between Rua and Machida ended in much more decisive fashion, as Rua avoided the scorecards by knocking out Machida in the first round.
However, Rua's championship run didn't last long, as the Brazilian became another casualty in the incredible development of MMA's next superstar, Jon Jones.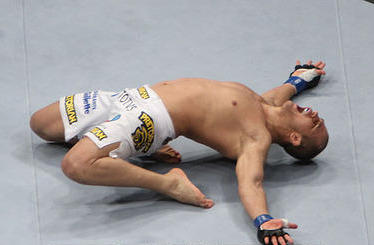 Laron Zaugg/MMAWeekly.com
In November 2011, Cain Velasquez and Junior dos Santos competed in the first UFC main event ever shown on Fox.
With a swift knockout of Velasquez, dos Santos ushered in a new era for the sport and captured the heavyweight title.
The Brazilian is now preparing for his first test as champion—a title fight with fellow striker Alistair Overeem.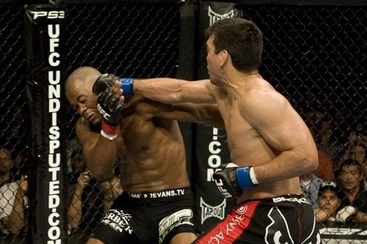 MMAWeekly.com
After winning his first 14 professional fights, Lyoto Machida earned a title fight against fellow undefeated fighter and then-UFC light heavyweight champion Rashad Evans.
In one of the more brutal knockouts to ever occur in a UFC championship bout, Machida was the fighter who retained his undefeated record and dethroned Evans.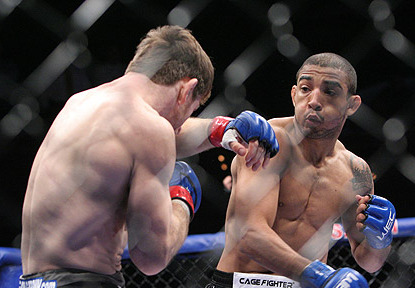 Ken Pishna/MMAWeekly.com
After running through all of his early competition in the WEC, Jose Aldo made equally quick work of then-featherweight champion Mike Brown.
In a Knockout of the Night performance, Aldo defeated Brown and claimed the title, beginning what has arguably become the greatest title run in the history of the 145-pound division.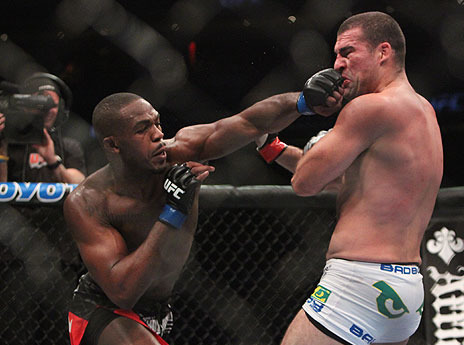 Ken Pishna/MMAWeekly.com
Due to an injury suffered by former teammate Rashad Evans, Jon Jones was offered a short-notice title fight against Mauricio "Shogun" Rua after his win over Ryan Bader in early 2011.
Considered one of the brightest young fighters in the sport, Jones made the most of the opportunity by steamrolling Rua and finishing the fight with a barrage of unanswered strikes.
With his victory over Rua, Jones' potentially historic reign as light heavyweight champion began.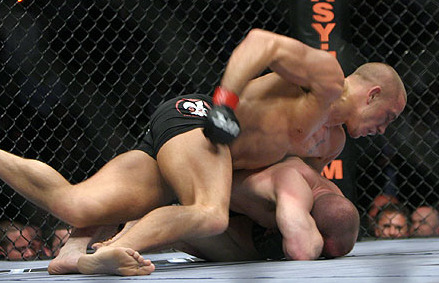 Ken Pishna/MMAWeekly.com
After losing to Matt Serra in April 2007, Georges St-Pierre defeated Josh Koscheck and Matt Hughes to earn the interim-welterweight title, as Serra remained inactive following his upset win over the Canadian.
By becoming interim-champion, St-Pierre ensured himself a rematch with Serra. In their rematch, St-Pierre avenged his loss by dominating Serra and finishing the fight with knees to the body.
The knockout victory began what has become the longest title run in welterweight history.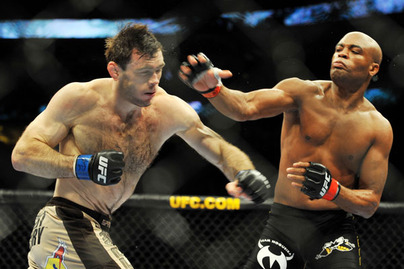 Five title defenses into his reign as middleweight champion, Anderson Silva was running out of serious competition in the 185-pound division, so the Brazilian took a fight with former light heavyweight titleholder Forrest Griffin.
In a fight that showcased his elite striking ability, Silva ran through Griffin and finished the fight with a jab while stepping backwards. It was around that time that Silva began gaining recognition as the greatest mixed martial artist of all time.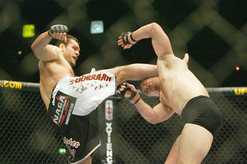 The winner of the 2006 Pride Openweight Grand Prix, UFC-signee Mirko Filipovic was expected to become an immediate heavyweight title threat in 2007. The Croatian's highlight reel of headkick knockouts also gave fans hope that he would bring much excitement to the division.
After defeating Eddie Sanchez in his UFC debut, Filipovic was matched up against Gabriel Gonzaga in a bout that would determine the next heavyweight title contender. Despite being heavily favored, Filipovic ate an ironic head kick and crumpled to the canvas.
The knockout earned Gonzaga a title shot and has been played over and over again in promotional videos. Though he failed to capture the heavyweight belt, Gonzaga's head kick of "Cro Cop" has remained one of the most memorable moments in MMA history.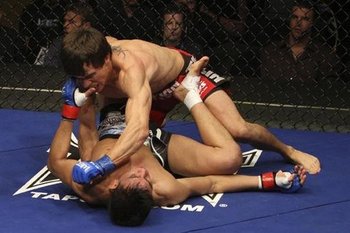 With a 37-1 record, then-WEC champion Miguel Torres was recognized as one of the best fighters in the sport in 2009.
However, a Brian Bowles knockout quickly sent Torres falling from the top of the 135-pound division. Since being stopped by Bowles, has lost two more fights and was briefly released from the UFC for poor conduct on Twitter.
While his run as champion was short-lived, Bowles did bridge the gap between two of the greatest bantamweights in MMA history—Torres and Dominick Cruz.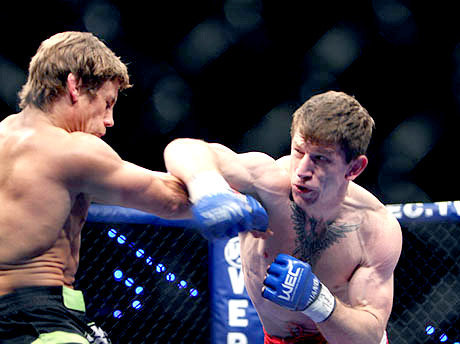 Laron Zaugg/MMAWeekly.com
Heading into his sixth WEC title defense, Urijah Faber had won 13 consecutive fights and was becoming one of the top pound-for-pound fighters in all of MMA.
Faber couldn't keep his run going against Mike Brown, though, as the challenger recorded a knockout victory over "The California Kid" to claim the WEC featherweight title.
Though Faber remains one of the best fighters in the sport, he hasn't been able to reclaim a title in three championship bouts since being knocked out by Brown.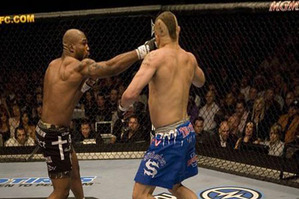 Shortly after leaving Pride, Quinton "Rampage" Jackson found himself in the UFC, where he quickly became a contender in the light heavyweight division.
After knocking out Marvin Eastman in his first Octagon appearance, Jackson earned a rematch with Chuck Liddell for the 205-pound belt. Like he did in their first meeting in Pride, Jackson stopped Liddell to become light heavyweight champion.
The knockout put a stop to Liddell's run of four straight title defenses and began a period of parody in the 205-pound class.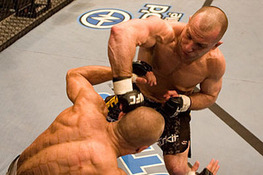 Following his win over Matt Hughes in November 2006—a win that finally earned him the UFC welterweight title—Georges St-Pierre found himself in what many believed would be a very easy title defense against Matt Serra, who had just earned his way back into the UFC through The Ultimate Fighter.
Nonetheless, it was Serra who made quick work of St-Pierre, as the challenger clipped the champion and forced the referee to stop the fight midway through the opening round.
To this day, Serra's win over St-Pierre remains one of the greatest upsets in MMA history. Though he would quickly lose his title in a rematch with St-Pierre, Serra forever etched his name into the history books with this knockout.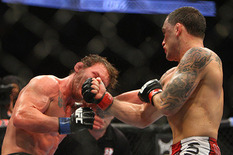 After beating lightweight great B.J. Penn in back-to-back fights, then-155-champion Frankie Edgar was matched up against Gray Maynard in a rematch of a bout that the challenger won.
Early in the fight, Maynard appeared on the verge of dethroning Edgar, as the New Jersey native found himself hitting the canvas more than he could hit his opponent.
However, after miraculously surviving the first round, Edgar mounted an incredible comeback and fought to a draw with Maynard, forcing a third bout between the two competitors later in 2011.
In the third meeting, Edgar was rocked early once again, but the champion stormed back and finished Maynard with an unlikely knockout in the fourth round.
The knockout capped one of the great rivalries in UFC history, but Edgar proceeded to lose his title in his following appearance against Benson Henderson.
Sean Smith is a Featured Columnist for Bleacher Report MMA. For the latest insight and updates on everything MMA, Follow Sean Smith on Twitter.