Ubaldo Jimenez vs. Troy Tulowitzki: Who Was Right in Recent Ex-Teammate Feud?
April 2, 2012

What had been a war of words up to this point boiled over yesterday when Indians starter Ubaldo Jimenez plunked former teammate Troy Tulowitzki in what appeared to be a deliberate move.
Benches cleared, and Tulowitzki eventually left the game and went in for x-rays on his left elbow, although it looks as though he will be ready for Opening Day.
It all began this spring when Jimenez made comments that Cleveland "is like being in Heaven" and said "it was kind of hard being with the Rockies" after feeling slighted that he did not receive a contract extension in the 2011 offseason while Tulowitzki and Carlos Gonzalez did.
On the surface, the reason behind his lack of extension was the simple fact that he was still under contract through 2012 after signing a four-year, $10 million contract prior to the 2009 season, and the Rockies also held team options on him for 2013 and 2014.
Christian Petersen/Getty Images
Gonzalez pointed to the contract as something that Jimenez had to deal with, saying, "Sometimes, you make decisions that hurt you later. You have to realize that no one forces you to do anything in this game. Every decision you make is going to be there for the rest of your life."
Tulowitzki got a bit more personal with his comments in saying, "You begin hearing trade rumors, and once those started flying, you don't hear a guy say, 'This is the place I want to be.' You don't hear a guy say, 'I don't want to be traded.' When you have a situation like that from a team standpoint, you think the guy wants to leave."
In essence, Tulowitzki and Gonzalez were saying that Jimenez needs to put his time with the Rockies behind him and move on with his career, and they were right.
Jimenez defended his comments by saying, "I never talked about anyone. The only thing I said was about how the team treated me. I didn't mention anyone. I never mentioned any names."
However, the retorts by Tulowitzki and Gonzalez were not a matter of those players taking things personally, but instead, them defending an organization that they are loyal to and preferring a player take care of issues like that in-house.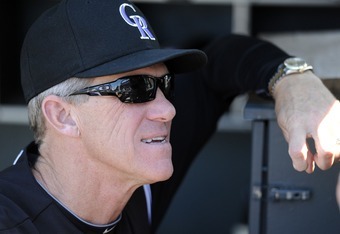 Jack Dempsey/Getty Images
One person who was certainly unimpressed with Jimenez's actions was Rockies manager Jim Tracy, who told the Denver Post, "It's the most gutless act I have seen in 35 years of professional baseball. I have lost all respect for him. To do something like that and walk down off the mound, and if there's any suggestion whatsoever that the ball got away, I don't want to hear any of that s---. He intentionally threw at him. He should be suspended. I am going to be very disappointed if he doesn't get suspended. He deserves to be."
Covering his tracks post-game, likely in hopes of avoiding a suspension, Jimenez claimed that the pitch got away from him and pointed to the fact that he walked the first batter of the inning on four pitches as evidence he did not have his best control.
At the end of the day, it was a surprising development as far as the verbal feud was concerned, but not an overly-surprising move by Jimenez, a player who entered last season unhappy and let that get in the way of his performance, as he went 0-5 with a 5.86 ERA over his first nine starts.
It is clear a change of scenery was necessary for Jimenez, but he has been nothing but unprofessional since leaving Colorado, and this is just another example of why the Rockies are better off without him. How long before he is seeking an extension from the Indians, and what happens if they don't appease him? Just something for Indians fans to think about before coming to the defense of their staff ace.