Michigan Football: Kenny Demens Pulls April Fools' Prank with Hand in Cast
April 2, 2012

Sunday was April Fools' Day, which is to say that absent evidence, everything spoken or on the Internet was to be taken as a lie. Looking back on it, it's probably the absolute worst day to suffer a heart attack.
Ah, but show someone a problem, and they'll be concerned just like any other day. To that end, Michigan linebacker Kenny Demens hopped on Twitter and showed off some bad news: a "season-ending" hand injury, complete with cast, as shown above. Tweeted Demens: "Out for the season with a hand injury. Hope all uofm still support the maize & blue."
Now, hand injuries don't take guys out of action for nine months unless their injury was "holding a grenade when it went off." Do you see his fingers? See how they're still there? Good, not a season-ending injury. Involving the thumb makes it tricky, since there's so much more that can go wrong in the thumb joint than the middle of the hand, but if it were a thumb injury he would have said so.
Isn't it helpful how I'm telling everyone exactly how a preposterous April Fools' joke can't be true?
Anyway, Demens waited a little while before telling everyone it was a joke and that he'd only be out of action for a week or two...but not before this little twist of the knife.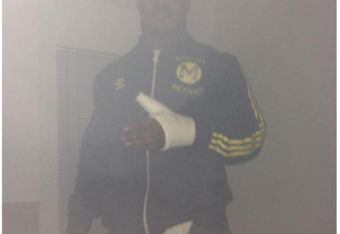 Well struck, Demens.