NASCAR Power Rankings: Top 20 Drivers Coming out of Martinsville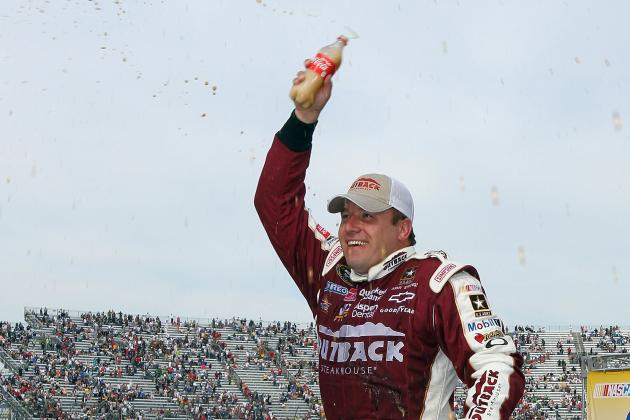 Tom Whitmore/Getty Images

We got a real taste of short track racing at the end of the Goody's Fast Relief 500.
There was bumping, banging, leaders spinning and David Reutimann stopping in the middle of the track.
While there will be some controversy, no one can doubt that Ryan Newman did his job and fought hard to win in Martinsville.
This race was an eye-opener when it comes to which teams are prepared to run a good short-track set-up.
These power rankings are getting tougher and tougher every week. Let's take a look at this week's top 20.
Begin Slideshow

»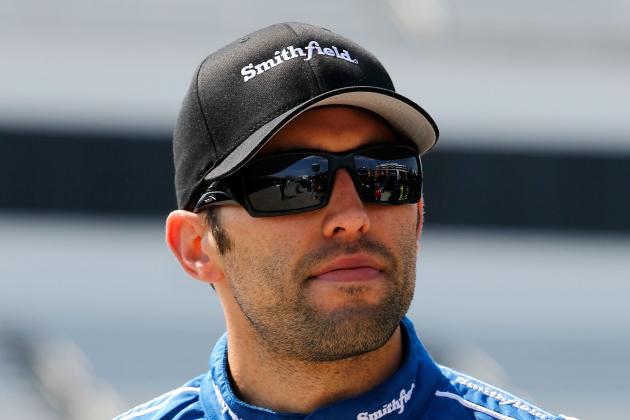 Tyler Barrick/Getty Images

When Richard Petty Motorsports lost AJ Allmendinger to Penske Racing, questions about the No. 43 car's future came up. Aric Almirola stepped in and he's starting to make some noise.
Almirola earned his first top-10 of the season with an eighth-place finish—and he fought hard for it. He didn't just magically appear in the top 10 like some drivers did at the end of the race. Almirola was fighting in the top-15 all race long.
Now Almirola sits 19th in points, and I'm keeping an eye on him as everyone should.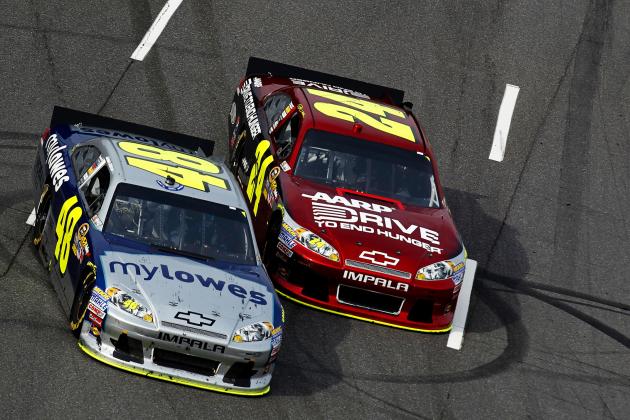 Jeff Zelevansky/Getty Images

Jeff Gordon fans have to feel sick to their stomachs after how Sunday's race ended.
Gordon dominated all day in Martinsville, leading 328 laps including the green-white-checkered attempt.
Disaster struck when David Reutimann stopped on the track, causing a caution—then it happened.
Gordon and teammate Jimmie Johnson got wrecked going into turn one after a dive by Clint Bowyer. Gordon then ran out of gas and had to settle for a 14th-place finish.
It was a horrible way to end the day, but looking towards the rest of the season, it was good to see Jeff Gordon dominate a race like that.
He still has a chance to dig out of the hole he is sitting in (21st in points.)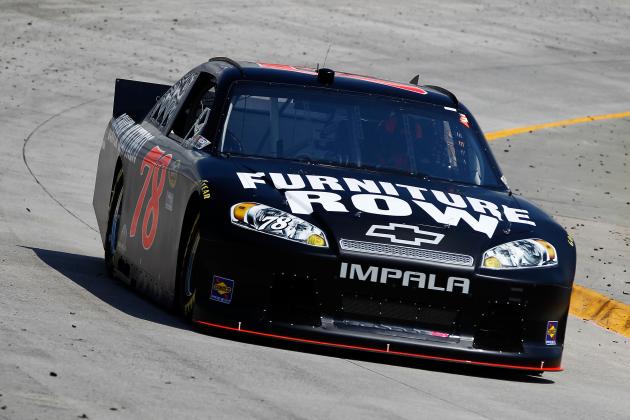 Jeff Zelevansky/Getty Images

You didn't hear a lot about Regan Smith on Sunday. While he was not in contention for a top-10 finish, he stayed out of trouble.
Smith finished 16th on Sunday and is now 18th in points.
While it wasn't an impressive finish, his team kept the car up there to get a top-20 finish. Those finishes define how tough a team really is.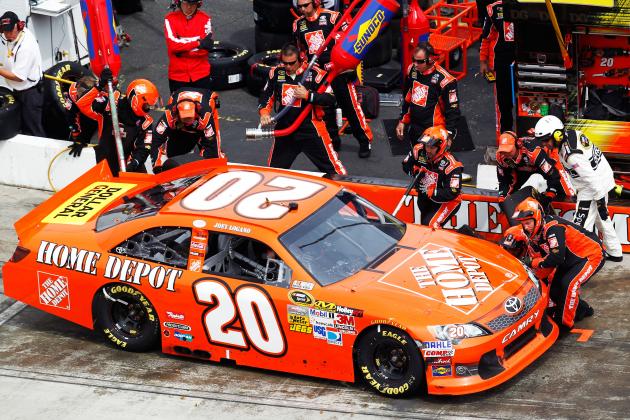 Jeff Zelevansky/Getty Images

Once again, another bad race for Joey Logano.
Logano was a non-factor for the entire race. He could never work his way up through traffic and his team could not get anywhere with the set-up.
Logano finished 23rd and now sits 13th in points.
It amazes me that he is that high up in points. At the rate Logano's finishes are going, he won't be sitting that high for long.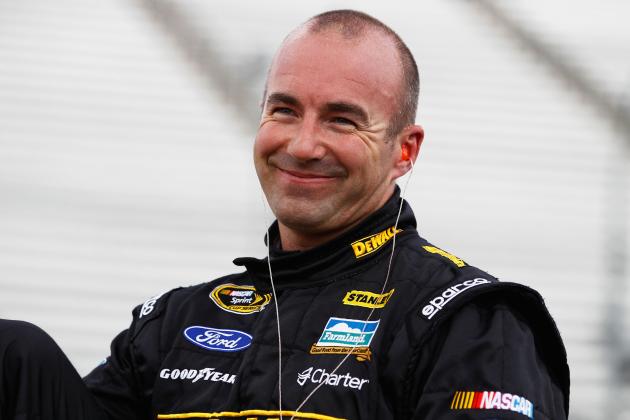 Jeff Zelevansky/Getty Images

This guy should be smiling leaving Martinsville.
Marcos Ambrose had a decent day in the Goody's Fast Relief 500. Ambrose fought in the top 20 all race long and brought it home in 15th.
Ambrose was close to cracking the top 10 at times but just could not do it. With the week off, let's see if the No. 9 team can refocus and make a run of good finishes.
I believe they can.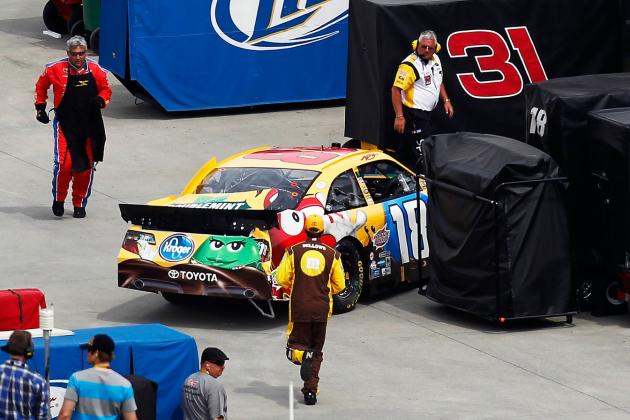 Jeff Zelevansky/Getty Images

This "calm" version of Kyle Busch just can't get the job done this season.
Busch had rear end problems early in the race which made him hit the wall and take a trip to the garage area.
Kyle Busch slipped to 16th in points after finishing 36th, and it makes me wonder what is going on with him.
I know he has races where he struggles and makes mistakes, but he doesn't have the same strength to dominate races like he usually does.
It can't last for long. I can't see Kyle Busch out of victory lane for too much longer.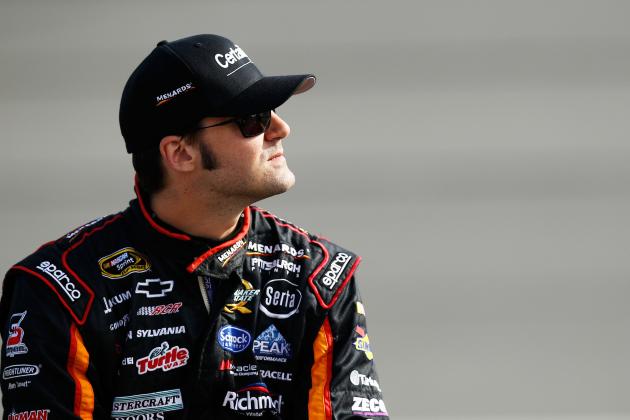 Chris Graythen/Getty Images

It was a tough day for Paul Menard.
He fell behind early and just could not catch up. Menard finished five laps down in 26th.
Menard and the rest of the RCR cars struggled, which was surprising. With Kevin Harvick as a favorite, I would have expect Menard to have a good day.
It just did not turn out that way.
Paul Menard slips three spots in points to 14th. He has to be careful and bounce back because he can easily slip right out of Chase contention.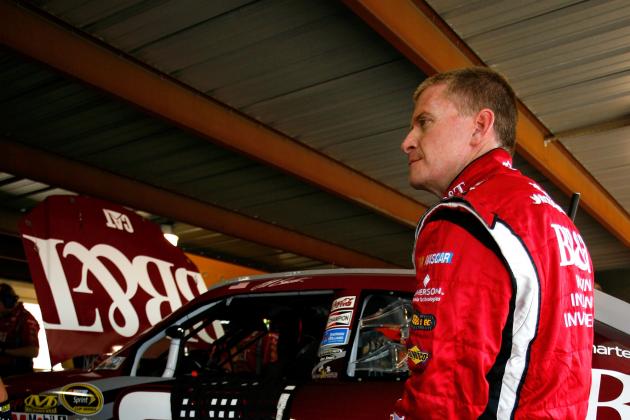 Tyler Barrick/Getty Images

Here's another RCR driver who had an up-and-down day.
Jeff Burton did not get the finish he wanted from one of his home-tracks.
Burton finished three laps down in 22nd. I expected a lot more from this No. 31 team. The lack of cautions hurt a lot of teams, like Burton, who did not get too many chances to adjust the car.
Now Burton sits 15th in points, still too early to say if he can climb much higher.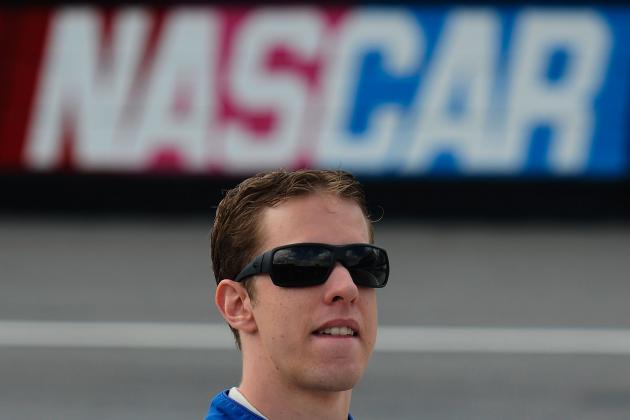 Jared C. Tilton/Getty Images

Brad Keselowski could have won this race, but mental mistakes cost him dearly.
Keselowski was running up-front for most of the race until he got caught speedy-exiting pit road to beat Jeff Gordon.
I give Brad credit for fighting all the way back up and finishing ninth, but it was his lack of thinking that cost him a win.
Keselowski moves up to 12th in points, and he'll be climbing into the top 10 real soon.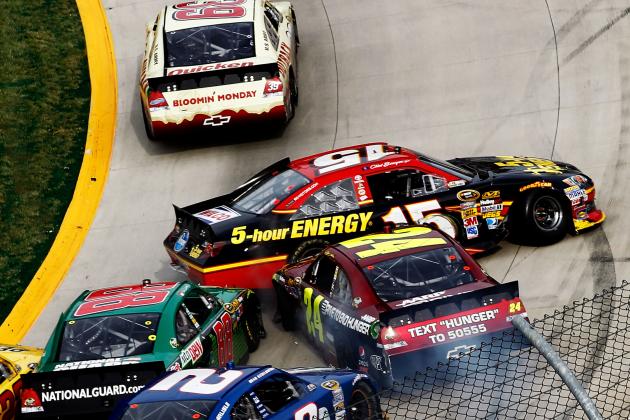 Jeff Zelevansky/Getty Images

A wild ending to what was otherwise a strong day for Clint Bowyer.
Bowyer was running up-front all day. He put himself in great position to win, but it didn't turn out the way he would have wanted it to.
On the GWC, Bowyer got bumped by Ryan Newman and went three-wide with Jeff Gordon and Jimmie Johnson, making all three of them spin.
Bowyer salvaged a 10th place finish and sits ninth in points.
The way Bowyer has been running makes me think he'll be in victory lane by this summer.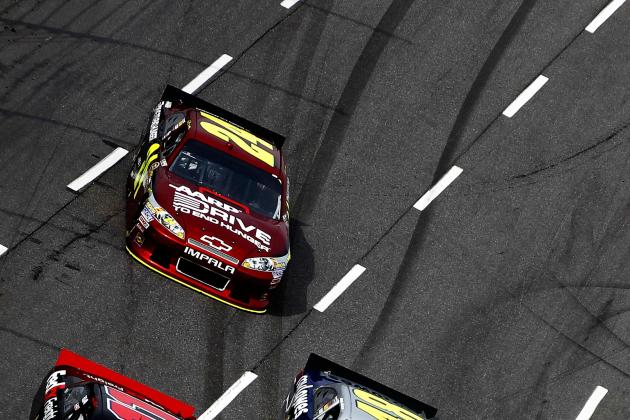 Jeff Zelevansky/Getty Images

What an up-and-down day for Jimmie Johnson.
After getting caught speeding on pit road, Johnson fought his way to the lead and battled Jeff Gordon for the win.
Then the wreck happened, and Johnson ended up finishing 12th. Johnson's car was strong to fight to get to the lead, but he didn't have the luck from the "golden horseshoe" to seal the deal.
Johnson slips to 10th in points and will have to shake off this race and focus on Texas.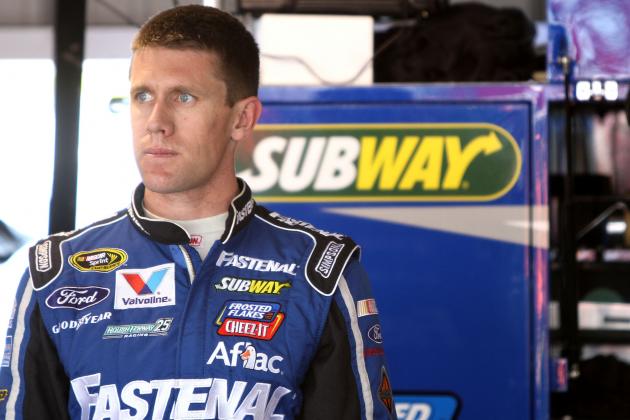 Jerry Markland/Getty Images

While Carl Edwards was making jokes with crew chief Bob Osborne, maybe he should have focused on getting the car in better position and driving to the front.
Edwards struggled for most of this race and in my opinion was lucky to finish 11th.
It was surprising to see Edwards never get up to the front. Now he sits 11th in points and needs to focus on the place where he got his first career Sprint Cup Series win.
It's been over a year since his last victory.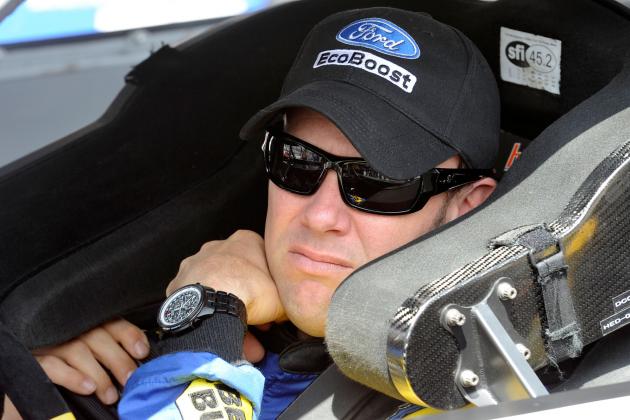 John Harrelson/Getty Images

I give credit to Matt Kenseth and his team.
They started off the race struggling and worked on the car to make it better. Kenseth was able to move up into the top 10 show some power.
Kenseth finished fourth and should be thrilled. He was able to move up front while his teammates just struggled and could not make any moves.
Kenseth holds firm in the points as he's tied for third. Matt is definitely in great form and making it known that he wants that championship.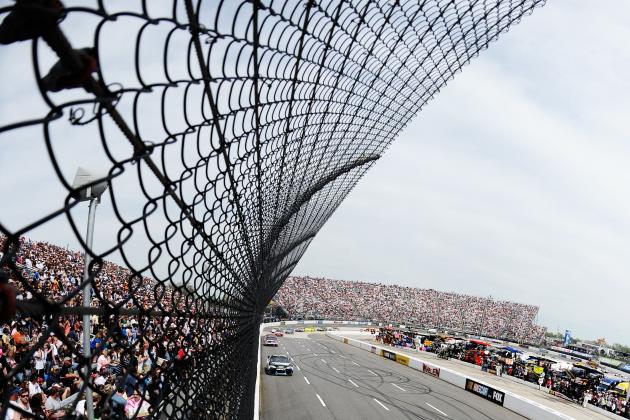 Jared C. Tilton/Getty Images

What a disappointing day for Kevin Harvick.
After winning the truck race on Saturday and starting in the front row on Sunday, he'd looked to be a major player for the win.
Instead, he just fell way back and never could get back up front. His team showed up with the wrong set-up and it burned them.
Harvick finished two laps down in 19th and slipped to a tie for third place in points.
He should be able to shake this off and come back strong in Texas.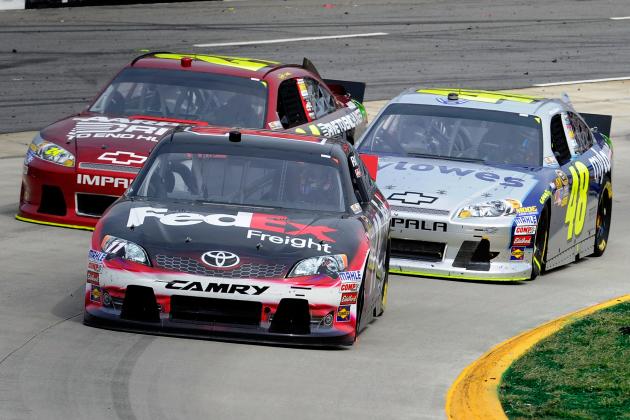 John Harrelson/Getty Images

Denny Hamlin had a good day in Martinsville.
He was running with the leaders all day and got to lead some laps. While he was no match for the Hendrick cars, he brought home a sixth-place finish.
He was able to sneak through that GWC crash and get valuable points. Hamlin is now seventh in points, just 16 points out of first.
With the points being so close, Hamlin can't have any mistakes.
Jared C. Tilton/Getty Images

Martin Truex Jr. had a relatively quiet day.
Truex stayed out of trouble and made his moves right at the end, when it counted.
The No. 56 car came home fifth and now sits in a tie for third in points. Truex keeps putting good finishes together and exceeding my expectations.
While it's still too early to tell who's going to make the Chase, Martin Truex Jr. is doing everything he can to make sure he's in.
He just needs that one win.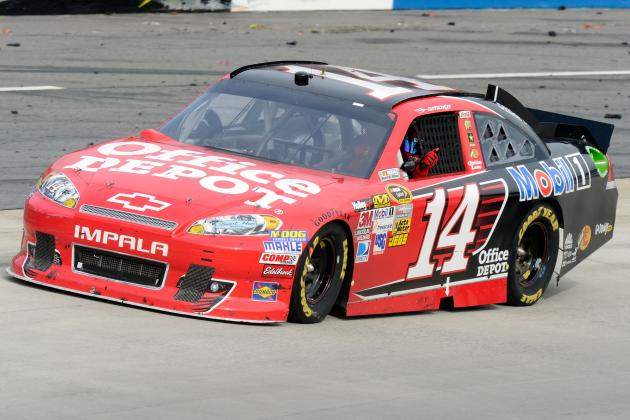 John Harrelson/Getty Images

Like Truex, Tony Stewart had a quiet day in Martinsville.
Stewart never made a run for the win, but he kept his car clean all race long. Stewart ended finishing seventh when the smoke cleared.
He drove the race like he knew he was no match for the Hendrick cars, but knew he could get a good finish. That's exactly what he did.
It was a great day for Stewart-Haas Racing.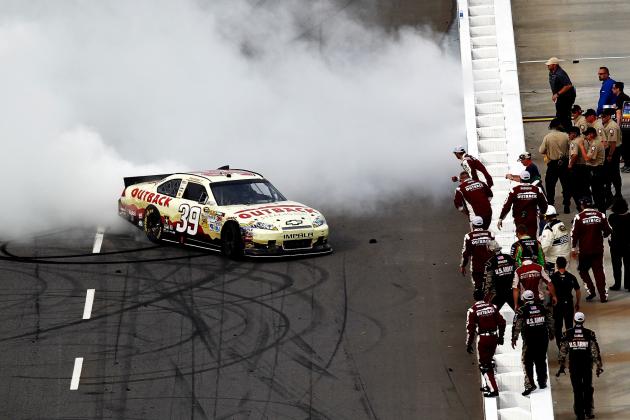 Jeff Zelevansky/Getty Images

It was a great day for Stewart-Haas Racing when Ryan Newman brought home the victory.
Newman fell behind early and had to fight to stay on the lead lap. Like his teammate, Newman kept the car clean and waited for his moment.
I've kept Newman high in the rankings because I felt he was going to make it known that Tony Stewart has tough competition right on his own team.
Newman moved up to eighth in points and I expect him to keep climbing up the points standings.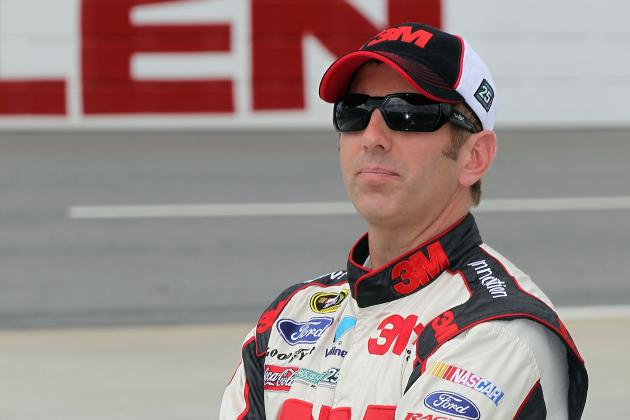 Tom Whitmore/Getty Images

Martinsville has not been too kind to Greg Biffle during his Sprint Cup career and it was no different on Sunday.
Biffle struggled all race long and never could make a charge for a top-10 finish. I think Biffle should feel lucky that he finished 13th and still held the points lead.
Biffle knows he's going to have a bad race here and there, but knows he can't have too many of them.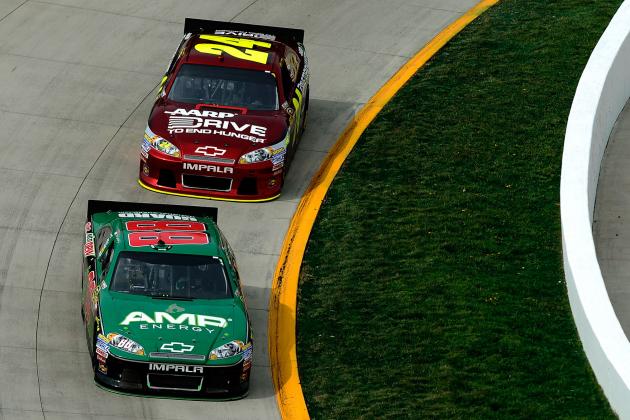 Jared C. Tilton/Getty Images

I can't believe it.
Dale Earnhardt Jr. is first in my power rankings and still hasn't won a race yet.
That's how strong Earnhardt looks this season. Earnhardt ran up front all day, getting up to the top three.
The day almost went bad when he had to pit for fuel late in the race, but it saved him as he climbed back up to finish third.
Junior sits second in points, just six points away from first.
He's starting to make me a believer that he's a major player for the championship.