QPR vs. Arsenal: Aaron Ramsey Is Not to Blame; Arsene Wenger Is
April 2, 2012

Clive Mason/Getty Images
It's great to find a convenient scapegoat when things go wrong, but there is a limit beyond which deluded finger-pointing must not be allowed to stretch.
It has been quite astonishing and disturbing to watch vast numbers of Arsenal fans heap much of the blame for Saturday's 1-2 defeat at Aaron Ramsey's doorstep. His apparent fault being to select himself to play on Arsenal's left. It can't be for anything else, can it?
The recent re-emergence of Tomas Rosicky as a force majeure for Arsenal has resulted in Ramsey being displaced from his usual position of attacking central midfielder. And I must admit to being extremely surprised when Arsene Wenger slotted him in on Arsenal's left for the match against Everton. He did nothing of note in that game, besides miss a couple of easy chances.
He played on the left as a substitute against Aston Villa, where he was even more anonymous. And capped it off with yet another unspectacular performance at the Loftus Road horror-show.
The point to note, though, is that he doesn't pick the team or decide the tactics. Arsene Wenger does both. Ramsey is not a winger. His strengths are not running (at speed), dribbling or crossing. He is a central midfielder, blessed with great vision, a good shot with both feet and a fantastic engine.
By playing him out on the wing, Arsene Wenger is erring on multiple fronts. He is compromising the team's attacking threat, which is becoming predictably one-sided. He is undermining the other players who could do a better job on the left wing—Gervinho, Alex Oxlade-Chamberlain and Yossi Benayoun.
And, most importantly, he is exposing Aaron Ramsey, a fantastic bloke, it must be said, to the scorn and ridicule of his own fans.
Ramsey is playing on the left ostensibly to provide better defensive cover to Kieran Gibbs. First and foremost, I'm amazed with this negative mindset. Secondly, I believe that this extra defensive cover compromises the team's overall game, because it makes us so much less of an attacking force.
The Confidence of Alex Oxlade-Chamberlain and Gervinho
I briefly alluded to this possible side effect of playing Ramsey ahead of Gervinho and the Ox.
Gervinho was poor when he returned from the African Cup of Nations. His finishing was worse than before, if that is theoretically possible. His dribbling had lost its sparkle. His passing was shorn of its erstwhile incisiveness. And even his first touch was found wanting.
He needed match time to get his game back. And his game was sure to be needed during the run-in. By sticking with Ramsey, Wenger has denied the Ivorian the chance to get back to his best.
Alex Oxlade-Chamberlain has taken the league by storm this season. He is undoubtedly an exceptional talent. And he is certainly ready for the highest level. Power, pace, physique and most importantly, brains—he has them all.
Yes, he is 18. Yes, the British press will go bananas. And yes, he needs protection.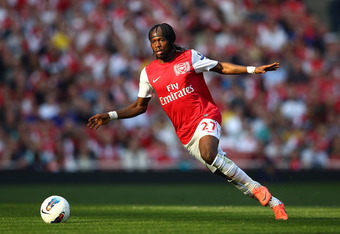 Julian Finney/Getty Images
But for crying out loud, he can surely manage more than 15 minutes of first-team football a week! I'm not asking for him to be sent to Afghanistan. I'm not saying he should play every minute of every game. But just five league starts in almost a full season of football—not good enough for me.
Of course, Arsene knows best. But the way he is "protecting" the Ox is making it look eerily like the Arshavin scenario earlier this season. "Anyone but the Ox," he seems to be saying. And while I'm sure player and manager are communicating all the time, this repeated exclusion cannot be doing anything for the 18-year-old's confidence.
The Substitutions
In spite of all the crazy stuff that happened against QPR, I have to say that Arsene Wenger's substitutions left me scratching my head.
I obviously don't know about the injury situation (if there was one), but we ended the game with a midfielder at centre-half (Song), a centre-half at left-back (Vermaelen), a winger in central midfield (the Ox) and a striker—and I use that term very loosely—who couldn't have done a better impersonation of a deer caught in the headlights if he went to drama school.
At a time when Arsenal should have been laying siege to the QPR goal, we looked like we were getting accustomed to our new surroundings. Rarely have I seen an Arsene Wenger team do so little at the business end of a game.
And speaking of Marouane Chamakh, I feel for the man. He looks so shorn of confidence that if I were Arsene Wenger, I'd send him on vacation right away and find him the best "faith healer" available. That shouldn't be difficult—Wenger and Glenn Hoddle are good pals.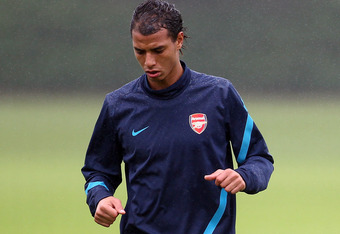 Julian Finney/Getty Images
I know we've had a great run of late, but this performance rankles. Because it was unnecessary, unprofessional and unlike the kind of champion team that we aspire to be.
And sure enough, that team from up the road pounced as we slipped, and the lead is now history.
I have the utmost faith in Arsene Wenger, but there are times when his stubbornness is frustrating.
This is going to be one helluva run-in, and with Chelsea making a real go for the Champions League trophy, fourth place may not be good enough.
It is a time for calm minds, yes, but it is also time to be positive and take charge.
Carpe diem, Arsenal!
Follow me on Twitter @ratanpostwalla