NBA Rumors: 3 Ideal Replacements for Stan Van Gundy with Orlando Magic
April 2, 2012
Kevin C. Cox/Getty Images
Stan Van Gundy has had an interesting season patrolling the sidelines for the Orlando Magic.
We went through the Dwight Howard saga (multiple times), some seriously uninspiring play from his team and a whole host of memorable quotes like this one from the head coach.
ESPN's Marc Stein reports that "whispers" are beginning to swirl around Van Gundy's job status, indicating that he could be on less-than-firm footing regardless of how his team fares in the postseason.
Rest assured that there will be no shortage of immediate interest in Van Gundy from other teams if Magic management decides that a coaching change is central to its plans to convince Dwight Howard to commit for the long term. One source cautions that the Magic are known contrarians and thus apt to keep Van Gundy no matter how many people are calling for his head.
If Van Gundy does indeed get the boot, these three candidates should emerge as the favorites to take over his role as head coach of the Orlando Magic.
Nate McMillan
McMillan was canned in Portland after the Trail Blazers' season seemed to spiral out of control under his direction, but there is no doubt he'll get another job before long.
Stein believes McMillan "will emerge as a prime candidate to replace Van Gundy," but the veteran head coach may command more money than the organization feels comfortable paying given the uncertainty of Dwight Howard's contract situation.
He would certainly be an interesting choice for a number of reasons, and McMillan could be exactly the type of personality Orlando needs in order to get over the hump and find perennial postseason success.
Mike D'Antoni
D'Antoni resigned from his job with the Knicks amid rumors that he could be fired, but he shouldn't be out of the coaching ranks for too long.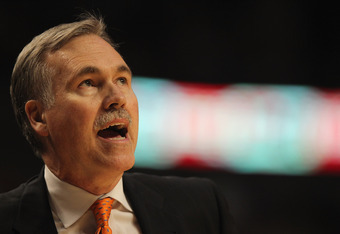 Jonathan Daniel/Getty Images
Known most famously for his success with the pick-and-roll offense, D'Antoni could work wonders if given Dwight Howard to work with as part of the attack.
Stein writes that "sources close" to D'Antoni insist that he's looking to take a full season off and not coach during the 2012-13 season, but if the right job opens up with the proper paycheck attached, it's hard to imagine a scenario where D'Antoni passes it up and remains out of basketball.
Mike Woodson
Will Woodson's initial success in New York as the lead man result in a contract offer to become the permanent head coach of the Knicks?
Stein writes that Woodson is "increasingly hopeful" to remain head coach of the Knicks, but he still has the interim tag and there are no indications that he'll have that removed before the season ends.
There is no doubt that the Phil Jackson speculation will ramp up with the hope that the "Zen Master" will return to coaching with the Knicks, but it's not a slam dunk that Jackson is interested in a return to coaching for any team in the league.
If the Knicks do let Woodson walk, he could resurface in Orlando, where his commitment to performance at the defensive end could really work wonders with the Magic.
The Magic need to make roster improvements before next season no matter who is the head coach of the team, and if Orlando doesn't get Dwight Howard some better talent on the roster, it's going to be very difficult to sustain success.