2012 NBA Draft: Fab Melo and Miami Heat's Needs Going into This Year's Draft
April 2, 2012

Jim McIsaac/Getty Images
Watching the Miami Heat against the Boston Celtics, a team supposedly head-and-shoulders beneath Miami and the Chicago Bulls when it comes to contention, would allow your mind to creep into a dimension where they are not a complete squad by any standard.
That dimension would be nicknamed reality, and the reality of the situation is that the Heat are not a team to be reckoned with in the postseason, but catching them at the right time may prove glorious in a second-round matchup. Playing against Miami in the first round may be a slaughterhouse.
The Heat are playing like they're ready for it all to be said and done. Move on to the playoffs and let's get this championship won. That type of attitude could be detrimental to any momentum swing they may try to achieve stepping into the playoffs.
We all saw how the Lakers' troubles trailed into the first and second rounds of the playoffs. Regardless of their win over the New Orleans Hornets in the first round, it was suspected that the second round against the Dallas Mavericks would be more trying because they just did not have their minds right.
Miami's fatigue could have them suffering from the same diagnosis. But, where is Miami's fatigue stemming from?
That is where the 2012 NBA Draft could be of some help. Miami needs some cheap talent on the squad, as it does not seem they will be giving up on their three-man wrecking crew anytime soon. LeBron James, Dwyane Wade and Chris Bosh are taking up a lot of Miami's cap space, and they need to cut costs but bring in A-rated role players in the same breath.
Where is the rebounding?
Miami is 18th in the league in rebounding, and that is primarily due to their lack of size in the front court. Looking into the draft, the Heat are going to go for strong and athletic players. Even though the thought of monstrous size and strength under the rim would be coveted as well, Miami still needs players that can run the floor with the best of them.
Ideal Candidate: Fab Melo
Of course this decision will hinge on whether or not Melo will decide to go pro, a decision that must be made by April 10. Melo's rebounding skills and efforts around the rim would give him some decent minutes in Miami's second unit. But, Fab's a project.
Like any other rookie, he will need to be primed for the NBA if he does decide to come out this year. His offense needs to be refined and he really doesn't have any true post moves. But, his athleticism would most definitely force the Heat to give him a second glance.
You can never have too many guards.
Is Miami going to stick by Mario Chalmers for too much longer? That question will determine whether or not the Heat are going to go after one of the quicker, more athletic guards in the draft. Going after Norris Cole was a good move, and next season as a sophomore in the league, Cole could be a much stronger instrument in Miami's diabolical takeover.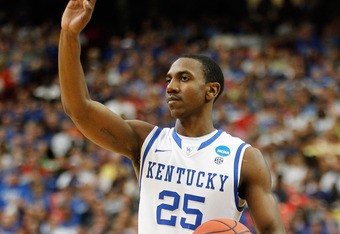 Streeter Lecka/Getty Images
But, if they are not going to stick with Chalmers, the Heat are going to look for another PG to fill some of those responsibilities.
Ideal Candidate: Marquis Teague
Teague is perfect for the Miami Heat. He is agile, improving as a shooter, strong and incredibly athletic (which is something Chalmers is not). He tends to gamble when playing defense and comes up with great plays, but gets caught with his hand in the cookie jar just as often.
However, the risks he takes as a young guard make him such a strong case for Miami's pace of play. He could fit right into the transition plays of the Heat and could also improve vastly in the half-court offense besides LeBron and Wade.
Miami might not be looking to the draft to bring in guys that will chew up 25-plus minutes of clock. Still, they need those go-to role players or players in development for their second unit. Right now, their first unit is the only solid thing they have got going.
When the fatigue starts setting in, where is that going to lead them?