New York Jets: Tim Tebow and 5 Players Who Will Emerge as Starters This Season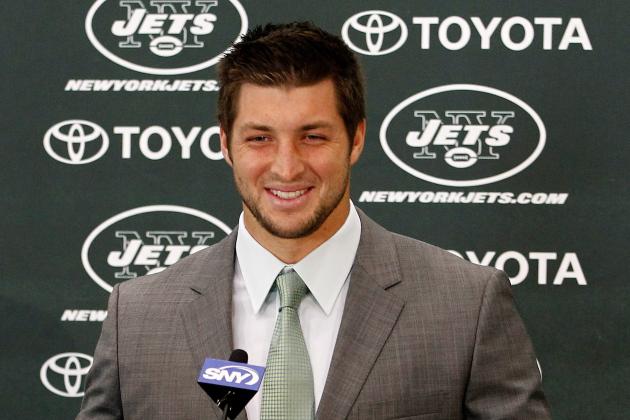 Jeff Zelevansky/Getty Images

No matter how flawed his throwing motion or how many holes he has in his game, Tim Tebow saved the Denver Broncos last year as their starting QB.
Tebow's 46.5 completion percentage would have been much more of a problem if he had not covered it up with his 660 rushing yards and limited turnovers.
Instead, the worries over completion percentage were thrown away as Tebow led Denver to seven wins and four losses, plus a playoff win against the Pittsburgh Steelers.
With his success, Tebow has to believe that he can be more than just a backup/Wildcat player in the league.
That is, especially after his new head coach Rex Ryan had the following to say at the NFL owners meetings.
Per ESPN:
Trust me, I don't think DBs want to tackle [Tebow]. It's really a unique skill set ... That system, the Wildcat, he's the perfect guy, not to mention I think he's a guy that's ascending as a passer.

He's not just a backup player. He's a backup quarterback, but there's things he's going to do. Is he going to be our starting quarterback in the Wildcat? Absolutely.

I think the Wildcat is alive and well.
Under new offensive coordinator Tony Sparano, a coordinator who brought the Wildcat to Miami, it's only a matter of time before Tebow takes over as the starter.
Here are five more players who will emerge as starters this season.
Begin Slideshow

»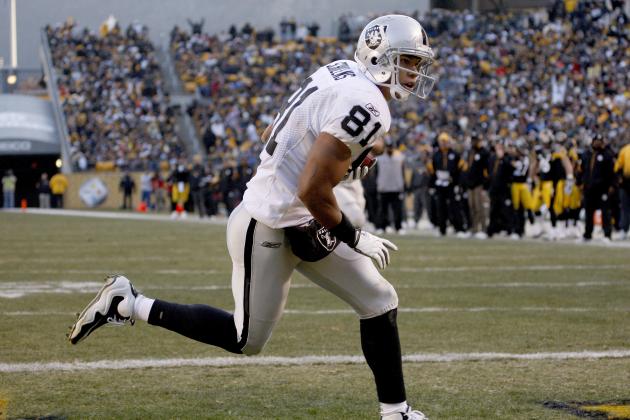 Gregory Shamus/Getty Images

The New York Jets depth chart at wide receiver leaves a lot to be desired. Currently, locker room malcontent Santonio Holmes is their No. 1 option.
After Holmes, there is second-year wideout Jeremy Kerley, who showed flashes of becoming a No. 2 a year ago.
In his rookie season, Kerley had 29 receptions for 314 yards and a touchdown. However, at only 5'9'' and 188 pounds, he simply does not have the size to be the prototypical receiver the Jets need.
Meanwhile, at 6'4'' and 225 pounds, the recently signed Chaz Schilens does have the size to be the prototypical receiver and red-zone threat they crave. He also has good speed, as he ran under 4.4 in the 40-yard dash before the draft.
Furthermore, Schilens is still young at 26 years old.
In his four-year career, he has missed 20 games due to injury.
Last season, Schilens had 23 receptions for 271 yards and two touchdowns.
The starting No. 1 spot is his for the taking. If he is able to stay healthy, he will thrive in a situation that is perfect for him.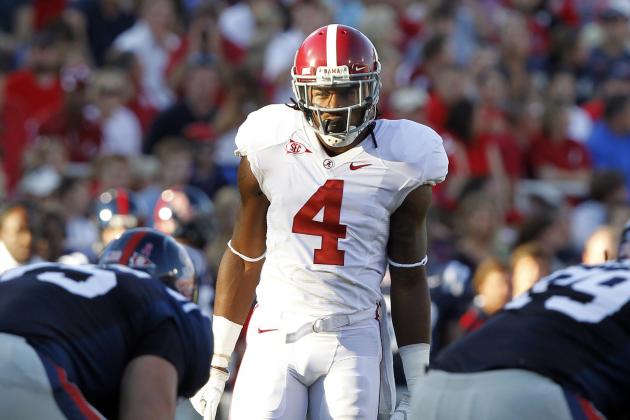 Butch Dill/Getty Images

With Jim Leonhard leaving for free agency and the possibility of Eric Smith being let go, the New York Jets are a disaster at the safety position.
That's even after signing LaRon Landry, since he is not yet 100 percent healthy and lacks elite coverage skills.
New York's safety situation should lead them to draft an immediate impact safety who is capable of starting from day one.
If Alabama's Mark Barron—the top-rated safety in the draft—is available when the Jets pick at No. 16, they would be foolish to go in another direction.
Barron is the starter New York needs. Harrison Smith out of Notre Dame or Brandon Taylor out of LSU are also suitable.
The point is, whatever safety the Jets draft will be a starter by the end of next season.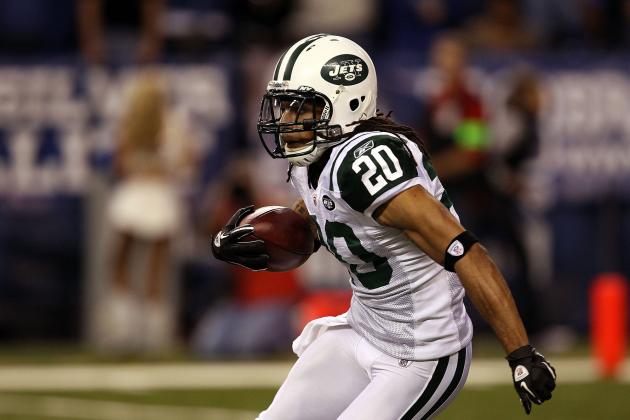 Jonathan Daniel/Getty Images

As the New York Jets nickelback, second-year player Kyle Wilson had 41 tackles, two interceptions and six passes defended a season ago.
As the starting cornerback, Antonio Cromartie had 45 tackles, four interceptions and 12 passes defended.
If Wilson improves even more in his third year in the league, it should be time to start transitioning him to play opposite Darrelle Revis.
Wilson already appears to be more willing to get physical and tackle when he needs to, unlike Cromartie.
However, it will be a difficult move to make. Cromartie has just signed a big contract and has been living off the reputation of being a ball hawk. He does, after all, come away with an above average number of interceptions.
That being said, even with Cromartie having the flashier game, Wilson's overall talent will win out by the end of this season.
Meanwhile, Cromartie would be even better off at nickelback or perhaps free safety.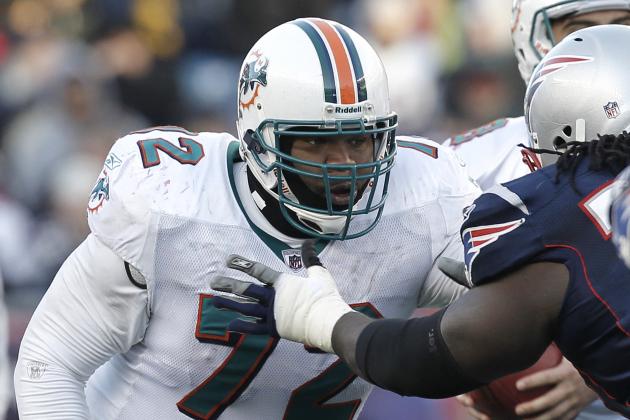 Winslow Townson/Getty Images

Wayne Hunter was a disaster last season at right tackle. According to ProFootballFocus.com, Hunter allowed his QB to get sacked 22 times, which is more than any other tackle.
Hunter's starting days should be over.
Lucky for the New York Jets, former first-round pick Vernon Carey is available through free agency.
A deal between the Jets and Carey makes too much sense not to happen.
Not only would Carey be a needed upgrade over Hunter at starter, but he could also reunite with his head coach from last season and current Jets offensive coordinator Tony Sparano.
The transition would be seamless. Carey already knows Sparano's blocking schemes.
The signing would also give Carey the chance to move back to his natural position at tackle, since he played out of position at guard last season.
Mike Ehrmann/Getty Images

With the emergence of third-year cornerback Kyle Wilson, Antonio Cromartie's starting job is in jeopardy. Especially if Cromartie's play erodes even more than it did last season.
Instead of Cromartie finding another team, he will be better off switching positions.
He could make the switch to start at free safety if the New York Jets pass on selecting one in the upcoming draft or if the rookie they do draft struggles.
While Cromartie is a liability when it comes to tackling, he can rely more on his speed to get to the ball quicker than the bigger, slower receivers or tight ends.
There could be some trouble if those slower receivers or tight ends are able to make those catches. However, that's why there are shoe-string tackles made. Plus, he will have hard-hitting LaRon Landry beside him to deliver the hit that he will not.
Cromartie at free safety would equal a field day in interceptions.
Cromartie may even be willing to make the change.