Fantasy Baseball 2012: Why Tigers Catcher Alex Avila Is a Must-Have
April 2, 2012

Harry How/Getty Images
The catcher position has become an afterthought in most fantasy baseball drafts, but every team still needs to have one. This season, draft a player that provides consistency, both in the number of games played and from an offensive standpoint—Alex Avila. 
It's hard to tell whether Avila is being underrated in the preseason fantasy baseball catcher rankings. Avila is currently rated sixth by ESPN and eighth by Yahoo!.
Some don't believe that the 25-year-old Avila, who was the starting catcher for the American League in last year's All-Star Game, can repeat his 2011 season. And their concerns are valid. Avila's play deteriorated in the playoffs (.079 average and 15 strikeouts in 41 at-bats), and his .366 BABIP (batting average on balls in play) is surely to drop off in 2012. The young backstop also floundered in the postseason, hitting .073 in 41 playoff at-bats.
But, injuries played a major part in Avila's playoff struggles. It was revealed after the Tigers lost to the Texas Rangers in the ALCS that Avila suffered a sprained knee in July. Although it was not serious enough to miss time, Avila said it later led to "severe tendinitis." To help ease some of the pain while squatting behind the plate, Avila put more pressure on his other knee, which led to severe tendinitis developing in that knee, also. 
An injury to backup catcher Victor Martinez didn't help, either. Martinez sprained his knee on August 6 and was unable to catch for the rest of the season. At one point, Avila started 18 straight games behind the plate. In total, Avila caught 130 games for the Tigers in 2011. That, coupled with the knee issues, really hurt his production in October.
Martinez tore his ACL in January and will likely miss the entire 2012 season. But, former Tiger Gerald Laird signed with the team and should provide Avila with a valuable backup who can catch 35 to 40 games and relieve Avila from the rigors he faced last year.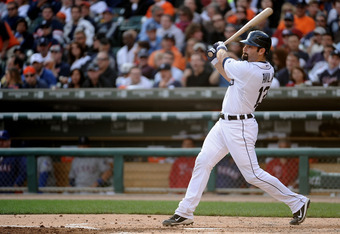 Harry How/Getty Images
While Avila's .366 BABIP will more than likely drop off this season, his other offensive numbers can't be overlooked.
Last season, Avila hit .295 with 19 home runs and 82 RBI. Although all of those numbers were significant increases from his 2010 season (.228, 7 HR, 31 RBI), last year was the first season Avila was an everyday starter.
Only two catchers with over 250 at-bats, Mike Napoli and Yadier Molina, had a higher batting average than Avila last season. And Napoli was the only catcher who had a higher slugging percentage and on-base percentage than Avila.
Despite his 131 strikeouts in 2011, Avila did show a knack for patience at the plate and drew 73 walks. Only Miguel Cabrera had more for the Tigers last season.
Avila is not the only catcher out to prove that 2011 was not a fluke.
Napoli, who is rated the first or second catcher in most fantasy rankings, had a stellar season—.320, 30 HR, 75 RBI—in 2011. But those numbers were significant increases from his career averages. Going into last season, Napoli had a career batting average of .251, and only once had he posted an OPS over .842 (he had a .960 OPS in 2008, but only played in 78 games for the Angels). 
It is very possible for Napoli to post numbers similar to last season, especially in an offense as potent as the Rangers'. But, at the same time, Avila will be batting in a Tigers lineup that should be every bit as potent, if not more, than the Rangers'. 
One luxury that Napoli may have over Avila is the fact that he bats right-handed and has Nelson Cruz following him in the lineup. With Jhonny Peralta following Avila in the Tigers lineup, pitchers may choose to pitch around the left-handed Avila in order to face Peralta. 
Otherwise, Napoli is just as big of a question mark as Avila entering the 2012 season. 
Question marks surround almost all catchers this season.
Buster Posey and Joe Mauer—two young players who, when healthy, are quite possibly the best in their respective leagues—'are coming off major injuries. Can they stay healthy for the entire season? Only time will tell.
Carlos Santana has also been a popular fantasy pick this season, mainly due to the power he showed in 2011 with 27 home runs. However, despite last year being Santana's rookie season, he is almost 10 months older than Avila.   
Other than a handful of players, there is no such thing as a "sure thing" in fantasy baseball, especially at catcher. However, Avila has the potential to be just as good, or better, than anybody at the position and would be a great addition to any fantasy lineup.