Philadelphia Phillies: Second-Guessing Charlie Manuel's Roster Decisions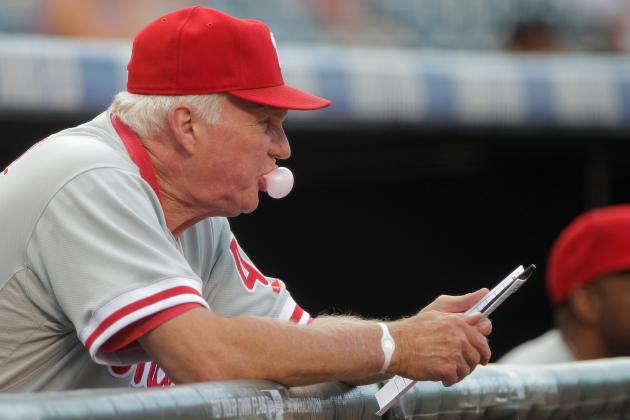 Doug Pensinger/Getty Images

Let me start by saying that Charlie Manuel is the man. He's the bees knees. He's the perfect manager for this club.
You also have to love his interviews after the game. Not only is he as candid as it gets, but when listening to Charlie Manuel talk after games, I'm convinced that someone just took Foghorn Leghorn and slapped a baseball uniform on him.
With all due respect to Charlie though, he has made a couple decisions with the roster this Spring that leave some room for second-guessing. I'm not necessarily saying Manuel made the wrong choice in any of these situations—I just want to highlight how tough each decision was, and how these five in particular could possibly have gone a different way.
Also, keep in mind that as I write this article the entire 25-man roster is not quite fully determined, so for one of the "second-guesses", I speculated and analyzed what is most likely going to happen.
All stats used in this article are current up to April 2, so the Phillies' last couple exhibition games against the Pirates aren't included.
Begin Slideshow

»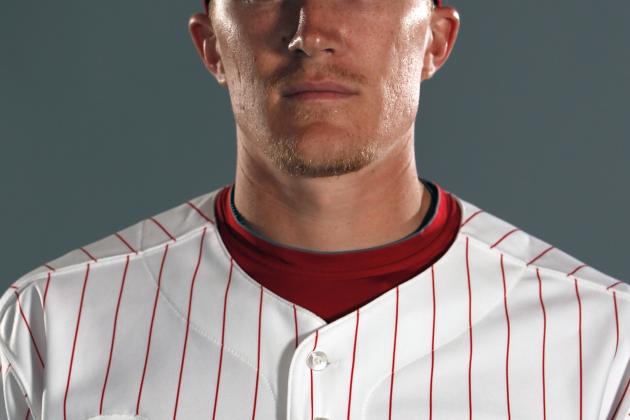 Jonathan Ferrey/Getty Images

Jake Diekman, along with Joe Savery and Raul Valdes, comprised one-third of the Phil's trio of surprising lefty relievers this Spring. Over five appearances in Clearwater, Diekman allowed no earned runs and only two hits, while striking out nine and walking only one batter.
He's also the only one of those three relievers that was told he would not make the Opening Day roster.
It's true that five innings is a very small sample size, but with injuries to Jose Contreras and Mike Stutes to begin the season, and with the Dontrelle Willis experiment failing, the Phillies need all the solid relief pitching they can get, especially lefty relief pitching.
Either Savery and Valdes will likely make the Opening Day bullpen, but if they struggle early, it will only be natural to wonder how Diekman would have fared in their position.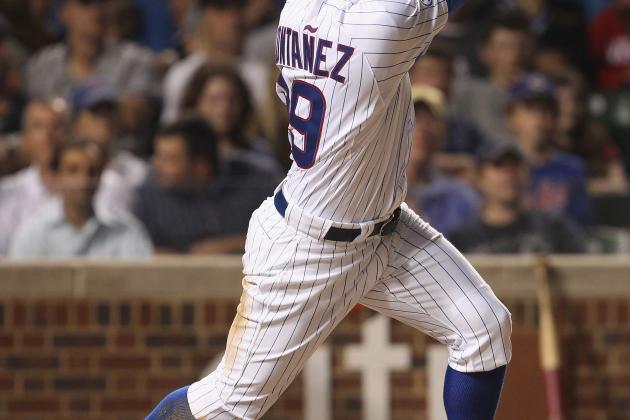 Jonathan Daniel/Getty Images

I admit that I was a Lou Montanez hater before this Spring.
I mean, I didn't necessarily hate him, but I considered him to have no shot at making the Phillies. To me, he was a typical Quad A player who was just another body to throw out in the field during the Spring.
But Sweet Lou has certainly proved me wrong, outhitting virtually every Phillies outfielder not named Juan Pierre with a .347 average, a home run, and four doubles this Spring.
Unfortunately for Lou, that wasn't quite good enough. He was apparently told he wouldn't break camp with the big club, though he will continue to travel with the Phils until Opening Day (see post from March 30).
While I can't really fault Charlie Manuel for letting go of Lou (after all, who would you get rid of to make room for him), it still must have been a tough decision. Especially considering that this offense could use all the help and hot bats it can get.
Montanez will likely be waiting in AAA should the Phillies need his services, which is definitely possible—if, for instance, John Mayberry (.200 Spring average) and Laynce Nix (.208 Spring average) see their struggles carry over into the regular season.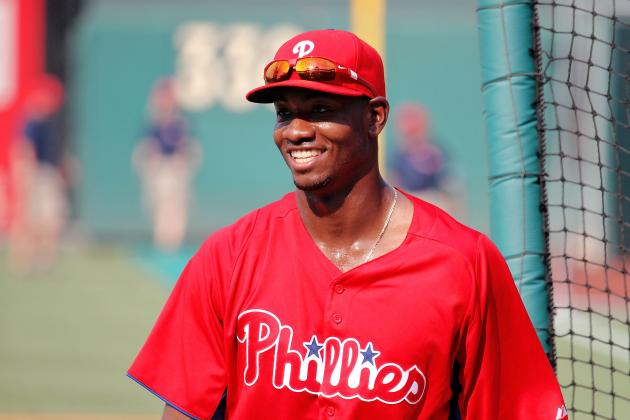 Len Redkoles/Getty Images

Well, it appears we'll all have to wait a bit longer for the Domonic Brown era to really get going in Philadelphia—if it ever even does.
While I and almost everyone else has their own opinion on what the Phillies should do with Domonic Brown, they were all rendered moot when the Phillies optioned Brown to minor league camp a couple of weeks ago.
Dom didn't really play much this Spring due to various injuries, but looked solid at the plate when he did play, hitting .300 with a home run.
I don't totally agree with Charlie Manuel and Ruben Amaro's decision here, because the Phillies need offense anywhere they can get it, and Brown needs major league at-bats and reps in the field to get acclimated to baseball's top level.
Say what you will about a couple of the routes he took to balls during spring training—would you really rather have two months of Laynce Nix and Juan Pierre in left field while John Mayberry Jr. tries to hold down first base? In my opinion, Dom Brown gives the Phillies better offensive potential in left field than any of the alternatives.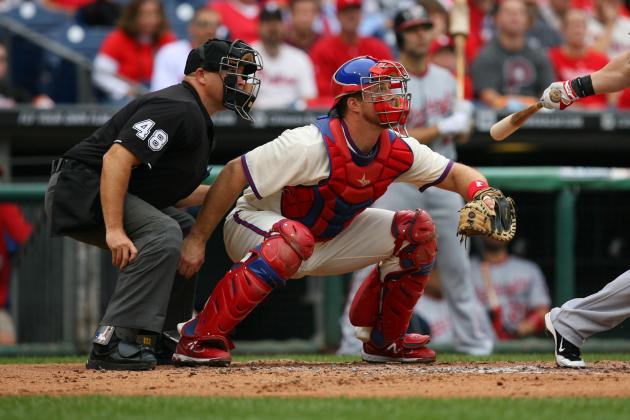 Hunter Martin/Getty Images

Yes, I am aware that the Phillies re-signed Brian Schneider this off-season to a nice little deal.
I also am aware that Schneider hit .240 and .176 in 2010 and 2011 respectively, with six home runs and eight doubles over the last two seasons combined. He also threw out only three of 23 base stealers in 2011.
While Schneider undoubtedly brings a veteran presence to the Phillies clubhouse, he doesn't bring much else. And even though Erik Kratz is no Yogi Berra, he still outplayed Schneider this Spring by hitting .409 with two home runs.
Again, the Phillies will need all the offense they can get in 2012, and Kratz probably is more of a threat at the plate than Schneider.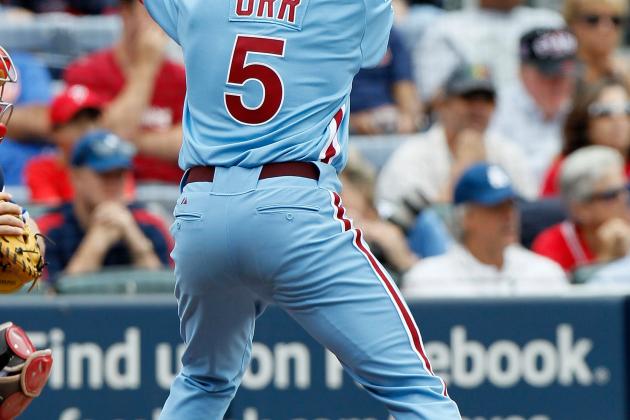 Kevin C. Cox/Getty Images

At the time of this writing no decision has been made between Hector Luna and Pete Orr yet, and if the Phillies decide to only open the season with 11 pitchers due to the Contreras and Stutes injuries, there may not be a decision.
If Charlie Manuel does choose one of the two to be his utility infielder, though, it won't come without some scrutiny.
Orr is a lefty and probably the better fielder of the two, but Luna has absolutely crushed the ball this Spring to the tune of a .320 average, three home runs, and three doubles. He also has come through in the clutch with a couple of game-winning hits.
While the Phillies may be more familiar with Orr due to his time spent with the team last season, Luna deserves the Opening Day spot in my opinion (again, that is if a choice is made between the two).
The Phillies need all the offense they can get, and even though Luna will cool off eventually, they can at least ride him as a pinch-hitter until Michael Martinez gets healthy or they can make a move for a better player.
This could all be rendered irrelevant, though, depending on what Charlie Manuel decides to do with this roster spot in the next couple days; second-guessing a move that hasn't even been made yet isn't an exact science, after all.