Kobe Bryant: Why Fatigued Star Should Have LA Lakers Worried
April 2, 2012

Ezra Shaw/Getty Images
Kobe Bryant is averaging right around 38.5 minutes per game this season, a major increase over the 34 minutes per game he saw during the 2010-11 season.
Despite a torn tendon in his wrist to begin the season, Bryant took no time off and has, once again, played in every single regular season game during the condensed campaign.
Assuming he remains healthy the rest of the way, Bryant will have missed just nine total regular season games since the 2007-08 season, and all nine came in the same year.
Yes, he's leading the league in scoring at age 33, and yes, Bryant did just drop 40 on the Golden State Warriors (the fifth time he's scored at least 40 in a game this season), but he's playing heavy minutes every single night and it's a pattern that rightfully has some Lakers fans concerned about the franchise player.
After shooting 45.5 percent from the floor over the first two months of the season, Bryant shot the ball at just a 40.2 percent clip in February and followed it up with 38.7 percent in March, a span of 30 games.
A career 45.3 percent shooter, Bryant is sitting at just 42.4 percent overall this season, the lowest mark of his career since his rookie season.
Before exploding for another 40 points against the Warriors, Bryant had really struggled with his shot to end the month of March.
And that's putting it mildly.
Before torching Golden State, Bryant had made just 31-of-102 shots over a five-game span.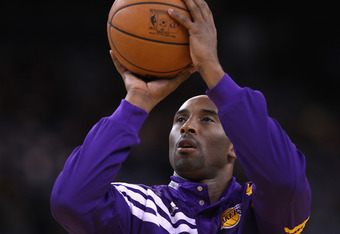 Ezra Shaw/Getty Images
In other words, Bryant was shooting just 30.4 percent and the Lakers had managed just a 3-2 record during that time.
This isn't the first time we've seen Bryant struggle with his shot this season, but it is the first time Bryant had admitted to fatigue being a possible factor in his on-court struggles.
Dave McMenamin of ESPN Los Angeles captured the quotes from the Black Mamba.
"Fatigue might have something to do with it, but I had good shots," he said. "The schedule is a little crazy. But, I'm fine. It's going to be OK. I'm going to figure it out. I always have."
That's true. Bryant has always figured it out when it comes to carrying the Lakers, but this is a team that has surrounded him with less talent than he's had in the past.
The lack of depth is frightening, the starting unit isn't always clicking on all cylinders and Mike Brown is still tinkering with his substitution pattern with less than one month remaining in the regular season.
Bryant doesn't have confidence issues, and he never will. He'll never say he's tired, but he very strongly alluded to the idea that the pace of this particular season has worn on him, a popular sentiment around the league.
Los Angeles needs Bryant to be at full strength when the playoffs come around. The shooting guard understands what it's going to take for his Lakers to win the title this season.
Back in February, Bryant said bluntly what it would take to win a championship (via Elliott Teaford of The Los Angeles Daily News):
"We have to play very solid, near-perfect basketball."
That means Bryant has to be playing his best basketball of the season, and off-shooting nights can't continue to be a trend.