Masters Predictions 2012: Top 10 Golfers Poised for First Green Jacket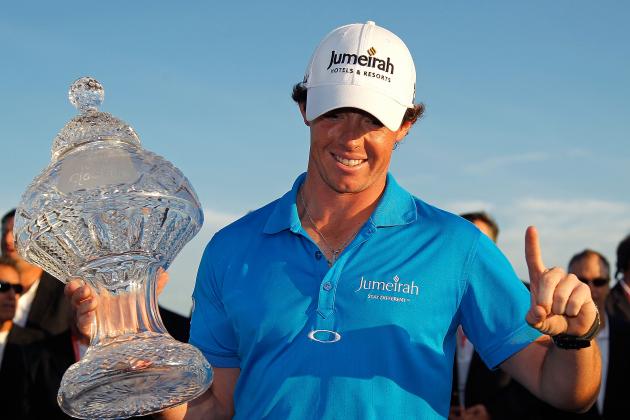 Mike Ehrmann/Getty Images

Augusta National is surely a course golfers wish to see every year. There is the fresh Georgia air, the luscious fairways and greens and those most famous azaleas.
Alas, many players don't have the opportunity to compete in the Masters every single year. There are less than 100 spots in the field, and unless a player is consistently top-notch, he will likely be sitting at home for some Masters tournaments.
But, there is a loophole. The Masters, unique from the other three major championships, gives a lifetime exemption to anyone who wins the event. That incentive is certainly one highly desired by any golfer (just ask Ernie Els).
So with that, here are the 10 golfers most poised to hop on that opportunity and guarantee a spot at Augusta for life. These players have yet to win a green jacket and would be overjoyed to take one home.
These 10 have the best chance to get that first Masters title and secure many more visits to the Augusta National Golf Club.
Begin Slideshow

»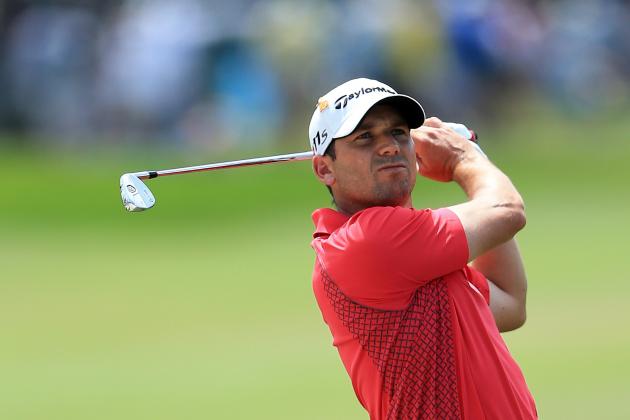 David Cannon/Getty Images

It seems like forever ago that Sergio Garcia was battling Padraig Harrington down the stretch in major championships. The feisty Spaniard brought out his A game, but was bested by Harrington twice in those years.
Four years later, Garcia is back on the radar again. After two tough seasons in 2009 and 2010, Garcia returned to form in 2011. The 32-year-old resurfaced in the majors with top 10 finishes at the U.S. Open and Open Championship and, late in the year, Garcia won two events on the European Tour (one by 11 shots).
Garcia's revival hasn't stopped in 2012 either. The Spaniard hasn't posted any victories as of yet, but with two top five finishes and seven cuts made in seven starts, he has at least been in solid form.
There is the question though about Garcia's recent performances at Augusta. Since 2005, he hasn't sniffed contention, finishing no better than T35 in that stretch. This is a track record that definitely hurts his chances this week and most likely keeps him off this list.
Nonetheless, Garcia is in a good place with his game right now and is a serious contender at Augusta. He hasn't found any success at the Masters in many years, yet with his game reborn and his confidence growing Garcia might find himself near the top of a major championship leaderboard once again.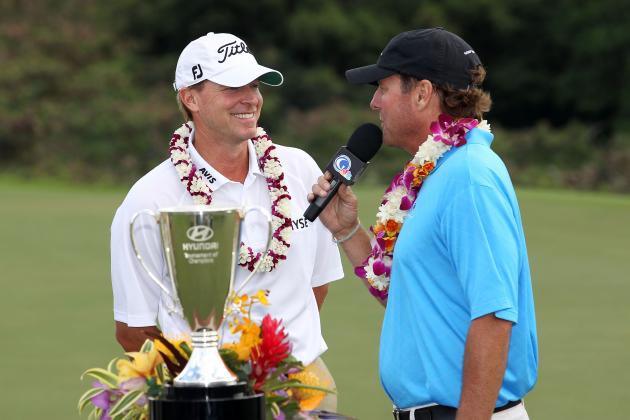 Sam Greenwood/Getty Images

Steve Stricker may be 45 years old heading into the 2012 Masters, but don't count him out.
After all, a 46-year-old Jack Nicklaus took home the Green Jacket in 1986.
OK, maybe Stricker is far from the player Nicklaus was but he has only gotten better as he's aged. The Wisconsin native struggled for much of the 2000s, yet remained resilient. As a result of his toughness, Stricker turned his career around, notching nine PGA Tour victories past the age of 40 and winning two Comeback Player of the Year awards (one of the more remarkable feats in recent sports history).
Stricker has continued to play well in his old age in 2012. The 45-year-old started out the year strong with a victory at the Hyundai Tournament of Champions and has carded two more top 10s since.
The man known for his deft touch with the putter also has an advantage on these slippery Augusta greens.
Stricker lost many chances to compete in the Masters with his mid-career swoon, but with his ability to putt masterfully still unquestioned and his game at one of its highest points, 2012 may be his best chance to take home a Green Jacket.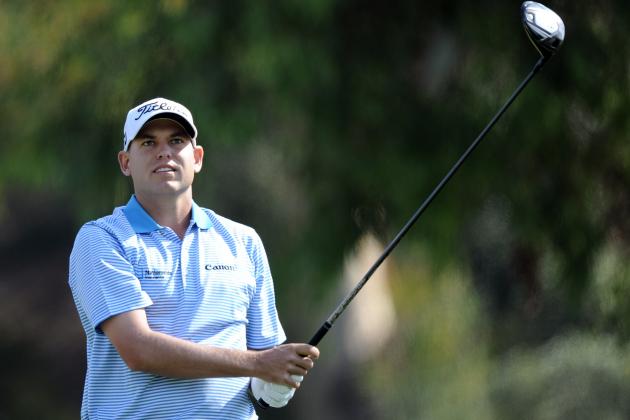 Harry How/Getty Images

Despite a big 2011, Bill Haas has yet to get his due.
Haas, in a playoff at the 2011 Tour Championship, made a miraculous up and down from the water to save par, win the tournament and capture the FedEx Cup. Even these heroics haven't got Haas a great deal of attention from the fans or press though.
Well, I will give Mr. Haas the attention he deserves.
The fantastic FedEx Cup finish only highlighted one event in what was a career year for the Wake Forest grad. Haas, prior to the Tour Championship, had posted seven top-10s, including two runner-ups.
And Haas has brought his fine form to the 2012 season as well. The 29-year-old already has two top five finishes and won the Northern Trust Open back in February with a fantastic birdie putt of over 40 feet.
These past two years have shown that Haas is a great player with some terrific guts. He can play with the best of them and, when it comes time, knows how to close the door on his opponents.
He hasn't had any experience with major championship contention, and that could hurt him, but with his game as sharp as ever, Bill Haas could be a name to look for on the Augusta leaderboards this week.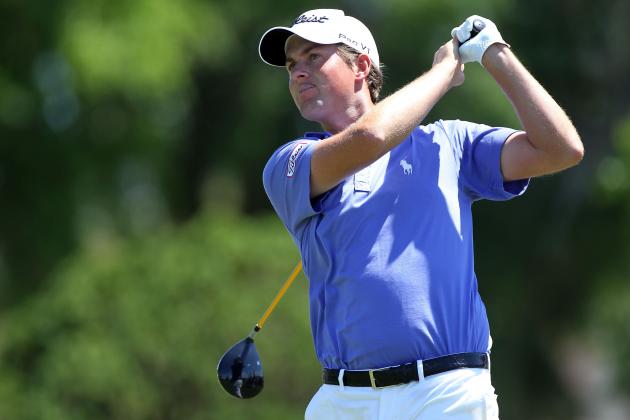 Sam Greenwood/Getty Images

This past season, Webb Simpson proved that he has a very bright future in this game.
After a year of 13 missed cuts and just two top 10s in 31 starts, Simpson exploded in 2011, recording 12 top 10 finishes, five top two finishes and two wins all in 26 starts.
Simpson's shocking rise can be attributed to the fact that he has become an all-around player. He still struggles with driving accuracy, but other than that he doesn't have a huge weakness.
The 26-year-old hasn't started quite as hot in 2012, but he has been far from horrific. Simpson has three top 10s in seven starts this season ans has yet to miss a cut.
This will be Simpson's first Masters, a lack of experience that will hurt him at a course like Augusta. Simpson is a fantastic young player though and he will likely find himself atop major championship leaderboards soon enough.
Does that trend start this week?
It could for this young talent. He may need more time, but if his game is really on, Augusta should watch out.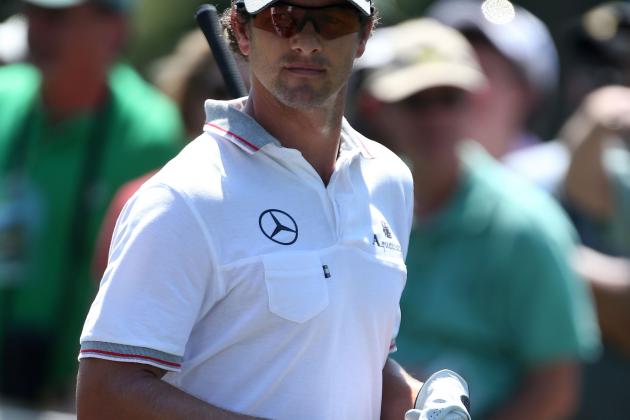 Andrew Redington/Getty Images

One year ago, Adam Scott came up just short of a Masters victory.
This talented Aussie was solid down the stretch, holing key putts to finish at 12-under-par and what looked like a playoff. Unfortunately for Scott though, Charl Schwartzel decided to birdie the last four holes of the tournament and wrestle the title away.
Scott's close call at Augusta last year definitely bodes well for him in 2012. The 31-year-old already knows that he can hang near the top of the Masters leaderboard Sunday and he has proven himself as one of the game's elite.
Scott added five more top-10 finishes in 2011 after his Masters runner-up and won—in impressive fashion—the WGC Bridgestone Invitational last August.
Scott has certainly recovered from his horrific slump in 2009 and is back on track with his game. His 2012 season has been nothing special as of yet (three events, three top 35s), but he might be peaking in time for Augusta.
Will Scott move up one spot from his 2011 Masters finish this week?
His game has only improved since his fantastic showing last season and he has continued to find comfort with the long putter.
That sweeper helped him tremendously last year at Augusta, and if it can do so again, Scott may just move up that one spot.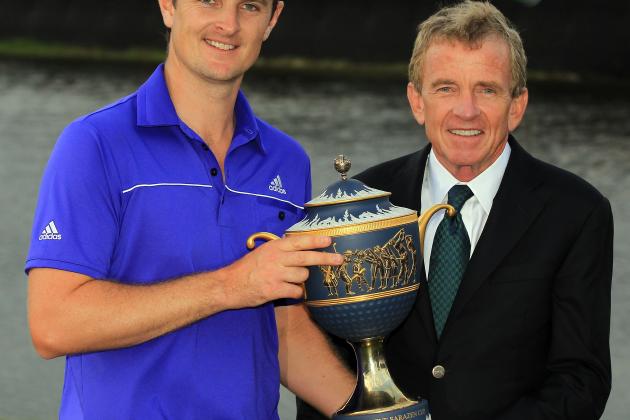 David Cannon/Getty Images

Justin Rose has been slowly edging toward a major championship. The Englishman captured his first PGA Tour title two years ago, won a playoff event last season and has added a World Golf Championship to his résumé in 2012.
The 31-year-old probably won't remain major-less for too much longer, especially if he can bring his great play at Augusta past Thursday.
Rose, oddly, has held or shared the lead after the first round of the Masters on three separate occasions. In 2004, Rose had a two-shot cushion at the halfway mark.
Alas, a third-round 81 killed Rose's bid then and in his two subsequent attempts, he faltered as well.
Rose is a different player now though and he has played some excellent golf in 2012. Besides the impressive win at Doral, Rose has posted a T5 finish at the Honda Classic and has not finished outside the top 35 in seven PGA Tour events this year.
It seems that Rose has fully matured as a player, and that means he can't be too far off from a major.
Could he really win one this soon though?
Maybe.
Rose clearly finds comfort on this course in the early rounds and with years of experience and a more solid game to boot, the Englishman could carry his good play into the weekend and vie for a Masters title.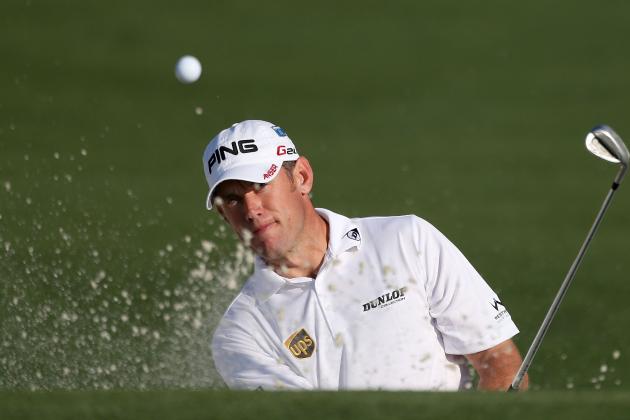 Andrew Redington/Getty Images

If not for a red hot Phil Mickelson in 2010, Lee Westwood would likely already have a Green Jacket hanging in the closet.
Sadly for Westwood, he has come close a number of times in major championships and has yet to pull one out. And with three weeks until his 39th birthday, father time is running out on Westwood.
Westwood looks primed to take home a major title. The Englishman had a solid 2011 that saw him win four times worldwide and finish top 10 in two majors.
In 2012 Westwood has looked very solid as well. He has three top-four finishes already and hasn't even finished outside the top 30 in an event yet, let alone miss a cut.
As aforementioned, Westwood has some good vibes here at Augusta. He held the 54-hole lead here two years ago and finished in a second place thanks to Mickelson's onslaught (not that Westwood was fantastic on Sunday himself).
His game is sharp and he is hungry to put those close finishes aside and put away a major title.
We all know Lee Westwood is good enough to win a major, maybe he proves it at Augusta this week.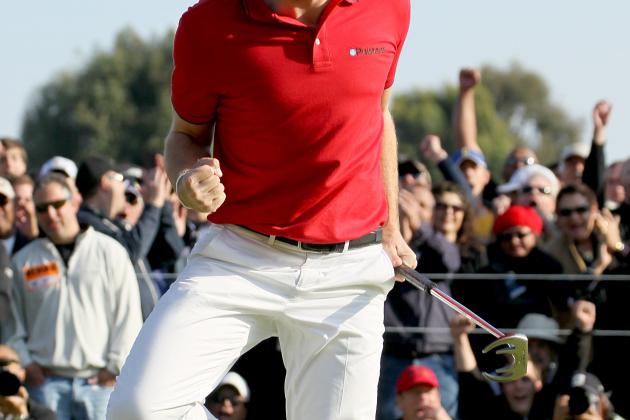 Stephen Dunn/Getty Images

Keegan Bradley, a no-name rookie on the ruthless PGA Tour, had a season to remember in 2011.
The St. John's product won his first tournament at the HP Byron Nelson Classic and added a second with a victory at the PGA Championship in August. Bradley battled from five shots down with three holes to play in that PGA, forced a playoff and held the Wanamaker Trophy, and captured his first major championship, soon after.
It was to be inevitable that Bradley would fall into a sophomore slump though. The excitement from the first season would be just too much to handle in the second go-round.
But Bradley didn't oblige. Actually, he got better.
In 2012, the 26-year-old has become something he wasn't in 2011: steady. The 2011 season yielded Bradley two victories, but it also produced just four top 10s and 10 missed cuts in 28 starts.
Nine events into 2012, Bradley is yet to miss a cut. In fact, he is yet to finish outside the top 25. Bradley has three top 10s already as well, and although he is yet to bring home a victory in 2012, the season is still very young (remember that Bradley didn't have a win at this point last season as well).
Bradley is playing in his first Masters and just his second major championship. Clearly his lack of experience at a course as intricate as Augusta will hurt him.
Yet, Bradley is too talented and too tough to not be high on this list. He didn't quit after making a triple bogey on the 69th hole of last year's PGA and he was able to handle the unnerving putt Phil Mickelson made to force a playoff at the Northern Trust Open by doing the same thing a minute later.
Bradley, already a great golfer, is improving. For most players it would be preposterous to even fathom a Masters victory in their first attempt, but with this young man, the sky looks like the limit.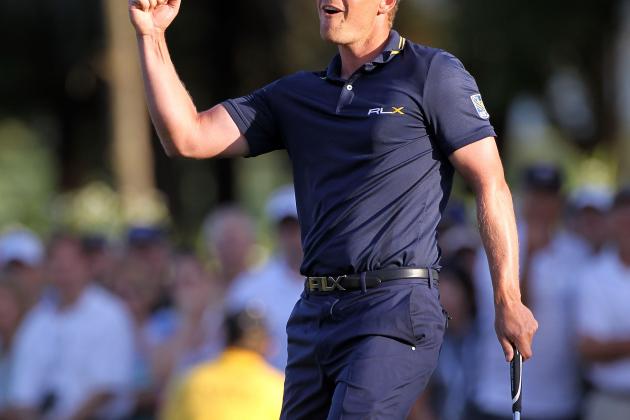 Sam Greenwood/Getty Images

A year after winning four events and becoming the first man to win both the PGA and European Tour money titles, Luke Donald started off his 2012 campaign rather poorly.
The world No. 1 didn't look that way early on in 2012, failing to place in the top 30 in any of his first three starts.
Luke Donald can't be kept down for long though.
The Englishman finished T6 at Doral and followed that finish up with a playoff victory at the Transitions Championship the next week.
Donald is back on track and looks to be peaking just in time for the year's first major.
Despite being No. 1 in the world, Donald still has yet to add a major championship to his record. He would surely like to do that at Augusta this week, and he has a great chance.
Donald is still an impeccable putter, a tremendous asset on Augusta's treacherous greens, and he has the memory of last year's T4 to give him good vibes for the 2012 edition of the tournament.
The Northwestern grad has fought his way to the top of the world rankings, this week at Augusta he could easily fight his way to the top of the leaderboard and slip right into the green jacket.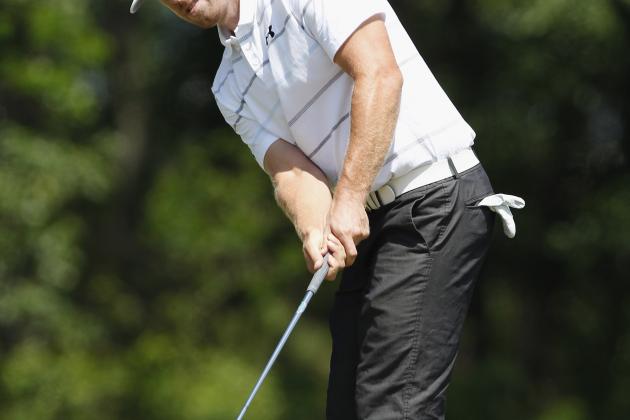 Matt Sullivan/Getty Images

Hunter Mahan must be oozing with confidence heading to Augusta.
The 29-year-old won earlier this year at the Accenture Match Play Championship and tacked on a second victory this past week at the Shell Houston Open just for good measure.
Mahan has always been a superior ball-striker, but he now has an even greater weapon: a great short game.
For those who saw Mahan in previous seasons, his short game turnaround has been spectacular. Just two years ago, Mahan flubbed a chip that sealed that Ryder Cup for Europe.
Faced with a daunting chip at the 70th hole of the Shell Houston Open this past Sunday though, Mahan flopped it beautifully to a foot from the hole, secured his par and held on for victory.
This improvement bodes well for Mahan this coming week and in the future as well. Mahan can get into contention when his ball-striking is on, but the wedges and the flatstick are the tools that will make him victorious.
If Mahan brings the same combo to Augusta that he displayed at Redstone this past week, he will be tough to beat.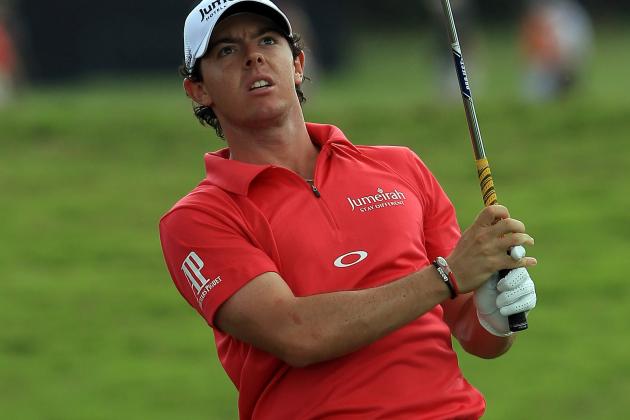 David Cannon/Getty Images

In case you haven't heard, Rory McIlroy had a bit of a meltdown here at Augusta last year.
Going into the final round four shots ahead of the field, McIlroy shot a putrid 80 and fell way out of contention.
Just two months later, McIlroy redeemed himself, winning the U.S. Open by a whopping eight shots.
The 22-year-old has since looked even more impressive. Dating back to last August, McIlroy has finished outside the top 10 just once (and that was an 11th place finish), a stretch so remarkable in its consistency that even Tiger Woods would be jealous.
Along with this, McIlroy proved a formidable finisher this past month, using his short game to outlast a hard charging Woods at the Honda Classic.
But even a year later, McIlroy's collapse at Augusta is still far from forgotten. The media has mentioned it more than a few times and it's likely that McIlroy remembers the day vividly.
This can only serve to help McIlroy though. With the damning finish still fresh in his mind, McIlory should be fired up to avenge the loss and take home the green jacket he thought he had locked up a year ago.
The young Holywood boy is now a star and some are even starting to believe that he will be Woods' main rival for years to come. Whether this will come to fruition or not is uncertain, but one thing is for sure, Rory McIlroy has arrived.
He already has one major championship and, at the age of just 22, has time to win many more.
McIlroy has already shown he can tear this course apart for 54 holes, with a humbling finish last year and a year of growth and experience, it would be far from surprising if he did it for 72.