Kansas Basketball: How Jayhawks Can Win over Ohio State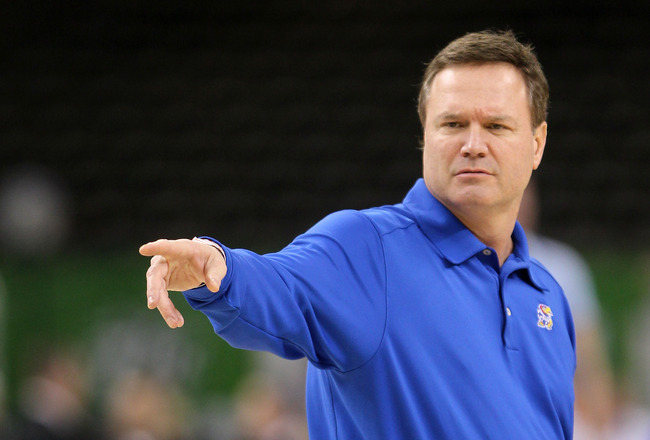 Jeff Gross/Getty Images
After a roller coaster season with many lessons learned this year, the Kansas Jayhawks have come together and will play on college basketball's biggest stage outside of the championship.
The Jayhawks will face the Ohio State Buckeyes tonight in the Final Four as the two teams meet in a rematch after Kansas won on December 10, 78-67.
Kansas fans have already been reminded that Ohio State was a different team on that day as they were without Jared Sullinger. Sullinger was sidelined against Kansas due to back spasms.
But the Jayhawks are also a different team than they were when playing against those Buckeyes. Kansas was not expected to make it this far during March Madness after losing to Baylor in Big 12 tournament.
Kansas is now in position to win it all, but they must get through Ohio State first.
What must Kansas do in tonight's game in order to advance and earn the opportunity to play one more game?
Tyshawn Taylor Must Continue to Improve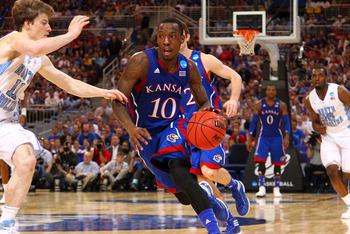 Dilip Vishwanat/Getty Images
No player has taken more heat than Tyshawn Taylor has this season. Taylor's turnover habits prevented him from receiving a vote of confidence from his harsh critics.

Eventually, Taylor found the focus he needed to help play a big part in bringing his team to the Final Four.

After averaging 8.7 points in the first three games of the tournament, Taylor lit up UNC with 22 points to let the Jayhawks punch their ticket to the Final Four.

With Taylor sharpening his game last week against UNC, he still has yet to sink a three-point shot in the NCAA tournament. Even though UNC was a top-ranked team, they were forced to play without Kendall Marshall.

If Kansas wants to win, they will have to beat a better prepared basketball team. Taylor must now find a way to improve his shooting from beyond the arc.
Kansas Needs to Play Smart, Defensively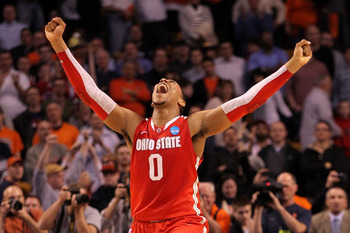 Jim Rogash/Getty Images
Ohio State has a big weapon of their own in Sullinger, who is averaging 18 points and 8.3 rebounds per game in the tournament.

As the team leader in points, rebounds and blocks, Sullinger is a big element for Ohio State's success. Without him, it will be hard for the Buckeyes to function.

Sullinger has strong support from Deshaun Thomas and William Buford, who also average in double-digits in points. However, Thomas and Buford alone won't be enough to win.

If the Jayhawks can limit Sullinger in this game, Ohio State will have a very hard time getting the shots that they want.
Withey Has to Continue Blocking Shots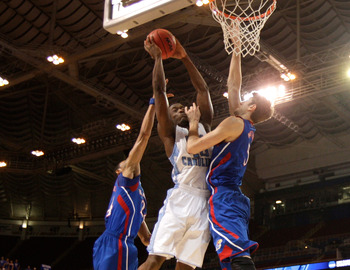 Andy Lyons/Getty Images
Jeff Withey has been a monster on defense this year. He averages 3.5 blocks per game and has been a force on defense in the tournament.
Withey's 20 blocks this year has been a big ingredient to the Jayhawks' success so far in the tournament.
In the Sweet 16 match against North Carolina State, Withey got his hands up and rejected 10 shots. It turned out that Withey was the difference maker as the Jayhawks survived against North Carolina State, beating them by three.
Ohio State may plan their offensive strategy in a way that Sullinger will take most of his shots away from the post, where Withey mostly stands on defense. Therefore, Withey will have to torment other players who come his way for a shot.
Jayhawks Bench Must Continue to Play Well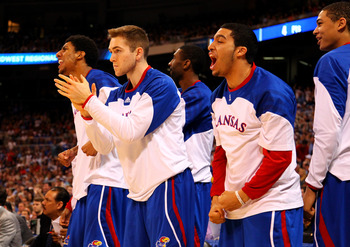 Dilip Vishwanat/Getty Images
The Jayhawks bench has exceeded expectations with Kevin Young and Conner Teahan filling in when their number is called.
Teahan has 3.5 points per game and over 22 minutes while Young averages 4 points per game and over 16 minutes on the floor in the four games Kansas has played in the Big Dance.
Head coach Bill Self will need his bench to step up. The Jayhawks are facing better and healthier teams that will be ready. Should the Jayhawks play Monday night, their bench will be a big factor in the biggest game.
While Elijah Johnson and Travis Releford have been part of the supporting cast for the starters, and will continue to be so, Teahan and Young will be Self's top guys coming off of the bench.
Thomas Robinson Will Continue Playing at a High Level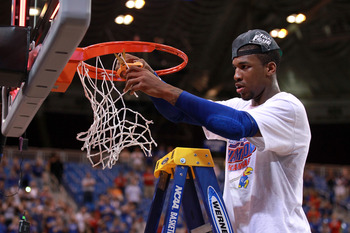 Andy Lyons/Getty Images
Nobody has gone through as many emotions as Thomas Robinson has. The loss of his mother last season inspired him to play well. When his teammates saw his heart and determination on the floor, they were just as inspired.
Robinson is the leader for the Jayhawks and will be going up against Sullinger. Both Robinson and Sullinger were player of the year candidates and are projected to have successful careers in the NBA.
Robinson will go into this game with a lot of fight and a lot of energy in him. There is no way Robinson will take a step back in college basketball's grandest stage.
He will enter New Orleans well prepared and will be on fire to help the Jayhawks advance.
Keep Reading

Kansas Jayhawks Basketball: Like this team?