Miami Dolphins: Why Brian Hoyer Is the Best Quarterback Option Available
April 2, 2012

Jim Rogash/Getty Images
The Miami Dolphins' best quarterback option is not in the 2012 NFL Draft. Nor is he is on the Dolphins' roster. 
He currently plays for the New England Patriots.
Not Tom Brady, silly.
Brian Hoyer should be the Dolphins' starting quarterback in 2012.
Brian who?
Brian Hoyer, the Patriots' backup quarterback, who has been under Bill Belichick and Tom Brady's wing for the past three seasons in Foxboro. 
The Patriots had placed a second-round tender on Hoyer, which no team was willing to match. That was, of course, before the Dolphins struck out on the entire lineup of quarterbacks this offseason.
Hoyer will be a hot commodity next offseason when he becomes an unrestricted free agent, but if the Dolphins can get him on the cheap, they would be better served snagging him for a one-year tryout.
Michael Lombardi, NFL Network analyst and former NFL personnel executive, said about Hoyer last year:
"I think Brian Hoyer and Ryan Mallett are starters. I've said this many times: If I would have taken the GM job of the 49ers, I would have gone after Brian Hoyer, because I think he has all the traits and characteristics. If I were the Cleveland Browns, I'd rather have Brian Hoyer behind center than Colt McCoy. I think he's got all the traits you need, in terms of leadership, toughness, the arm strength, the ability to move the team."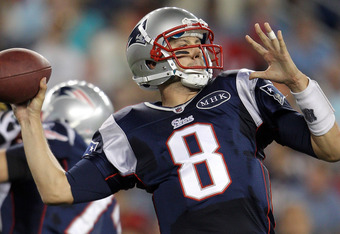 Elsa/Getty Images
The Michigan State product owns an impressive 61.9 NFL completion rate on 42 pass attempts. Granted, Hoyer's NFL experience is a small sample size, but as Lombardi said, "Hoyer demonstrates the skills needed to be a starter" in those few opportunities. He's currently making 1.9 million on the Patriots roster and New England was confident enough with him that they did not pursue another backup option. 
Wouldn't a draft pick be an adequate price to see what the backup is made of?
New England would certainly be interested in receiving a draft pick for Hoyer's services. Bill Belichick stockpiles draft picks like somebody on "Hoarders." I wouldn't be surprised if he had a few compensatory picks lying around in his garage somewhere.
I assume that the Dolphins' front office has taken a look at Hoyer, as they should examine tape of every NFL quarterback. But as I've learned from over the years, you can't assume anything with this franchise.
Owner Stephen Ross thought that a Manning, Flynn or Griffin would be donning the aqua and orange. Now they're stuck relying on Matt Moore to improve significantly or rehab project David Garrard, all without Brandon Marshall. I know, try to contain your excitement. 
With the Miami fan base in protest, the Dolphins' organization is scrambling without a plan. The only splash that will be made on this year's team will be from the tanking come midseason.
Miami's current signal callers all have their own red flags. Moore has never been perceived as the long-term answer and David Garrard's back has been fragile since Obama took office.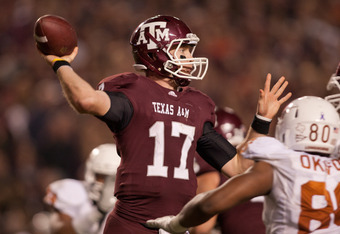 Darren Carroll/Getty Images
The Dolphins' last chance to upgrade is April's draft. But they already missed out on the cream of the crop, so any prospect they select will be merely skim milk.
Ryan Tannehill has been noted as a very realistic option for the 'Fins at No. 8. Even one of my fellow Dolphins FCs calls for the Texas A&M quarterback, citing "[his] potential to be a franchise quarterback despite turnovers and perceived inability to close games."
Two qualities I avoid at all costs in my starting quarterback: turnovers and late-game cowardice. No traits on the scouting report scream "bust" more than those two.
This is a classic case of quarterback inflation. After Robert Griffin III, the quality of quarterback in this class significantly drops off.
Because of the high demand for good quarterback play, the perennial QB media storm has propelled Tannehill up draft boards. Reaching for a player with redeeming qualities is one thing, justifying a selection based on dire need is another.
The Dolphins would be wise to put on earplugs about drafting a QB early and look no further than their division rival for one.
Hoyer is more developed than Tannehill, younger than Weeden, and ready to step in tomorrow. By dealing for the New England signal caller, the 'Fins could use their first-round selection to protect the quarterback or address the hybrid defense they'll play in 2012.
Patriots head coach Bill Belichick has a pedigree in developing field generals from scratch in New England. First was Tom Brady, who replaced Drew Bledsoe midseason and led the Patriots to a Super Bowl.
Next up was Matt Cassel, who admirably stepped in for Brady in Week 1 for an entire season and earned a starting job in Kansas City.
Hoyer would have some comfort that Miami is using the same type of offensive attack run in New England in recent years. They both use four- and five-wide sets, the no huddle offense, and quick-option routes excessively.
He'll have a band of quick, savvy pass-catchers in Davone Bess, Brian Hartline and Reggie Bush. They might not be Wes Welker or Deion Branch, but they will be able to produce in a friendly West Coast system. The Dolphins will also be looking for receivers and tight ends in the draft to complement their offensive vision.
So I leave you with one thought to ponder this Monday morning: Would the Dolphins be better served making a long-time gamble from a weak rookie class or give a highly regarded backup a shot for the same price?
Belichick found Tom Brady in the 6th round. Perhaps he has the next "Tom Terrific" wearing his headset on the sidelines.
Either way, I trust Belichick's eye for quarterbacks over Jeff Ireland.
Hoyer for '12? Now that would be a splash.