Manchester City's Cristiano Ronaldo Bid: Why the Transfer Could Easily Happen
March 30, 2012

Denis Doyle/Getty Images
A blockbuster transfer to Manchester City, this summer, from Real Madrid for Cristiano Ronaldo is much more likely than people think.
After all, the signs are there for Ronaldo to quit the Bernabeu and return to the Premier League.
And it could happen given City's offer.
The Citizens are reportedly planning an £80 million bid for the Portugal star this summer, and will offer the 27-year old wages rising from £400,000-a-week to £500,000-a-week.
In addition, the club will set up a series of soccer schools in Ronaldo's name if he joins, which would boost his personal brand equity immensely. 
It's clearly a very attractive offer, and one which certainly isn't beyond the realms of possibility by any means, given what's on the table for all parties concerned.
We all know what Manchester City would get out of the deal—tons of goals, a better brand image, increased marketing opportunities and revenue, and world's football greatest ever statement of intent.
But what will the two parties the deal is aimed at get out of it?
Cristiano Ronaldo
For the player himself, a move to Manchester City is a serious option, and it's clear to see why.
According to goal.com who broke the news of this proposed deal, a source close to those involved in this potential transfer apparently revealed the Ronaldo camp is considering it, and said:
The signs now from the Ronaldo camp are surprisingly more positive. The contact has taken place in the last few weeks and there is serious chatter in the corridors at the Etihad, akin to when City tried to sign Kaka from AC Milan a few years back."
For starters, the money involved is almost too good to turn down, especially seeing as Ronaldo is now 27 and is already meant to be on his final, big contract in football.
His deal with Real Madrid runs until June 2015, and he will earn £400,000-a-week in his final year, having started off at £250,000-a-week, with his weekly wage rising by £30,000-a-week at the end of each season.
However, what he actually earns is a lot different. 
Due to the economic crisis in Spain and the austerity measures the government is having to put in place to avoid Euro bailouts and a double-dip recession, the top earners in the country pay the equivalent of 54p to the pound in tax—56p in Cataluyna, affecting Lionel Messi and the FC Barcelona players even more.
So while Ronaldo is currently meant to rake in £310,000-a-week right now, in fact only £142,600-a-week will make it to his bank account.
In his final year at Madrid, Ronaldo will take home £184,000-a-week.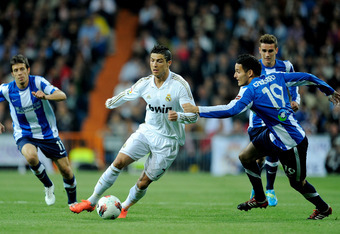 Denis Doyle/Getty Images
If he was to move back to the Premier League, thanks to the United Kingdom's stronger financial situation, he would earn a lot more, with the top tax rate now 45p to the pound.
For starters,, he'd immediately earn the gross pay of £400,000-a-week it would take him two more years to earn at his current employer.
His net income would be much higher than it would be in the final year of his Real Madrid contract, as he'd rake in an actual amount of £220,000-a-week, a whopping £36,000-a-week more than in Spain.
Plus, by the time he'd come to the end of his deal and be earning a gross income of £500,000-a-week, his net pay would be £275,000-a-week, earning him a colossal £14.3 million a year after tax.
The best he could dream of at Real is a net income of £9.6 million per annum.
Money talks, and it's very obvious to see why. Figures like that could easily see Ronaldo jump ship in an instant.
Especially when combined with the fact he's apparently unhappy at Madrid after being booed by his own fans and criticized by a senior figure at the club.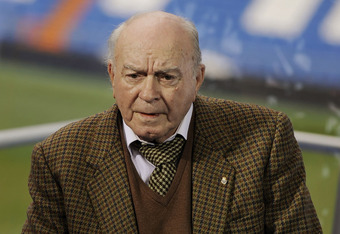 Denis Doyle/Getty Images
Real Madrid
Manchester City is set to offer Real Madrid the £80 million it paid for Cristiano Ronaldo, and technically it'd get a profit for the player.
Real gave Manchester United €94 million for Ronaldo, and if City matches the offer in pounds sterling, it'll be handing La Liga's leaders €96 million thanks to the current exchange rates.
Whilst that's a minimal profit, it's still massive money, and would help the club massively as they seek to expand and still fall within UEFA's Financial Fair Play rules.
The Ronaldo money will allow Los Galacticos to actually go through with its 'Operación 2014', whereby it's seeking to sign the best young talent in world football to give it a solid future for many years.
The idea is that it'll invest big money now in these players, and possibly get up to 10 years worth out of them, earning their money back and making profit out of the stars through their performances, merchandise, and all other revenue they'd contribute in generating.
Jack Wilshere of Arsenal is one target, as is Borussia Dortmund star Mario Goetze, FC Barcelona wonderkid Rafinha Alcantara, Lille winger Eden Hazard and Athletic Bilbao talent Iker Muniain.
By accepting City's offer for Ronaldo, it'd be able to build the proper foundations in its attempt to regain its status as the best in the world and keep it for many years.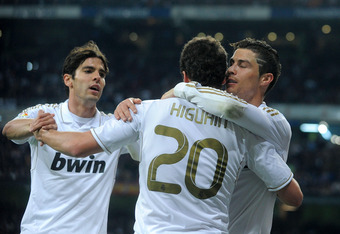 Denis Doyle/Getty Images
Plus, they'd have more money to invest in their pursuit of that 'Real Madrid Island', which has the possibility to generate the club enough revenue to keep them at the top of the world indefinitely, and make them the strongest sporting brand in the world.
And in terms of the on-pitch impact, Ronaldo is definitely replaceable.
Yes he's scoring a ton of goals, but Real Madrid has a plethora of attacking options being kept waiting in the wings.
The Portuguese superstar is keeping Gonzalo Higuain largely out of the team, with the Argentine proving his obvious talent with 18 league goals and five assists in just 13 starts.
The 24-year-old can very easily step up to the plate in Ronaldo's absence, especially seen as the supply will always be there from Mesut Ozil and Angel Di Maria—who between them have a staggering 34 assists this season.
So while it seems mad on the surface, considering Cristiano Ronaldo is by far and away Real Madrid's top goalscorer right now, a transfer to Manchester City is highly logical, and could easily happen.