NFL Rumors: Former Pro Bowl DT Marcus Stroud Linked to Denver Broncos
March 30, 2012

Andy Lyons/Getty Images
What should the Denver Broncos do about the gaping hole in the middle of their defense?
Why don't they pursue a Pro Bowl defensive tackle whom the Broncos coaching staff has some experience with?
Those are the rumors circulating around the Broncos at the close of free agency as teams are now focusing their attention on draft day.
Fox Sports Insider Alex Marvez reports that three-time Pro Bowl defensive tackle Marcus Stroud is hoping to make an NFL comeback in 2012. Stroud is a beast at 6'6" and 310 pounds.
Stroud, who will be 34-years-old in June, was released by the New England Patriots last offseason after the lockout prohibited him from rehabbing his surgically-repaired shoulder.  According to Stroud, he then contracted a staph infection, which required additional surgery.
While the recovery has been slow going even 10 months later, Stroud indicates that his shoulder is at about "60 percent", and he believes that June would be a perfect target date to be fully ready to go for an NFL season.
Stroud's connection to the Broncos is his former head coach from the Jacksonville Jaguars, new Denver defensive coordinator Jack Del Rio. Under Del Rio's tutelage, Stroud and teammate John Henderson proved to be a formidable force in the middle of the defensive line in the mid-2000's while together in Jacksonville.
If fully recovered, Stroud, teamed with Ty Warren, could become a force in the run game, an area he has excelled at throughout his career.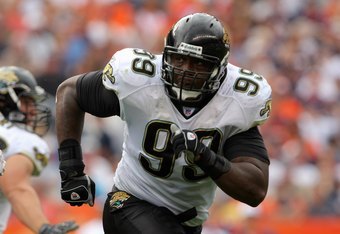 Doug Pensinger/Getty Images
In his glory days, Stroud was a run-stuffing specialist, an area of desperate need on defense for the Broncos. Denver has yet to find a premiere run-stopping tackle during John Fox's short tenure.
There are many benefits to having a veteran force in the middle for the Broncos' youthful defensive line. Stroud likely would not be in on every down and could be more of a situational defensive player, but alongside a young guy drafted in the first round, he could help groom an up-and-coming protégé.
After the surgeries and the increase in age, the Broncos likely would be able to get Stroud at a bargain price, and if he never fully recovered, they could release him without incurring much of a salary cap hit.
This is a low-risk, no-brainer move in my opinion.
Denver needs this guy.