Philadelphia Phillies: How Many Games Will Each Key Player Start?
Dilip Vishwanat/Getty Images
I've said it time and time again, so I'll make it quick: baseball is back. Well, almost. The Seattle-Oakland opener in Japan concluded yesterday with the two teams splitting even. But does that mean that Phillies baseball is back? Not just yet. And for once, it's probably better that way.
Considering that you have injuries to Ryan Howard—who's set to miss all of April, most (if not all) of May, and potentially even some of June—and Chase Utley, who will likely miss similar time to Howard, you've got some big shoes to fill. Although those shoes can't be filled completely, there's always hope. Or so I'd like to think.
You've also got an injury to Placido Polanco, who jammed his thumb sliding back into third base early last week. Lastly, you have Michael Martinez, and while he was only considered a utility infielder, losing his versatility (even with the lack of defense he brings onto the diamond) to a foot fracture hurts just a little bit.
But what could hurt this team most is that they shipped off utilityman Wilson Valdez early in the offseason, and now with the injuries to four or five infielders (oh yeah, Freddy Galvis is day-to-day, too), giving him up was a costly mistake.
With injuries, platoons or just simply changing of hands at a position, we'll investigate and predict how many games each key Phillie will start. This means that much the starting nine, plus some of the team's injured players, will have predictions by the slideshow's end. Please note that this only applies to offensive players—no pitchers will be a part of the slideshow itself, although I'd love to discuss that matter in the comments with you.
So with that, I bid thee well...from this slide, of course. Go on, read the rest of the slideshow. You know you want to.
Starting Pitchers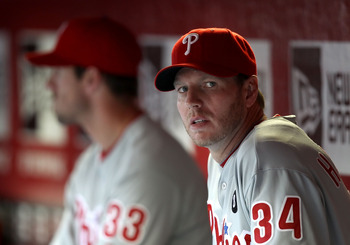 Christian Petersen/Getty Images
Let's go through a quick rundown of each starting pitcher.
Roy Halladay
No reason to see Roy Halladay regress next season. His velocity was reportedly lower in spring training, but Halladay alleges it was experimentation, and he proved disbelievers wrong in his next start. With injuries rarely a concern for Doc, he should be able to start 32 or 33 games next year en route to another Cy Young Award-caliber season.
He had a fantastic season in his first full season in Phillies pinstripes. Like Halladay, he had no injury problems last year and made every start for which he was scheduled. However, there were some abdominal strain concerns at the beginning of the spring, something Lee has dealt with for his entire baseball career. Lee should have no problems making 32 or so starts again in 2012, and he could also be in the midst of the Cy Young race.
Cole Hamels
Entering a contract year, every start matters for Cole Hamels. Knowing this, he'll likely push to see that he makes as many starts as possible without landing on the DL.
Hamels did spend some time on the DL last year with some elbow soreness and had to have bone chips removed from the elbow this past offseason. Then again, he had the best year of his career while pitching through injury.
With both a contract year and his prime on the horizon, expect Cole Hamels to start around 30 games, maybe missing a start or two, but 32 starts wouldn't be shocking, either.
Vance Worley
Thanks to Roy Oswalt's nagging injuries, Vance Worley got his chance to start last season and made the most of it. His spring hasn't been consistent, but he has a vengeance to prove the doubters wrong about a possibly sophomore slump. Expect Worley to make at least 28 starts or so, with his ERA possibly closer to 3.50 than 3.00 this year.
Joe Blanton
Unless he's traded, Blanton is possibly the biggest wild card of the pitching staff. If he's healthy as he's been this spring, Blanton should be fine and pitch to his normal 4.00 or so ERA and 175.0-plus IP. If not, his ERA could balloon again, his innings could go down and his value would plummet, making his contract year barely worth a major league deal for 2013. Assuming all goes well, though, Blanton should make at least 30 starts.
Carlos Ruiz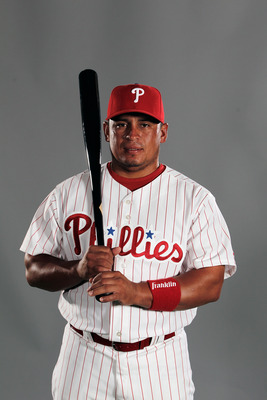 Jonathan Ferrey/Getty Images
Prediction: 135 starts
We'll start with the guy who has the best seat in the house...just as long as squatting counts as sitting. Ladies and gentlemen, Mr. Carlos Ruiz.
Ruiz is difficult to predict for a couple of reasons. For one, he's a catcher, meaning that he's more susceptible to injury, and even if he doesn't get hurt, Brian Schneider will be catching Vance Worley's starts and maybe even spot start for Chooch himself.
The second part's easy, but what about the first? Fortunately, Chooch has avoided the injury bug so far this spring. But what about during the regular season? Each of the last two or three years, Ruiz has suffered from an injury that's benched him for significant time. Who knows just how much he'll play?
The good news here is that, aside from 2009, Ruiz's games played total has increased every season, peaking at 132 games last year, which is pretty remarkable. The bad news is that any freak injury—the kind from which both he and most catchers suffer—could force him out for a long period of time. Just ask Buster Posey.
My guess is that Chooch doesn't surpass his 2011 total of 137 games but comes rather close. Schneider's starts will have a lot to do with it, but a minor injury or two could come about.
Ryan Howard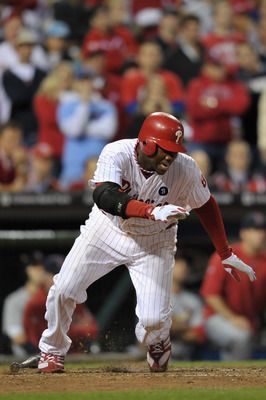 Drew Hallowell/Getty Images
Prediction: 104 games
We all know by now (yes, all, not most) that Ryan Howard ruptured his Achilles tendon in his left foot on the final at-bat of the NLDS against the St. Louis Cardinals.
Howard's return timetable currently sits at mid-May to early June, but that could easily change with either another setback, or on a positive note, by running ahead of schedule. Back to pessimism, though: the former is more likely. Sorry, I couldn't resist.
The point is, Howard is mot coming back any time soon. If he's back before mid-June, that works for me. All I care about with The Big Piece is that he doesn't come back too soon and re-aggravate his tendon. That would be pretty awful.
Anything from Howard this year is good...unless it's strikeouts, poor defense and lack of clutch hitting. Okay, so maybe not anything. Am I trying too hard?
First base happens to be where the Phillies have decent depth to fill Howard's void, although power surely won't return to the team to the same extent that Howard provides. We'll have to see how that one goes.
I think we'll see Howard start a decent amount of games. You know, maybe not over 115, but not under 100. Is 104 generous? I don't know. Considering Howard will need rest every now and then, maybe so. I'll take my chances.
Jim Thome/Ty Wigginton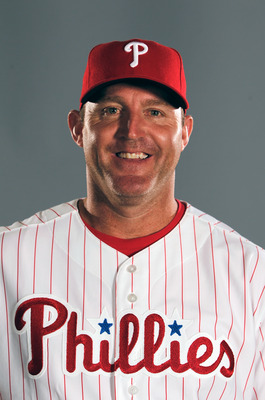 Jonathan Ferrey/Getty Images
Predictions: Thome: 16 games; Wigginton: 125 games
With the Phillies' injury woes seeming to grow larger by the day, more reliance will be needed on Jim Thome and Ty Wigginton. Although Thome is only capable of playing first base a day or two a week aside from pinch hitting, he should be able to secure some at-bats thanks to his likely common usage by good friend Charlie Manuel.
Then there's Wigginton, who's able to play many positions with below-average defense, including first base. Sigh.
The fantastic news is that both of these guys are massive upgrades from the Phillies' options off the bench last year, and are easily capable of producing in spot starts. Thome made an incredible diving play just yesterday that got the ball to first base before the runner. Wigginton, though he's struggled, has .270 potential and a good chance of posting a nice slugging percentage and hitting home runs.
Defense is the major issue here. Thome, able to play two games a week max as it is, probably won't be spectacular given his age and length of time without playing the field in a major league game. If he goes all-out too much, he could easily hurt himself.
Wigginton's defense isn't injury-prone like that of Thome, but it could still prevent runs. However, with Wigginton's versatility, he'll be called upon to play more positions and be given more time to do so.
Thome will start around 15 games or so before either he gets hurt, Howard returns or Thome realizes that he can't start on a consistent basis, but he'll get pinch hit at-bats in a good number of games. As for Wigginton, he'll be needed to start at places such as first, third and even left field on occasion, so he could get as many as 125 starts this season, if not more. I sure wouldn't be surprised.
Chase Utley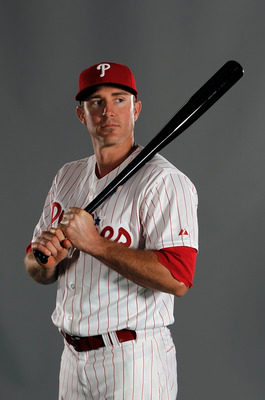 Jonathan Ferrey/Getty Images
Prediction: 91 games
It's not that he'll be hurt directly. It's that he'll need rest—and lots of it.
Chase Utley isn't your prototypical ball player, and I say that in a good way. He puts 110 percent effort in every play he makes and has a seemingly-perfect short swing. When he's healthy, he has decent power numbers and is even a base stealing threat. In short, a true five-tool player—a rarity among infielders.
That's the million dollar question, though: will Utley ever be fully healthy again?
Even with the knee issues he had last spring, Utley still managed to play in 103 games in 2011. This year, add in the fact that both his knees are now a problem in addition to extra rest, and I see Utley getting more days off next year in an effort to preserve any power he has left.
Utley could hit as high as .280 this season if all goes in his favor. Recently, though, when has it? If Utley can get on base—whether from walks or hits—and get the occasional clutch hit, I'll be satisfied.
We'll be looking forward to you coming back, Chase. Just hope it's sooner than later. But like Howard, if Utley rushes himself back, that could be a problem as well.
Freddy Galvis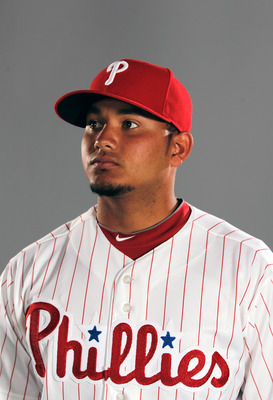 Jonathan Ferrey/Getty Images
Prediction: 65 games
Freddy Galvis has been steadily climbing in the ranks of the Phillies' top prospects. While he hasn't topped the list, he's set to make his major league debut on Opening Day in Pittsburgh.
Galvis, who has played shortstop his entire life, has been moved over to second base to fill the void left by Utley. With a smooth glove and a natural look on defense, Galvis' defense has been considered Gold Glove-caliber. And he's not even in the major leagues yet.
The big problem with Galvis is his hitting. Last season was his best year to date, and he hit just .273. Granted, he did hi .298 at Triple-A Lehigh Valley, but his slugging percentage (and thus OPS) went down as he went up.
In addition, his home run rate fell out of the bottom of the basket—in Double-A Reading last year, Galvis hit eight home runs, another career best. But upon his promotion to being an IronPig, Galvis didn't hit a single long ball in 33 games. Cause for concern? Maybe.
Galvis is a difficult read. Starting-wise, he'll probably get most, if not all the starts Utley would have had had he been healthy. But in terms of offensive production...can he hit for enough average? Can he notch many extra base hits? Will he hit a single home run?
I fear that the answers to those questions will all be no, but I look forward to being proved wrong.
Placido Polanco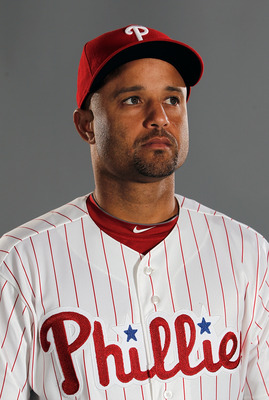 Jonathan Ferrey/Getty Images
Prediction: 132 games
High number there, no? Call me crazy, but I think that Placido Polanco is going to play a big role on the Phillies this year.
Though he struggled after hitting .398 in April, Polanco dealt with a double sports hernia for which he received surgery this past offseason. It was obviously taking a toll on his play, because aside from 1999, Polanco's average of .277 from last year was the lowest of his career. You could say that it came from old age. But me? I think if he's healthy, he could hit as high as .290.
Polanco's defense will be instrumental in the team's success as it has been the past couple of seasons. Knowing that you have a Gold Glove third baseman able to read the ball off the bat with precision is very reassuring. But offensively? It's not easy to predict what Polanco will do at the plate.
Barring any major injury, Polanco will get the day off every now and then to keep himself healthy, and he could encounter a minor injury or two. Generally speaking, though, Polanco is entering what will likely be his last season as a Philadelphia Phillie.
If he looks good in the first half of the season, it might be difficult for the Phillies to take someone else over him for the remainder of the year, even if Polanco were to be included in any sort of trade.
Jimmy Rollins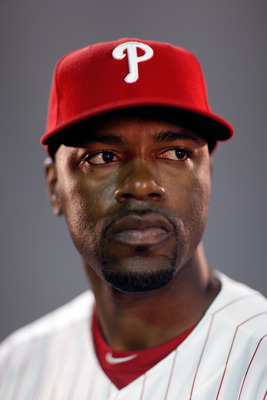 Jonathan Ferrey/Getty Images
Prediction: 137 games
After an extremely slight increase in production last year, Jimmy Rollins has since re-signed with the Phillies and will be their fixture at shortstop for what will probably be four more years.
J-Roll has had injury woes over the last few seasons. In 2010 he played just 88 games due to what turned out to be a severe calf strain. While he came back from that and managed to play in 142 games in 2011, he missed roughly 20 games in late August to early September thanks to a groin strain.
Rollins has been a leader of this team for practically 12 years. He should continue to do that, whether on or off the field. With defense that never ceases to amaze Phillies fans, his glove should be what it has been as he plays the double play ball with his formerly-presumed heir apparent in Galvis.
But offensively? Rollins should be no black hole, but he's not a prototypical leadoff hitter anymore, nor has he really every been. While the Phillies have lacked one in recent years, Shane Victorino is better suited for that role. Rollins' approach is too impatient now, and he doesn't get on base enough to qualify as a standout leadoff man anymore.
Expect to see either some breaks or a minor injury once again for Rollins sometime in 2012. Otherwise, he should hit around .260, but could hit .280 or so if it goes well for him. I hope for the latter.
John Mayberry, Jr./Laynce Nix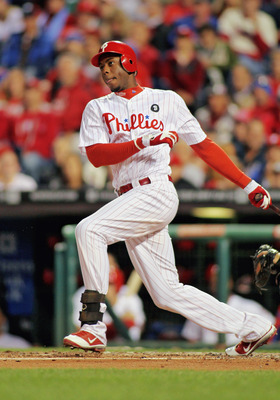 Len Redkoles/Getty Images
Predictions: Mayberry: 140 games; Nix: 105 games
At the beginning of the offseason, Phillies GM Ruben Amaro, Jr. stated that the starting left field job was John Mayberry, Jr.'s to lose. Then again, Mayberry can't hit right-handed pitching so well, and that was before the signing of Laynce Nix.
Nevertheless, Mayberry is a better candidate to start, and though he'll play some left field, he'll get some time at first base, too.
Nix is in the same boat as Mayberry except that he'll be called upon to start a bit less. An above-average defender, Nix provides a great option to start in the outfield—as long as the opposition is starting a right-handed pitcher. He'll also get some starts at first base, though he's only played there nine times before in his career.
Unfortunately, he is a black hole against southpaws, hitting zero home runs off them over the past two seasons. And in case you didn't know, hitting home runs is supposed to be Nix's offensive specialty.
Mayberry should get adequate time starting at both left field and first base, and possibly in center as well on rare off days for Shane Victorino. The Mayberry/Nix platoon should be interesting to watch, for if both play on the same day, who knows who will play where? That is the question.
But Mayberry, primed to have a breakout season, should be able to start at least 130 games, and Nix should net at least 95 starts. My predictions for the two are likely a bit high, but I'd like to think they're still within reach.
Shane Victorino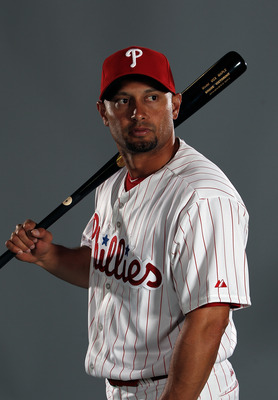 Jonathan Ferrey/Getty Images
Prediction: 154 games
Until September of last season, Shane Victorino was smokin' hot. He was hitting close to .300, and he hit doubles, triples and homers like it was nobody's business. Then September happened and, long story short, his average dipped to .279 on the season.
Last year was an odd one for the Flyin' Hawaiian. Because of a wrist injury from an awkward dive for a ball, he played just 132 games, his fewest in a full season, yet he led the league in triples with 16 and posted the highest slugging percentage (.491) and OPS (.847) of his career.
Victorino also saw his streak of three consecutive Gold Glove Awards end last year when Matt Kemp was given the top defensive nod. Looking at the stats, Victorino still had a better season than Kemp defensively, but with Kemp's MVP-caliber year, that was almost certainly a factor in the decision.
I don't see any way that Victorino gets hurt too badly this year. Entering the final guaranteed year of his current contract, Victorino will be a free agent at the end of the season unless the team extends him beforehand. As a result, I'm looking to see his stats elevate to new levels and his drive to play as much as possible shine like it never has before.
Hunter Pence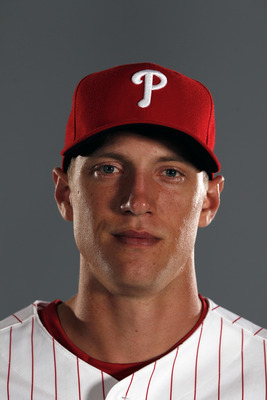 Jonathan Ferrey/Getty Images
Prediction: 156 games
With a slight edge over Victorino, Hunter Pence gets the nod for starting the most games this season of any offensive player for the Phillies.
In my opinion the best trade deadline acquisition by GM Ruben Amaro to date, Pence was a monster for the Phillies after they acquired him in a five-player deal from the Houston Astros at the trade deadline last year.
Yes, the team did have to give up its top two prospects in Jarred Cosart and Jonathan Singleton, plus Domingo Santana and Josh Zeid, but Pence paid dividends by hitting .324 as a Phillie in the final two months of last year.
On the whole, Pence's 2011 was his best year to date. He hit .314 with a .370 OBP, .502 SLG (.871 OPS), 22 home runs and 97 RBI. Aside from home runs, all were career highs. But keep in mind that Pence hit just 11 dingers with the Astros in four months of the 2011 season and 11 dingers in just two months with the Phillies. If that trend continues or even increases into next year, we could see Pence hit 35 or more home runs on the season.
With Pence poised to have an even bigger breakout season, this acquisition has barely begun paying off. He should be the team's offensive leader next year and in years to come. Who would have thought that his lanky, awkward swing and throwing mechanics would get it done? Considering they had in the past, I guess it was no surprise.
Look not only for Pence to lead the Phillies offensively, but to emerge as an NL MVP candidate next season as well.
Keep Reading

Philadelphia Phillies: Like this team?