Oregon Football: Marcus Mariota a Legitimate Contender for Ducks' QB Job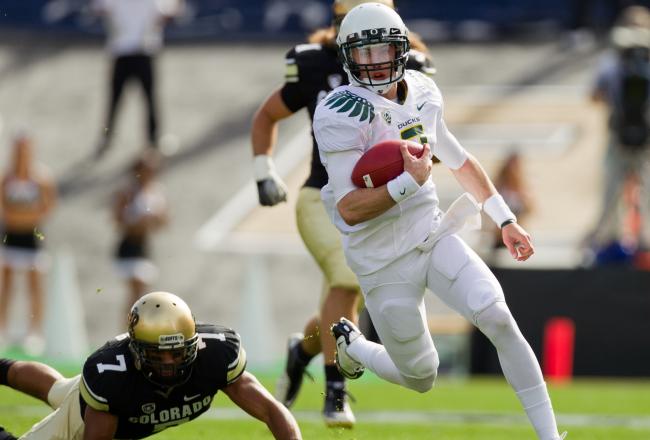 Justin Edmonds/Getty Images
Seeing Bryan Bennett step in for the Ducks a season ago, it seemed that the kid from Encino, Calif., was ready to be the Ducks quarterback whenever Darron Thomas' time at the helm ran out. That time came sooner than expected as Thomas skipped town for the NFL. Bennett, a 6'3", 205-pound redshirt freshman ran the offense effectively in 2011 and showed enough wiggle to be dangerous in space. It really seemed like the job would be his.
However, with the Ducks set to start spring ball next week, it seems something has been brewing behind the scenes. As Bennett got on the field to prove his work, a redshirting freshman by the name of Marcus Mariota was doing work in practice. Enough work to prove to head coach Chip Kelly that it should be open season on the quarterback spot in Eugene.
According to Kelly:
He got opportunities every day in practice, and that's the by-product of the amount of snaps we get. I feel real confident with him as he moves forward. He improved everywhere, and that's the key. ... Each week, you could see him starting to grasp things.

He's a real sharp kid. You don't have to correct him more than once. He rarely, rarely makes the same mistake twice. He has worked really hard off the field, studying tape on his own, doing all of those things—he has a real good grasp of what we're doing.
Big praise for the kid from Honolulu. At 6'4" and listed at 200 pounds, the lanky freshman has a certain Dennis Dixon like feel to him as a player. He's long and lean with an easy throwing motion and a fluid athleticism. A few looks at his high school tapes and you can see the potential that makes a coach like Kelly get excited.
No one has truly seen the kid play since he's been at Oregon and with the Ducks closing their practices it will be a little while before the public gets to see what Mariota has grown into. This will be an intriguing battle between the somewhat known commodity in Bennett and an unknown but truly talented player in Mariota. Given Kelly's track record, specifically the Nate Costa-Darron Thomas battle, we know the coach has no qualms about giving a freshman the reins.
The Ducks open up spring ball next week and in 15 practices the pair of talented quarterbacks will jockey for the lead position. Kelly has no intention of stopping the battle at spring, though, as this matchup will carryover into the fall while the Ducks prepare for their opener against Arkansas State. Bennett is no slouch and the rising sophomore will most certainly not just give way to the freshman.
Of all the quarterback battles we've got eyes on around the nation, this may well be the most intriguing. Two kids who have a lot of skills in a system that's designed to maximize their abilities.
Should be a fun spring in Eugene.
This article is
What is the duplicate article?
Why is this article offensive?
Where is this article plagiarized from?
Why is this article poorly edited?