Seattle Seahawks' New Logo Changes Are Highly Disappointing
March 29, 2012

The Seattle Seahawks have reportedly updated their logo to coincide with Nike taking over the manufacturing of uniforms, according to Nick Eaton of The Seattle Post-Intelligencer.
It's simply a disappointment that, from the looks of the leak, the franchise did not do enough to change its look.
The logo is practically the same—the color scheme is just "updated" back to a silver and light blue from the current Seahawk Navy and Seahawk Blue. The lime green seems to be unchanged in the hawk's eye.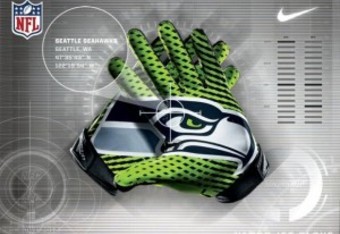 Nike also released a picture of the new gloves earlier this year that show the logo on green gloves.
If this is all that the organization has done to improve their look, I give them an 'F' for failing to even try.
Nike is renown for turning bland team jerseys into awesome ones at the college level and Seattle should have given them a chance to do the same here. Instead they just made minor adjustments.
For fans hoping for more change, Danny O'Neil at The Seattle Times reported earlier in January that some may be on the way as well.
A little birdie gave out a few hints the helmets will be darker, and there will be some feather trim. The helmets are not expected to go back to being silver. But as [team president Peter] McLoughlin indicated, it's not going to be a massive overhaul.
Even though McLoughlin said no major adjustments are on the way, we can't be sure until they are actually revealed and perhaps his statement is a bit of sleight of hand, considering his organization is the only one still keeping their new apparel a secret. 
Sometimes, going back to classic uniforms can work well, as evidenced by the Buffalo Bills' decision to take a step into the past to greatly improve their current look last year. Although they did not have a great season, it's not uncommon to find a correlation in success and changing up a look. 
After the Patriots of the mid-1990's (Super Bowl appearance in 1997) and early 2000's (2001, 2003, 2004), Broncos of the late 1990's (1997, 1998) and most recently the Cardinals of the late 2000's (2009) switched up their game day digs, they went on to almost immediate success.
Seattle has been struggling as of late, but with a new quarterback in Matt Flynn and a tweak to its outfit, it might just find itself back in the postseason and ready to win again.  
The franchise will officially unveil the new logo and uniforms on April 3 when Nike showcases all of the new swag during an event taking place in New York. We'll keep you posted if any new revelations or leaks break up until then.