Chelsea FC: Cristiano Ronaldo, Pep Guardiola Links Mask Failed Experiments
March 29, 2012
David Ramos/Getty Images
Chelsea have recently been linked (via The Daily Telegraph) with Real Madrid's superstar forward Cristiano Ronaldo and Barcelona's impressive coach Pep Guardiola.
Surprised?
Given the context of Chelsea Football Club, we shouldn't be, because it's a typical big-money potential transfer to Stamford Bridge, and Chelsea fans have certainly seen a fair share of those in recent years.
Whisper it quietly—but, David Luiz and Fernando Torres apart, it's actually been a few relatively low-key recent seasons, as Chelsea owner Roman Abramovich has stuck to his policy of letting the club's coffers handle its player dealings.
As well they should, especially with the upcoming Financial Fair Play rules.
So the recent record-breaking links with Ronaldo and Guardiola, as well as Jose Mourinho, Gonzalo Higuain and Hulk, seem to be an eerie déjà vu for the Blues.
And given the much-espoused youth policy and long-term vision that Chelsea are claiming as their direction, these rumors are a huge reality check for Chelsea fans, simply because they show that short-termism is still plaguing the club, and that Abramovich would be satisfied with yet another instant fix.
This, of course, was the policy that the Blues adopted when the Russian oligarch arrived in London.
After a decent season under Claudio Ranieri, he appointed Jose Mourinho, who subsequently made use of his new boss' seemingly limitless chequebook to acquire the star players he needed to build a dynasty with.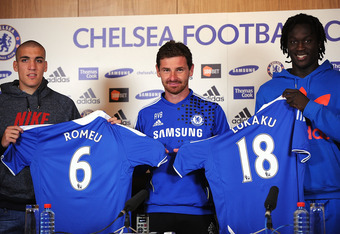 Christopher Lee/Getty Images
Jose Mourinho's success with a squad in its prime led to a strong emphasis on the club's leading stars, some of whom, like Frank Lampard, John Terry and Didier Drogba, are still at Stamford Bridge.
Carlo Ancelotti's saw a gradual transition to a new Chelsea, and Andre Villas-Boas was brought into spearhead that exact effort into the future.
Cue the signings of Oriol Romeu, David Luiz and Romelu Lukaku.
Except, out of those three, only David Luiz has seen any sort of consistent playing time. Romeu has had to bide his time on the bench, and Lukaku has been a notable absence from the team altogether.
Add to that the signings of Belgian wonderkid Kevin de Bruyne and goalkeeper Thibaut Courtois, and their subsequent loans to other clubs, and a pattern emerges.
The pattern of solving long-term problems with short-term solutions.
Ronaldo is no different: For a team that is so desperate to rid itself of its aging stars and to find the goals to return itself to a consistent place amongst the top four, wanting to sign one of the most prolific players in the history of football would paper over the cracks for the time being.
So too Guardiola: A coach who won every trophy imaginable during his short stint at Barcelona, and whose team plays a passing game that's the stuff of Abramovich's dreams.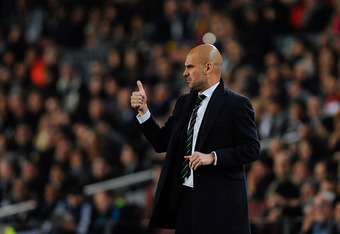 David Ramos/Getty Images
But Guardiola's success has been built on the long-standing and much-admired Barcelona youth academy, whose emphasis on youth is legendary. Chelsea's system doesn't even come close: Ryan Bertrand is only confined to Cup appearances, while Josh McEachran, long touted as Chelsea's most important youth product since John Terry, is out on loan.
Where Villas-Boas failed, would Guardiola succeed?
And if he needs more than a year to implement his system—and, God forbid, endure a barren season in the process—what would Abramovich make of it?
The lesson has proved itself to Chelsea time and again: Big money is needed to get you onto a certain level, but from then on, it's the institution and infrastructure that ensures your stay.
Judging by Chelsea's latest targets, it seems that they are happy to fall back on such short-termism in a bid to rediscover their previous dominance.
Or that they are a subtle admission of Chelsea's failures in building for the future.
If you liked this article, you might also be interested in 5 Reasons Raul Meireles has Flopped at Chelsea and 5 Things Roberto Di Matteo is Doing that AVB Didn't. Please also check out my writer's profile, where you can find more of my work, and my blog, The Red Armchair, for Liverpool match reactions and opinions.